Welcome to our Journey to a Smart Office blog series: a first-hand account of transforming our office! This blog, "With a Little Help from Our Friends", is part 3 in this series. To start at the beginning of our journey, click here.
Since our last update when we installed our IP and thermal cameras, we have been collaborating with our partners to customize our Back-to-Work Accelerator and implement required hardware solutions. No matter the size of your smart "x" project, we recommend recruiting help so you are also not alone in your efforts.
Building a Sandbox
VANTIQ's platform is very flexible and our internal team of experts can deploy complex real-time applications in record time, but we didn't want to tackle this project on our own. VANTIQ has a vast partner network of system integrators and software vendors with expertise in each of their respective fields. Working together with our partners empowers us to bring in expertise from a large range of backgrounds, bringing success through a multi-company initiative. The end goal is for our headquarters to be a development and implementation sandbox where we, along with our partners, can add, test, and change components on the fly.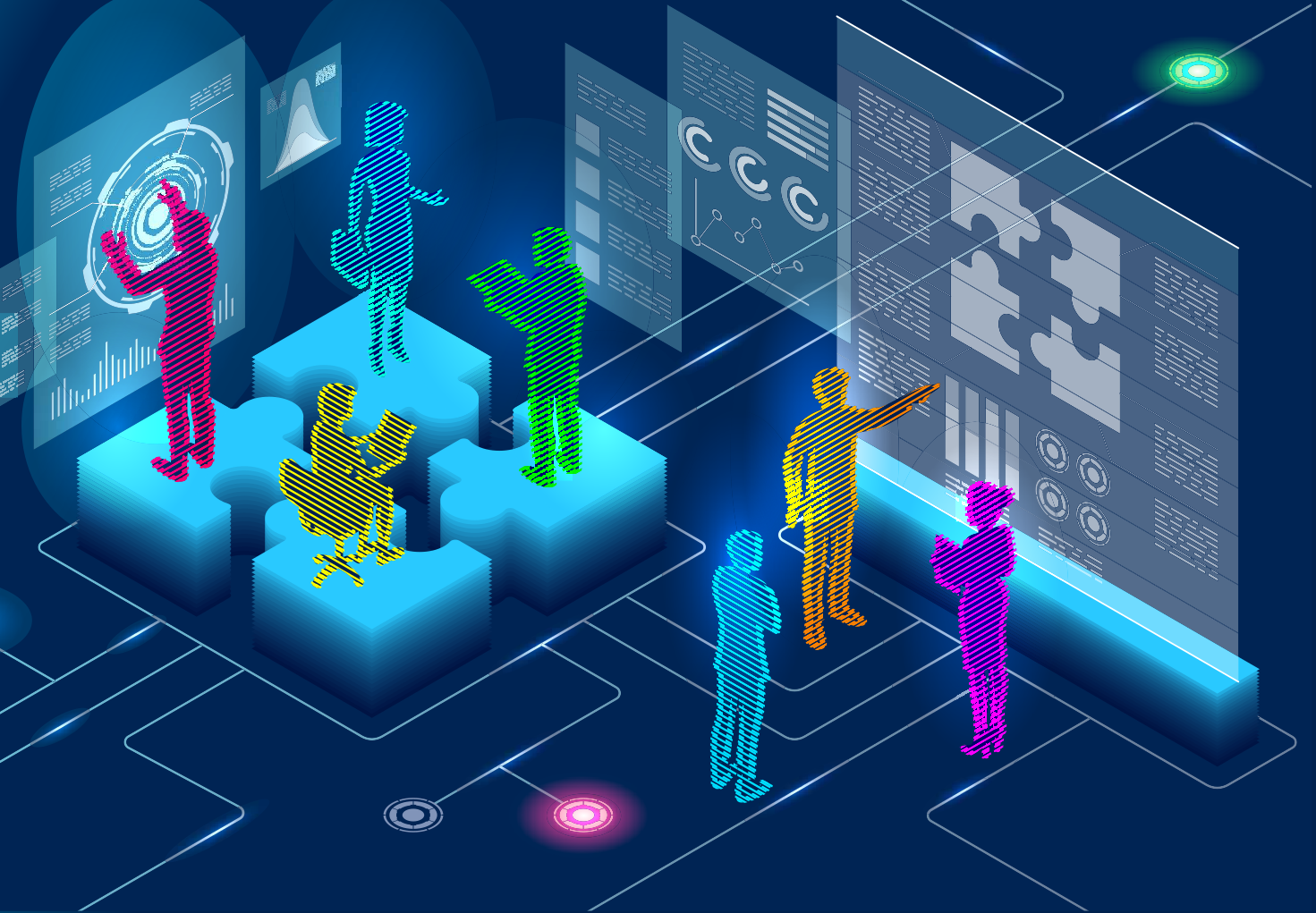 Choosing an Application Development Partner
We chose to develop the real-time application that will power our office with our partner, Bits in Glass (BIG), to bring in their expertise in agile development and make this project the result of a strong alliance that will grow over time. Bits in Glass is a multi-national company with clients in process automation, healthcare, government, and logistics industries that has worked on several healthcare-related projects with VANTIQ, such as real-time air quality sensing for a major municipal health department.

An Agile Approach
BIG's Delivery approach leverages roles, tools, and ceremonies drawn from the Agile Scrum framework which greatly compliments VANTIQ's agility. Our phase 1 application development consists of three 1-week sprints in which we are reviewing our progress and reprioritizing our backlog each week as we near production. During our kickoff meeting, we defined requirements via stories and MVP (Minimum Viable Product) scope. We decided reactive hand sanitizer stations, object and facial recognition via our cameras, space occupancy thresholds, and symptom detection were the main components we needed to focus on to create the foundations of the smart office. We will add even more functionality in future development phases. All of the development coordination was done via virtual meetings in the midst of COVID-19 social distancing.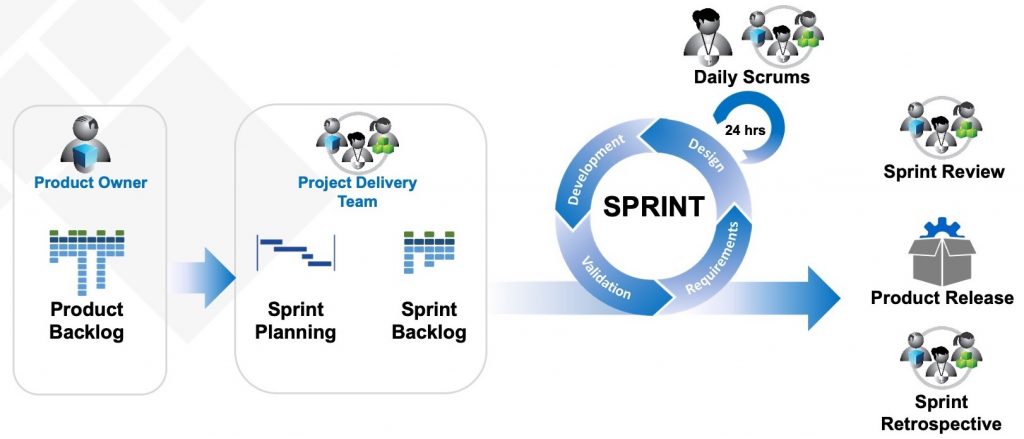 Bits in Glass' Agile Approach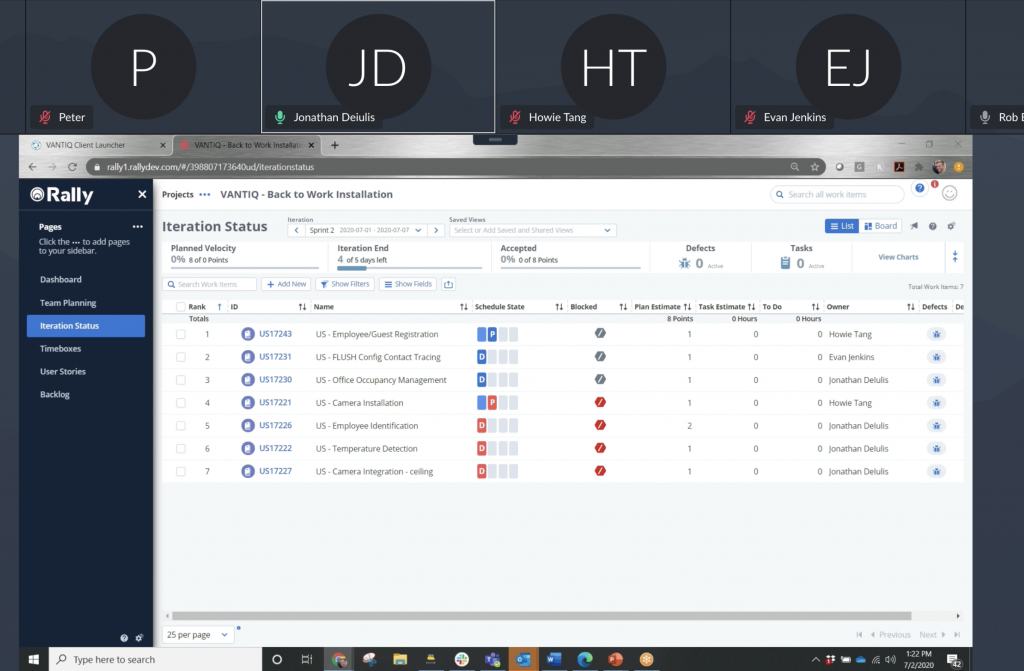 Development standup virtual meeting reviewing the backlog
In sprint 1, we utilized the layout seen in part 1 of this blog series to create a layout in the application backend. As we enable different sensors and data feeds via extension sources, this makes it easier for us to fully configure the equipment to the platform in a visual manner. This also enables us to define spaces such as the conference room and break room. Finally, we established threshold configurations for situations such as maximum number of people allowed in rooms, when hand sanitizer stations need to be refilled, and who should be notified when certain thresholds are crossed.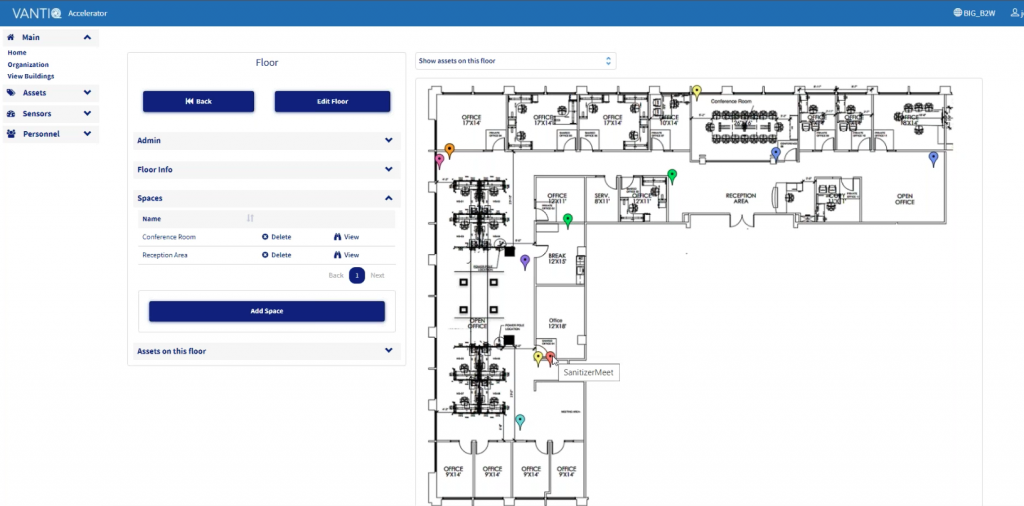 In sprint 2, we focused on installing extension sources to allow our hardware to communicate to the platform, implementing occupancy counting and distance monitoring to ensure social distancing is occurring when mandated.
Due to us installing and configuring the hardware while simultaneously developing the application code, we ran into a challenge of correctly obtaining and configuring data feeds. For a time, our developers didn't have live video streams to build the initial application components. Rob Budas, VANTIQ's Director of Product Management and project owner, described our workaround: "To allow our developers to have consistent data streams to develop and test with, we prerecorded video streams that set up particular test scenarios (such as too many people entering a room) that could be used repetitively to debug the applications, including our occupancy uses cases and our physical distancing use cases."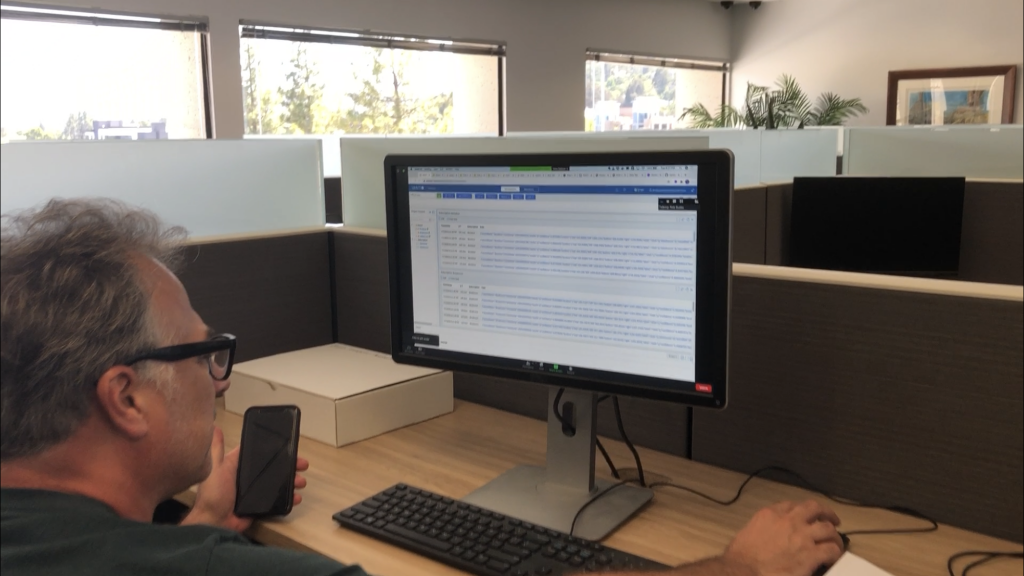 Rob Budas, Director of Product Management, installing extension sources
Sprint 3 is currently underway where we are finalizing the camera integration by setting up live feeds, static IP addresses, subnets, and optimizing configuration settings like frames per second and bit rate to optimize data streams. We are completing phase 1 of the application development by tailoring facial recognition to specific employees, setting reminder notifications, establishing hand sanitizer monitoring, and enabling temperature detection.
Evan Jenkins, Solution Architect for Bits in Glass, noted, "Every project has its own vernacular and language. VANTIQ and Bits in Glass both have a lot of knowledge. We needed to find a way to ask for things so VANTIQ could answer them. By the third week, we realized this is a two-phase process (hardware installation and application development) where we both learn."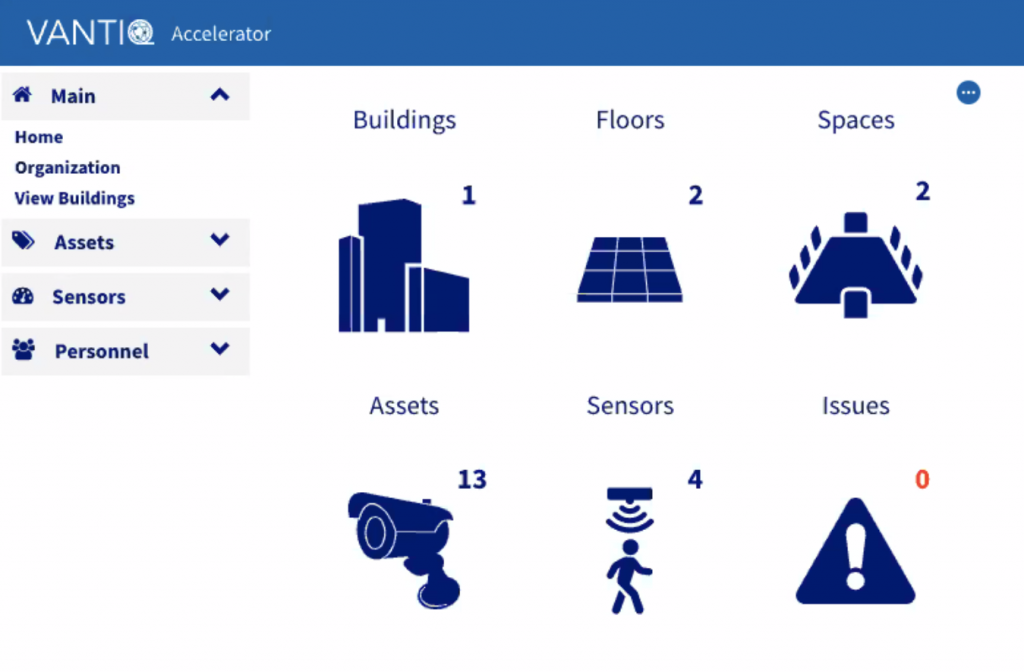 Choosing a Sensor Hardware Provider
To make occupancy counting and hand sanitizer monitoring possible, we needed sensor hardware. Rigado, an IoT edge hardware solution provider specialized in smart spaces, logistics, and retail, is providing the series of sensors and gateways that will count occupancy of certain areas in our office and monitor and manage the hand sanitizer stations. We plan to implement Ridago's equipment in phase 2 of our application development.

The implementation will include equipment, such as their Presto kit, similar to what VANTIQ team members have used for concept testing in the past.
What's Next?
Although coordinating all of the moving parts between partners posed an initial challenge for the frontend of the process, this initiative will further 'cut the teeth' of the partners using our platform and progress joint possibilities within our headquarters and beyond.
In the midst of developing the application hand-in-hand with Bits in Glass, we have been working on reactive hand sanitizer stations, occupancy sensors, and people counting hardware with Rigado. To ensure safe and effective data transfer from our devices to our edge server and up to the cloud, we need to install an edge server and configure our network and firewall. Also, we will reconfigure the solution to communicate with our MQTT protocol to integrate into the Back-to-Work Accelerator.
After much time spent on making sure everything is in the right order, we are nearly ready for round 2, setup of hardware and testing of the overall phase 1 system.
To learn more about Project Q and how you can implement your own Smart Office Solution, watch our webinar with BIG, Transforming our HQ into a Smart Building to Get Back to Work Safely.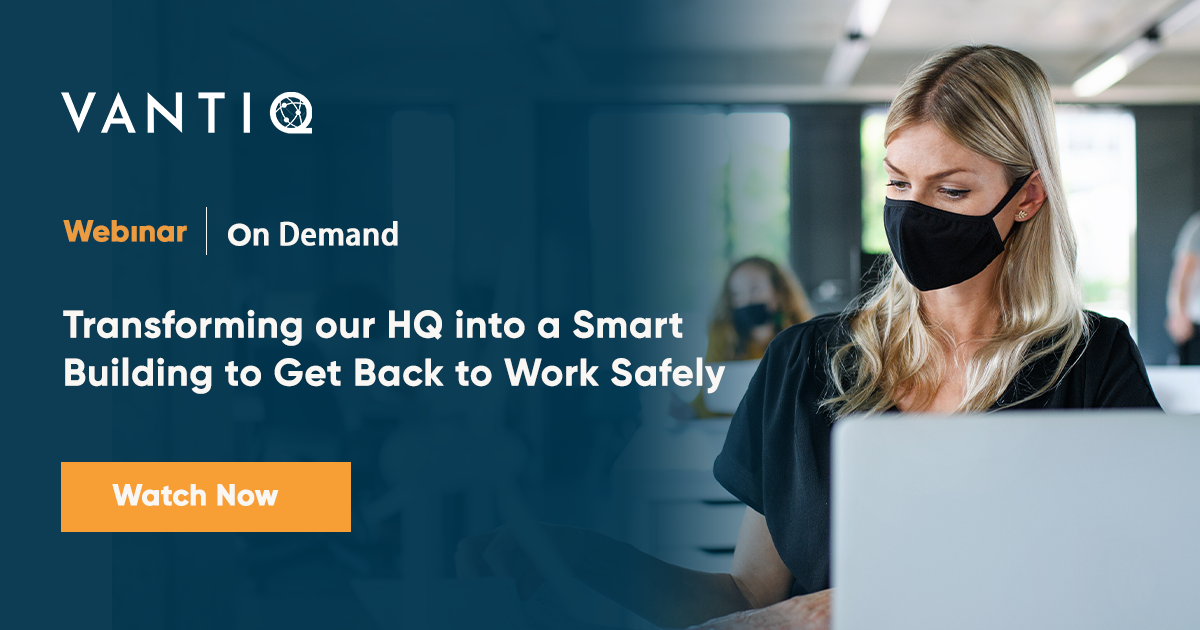 This blog is part of an ongoing series reporting on our Journey to a Smart Office. Click the links below to explore the series!
Part 3: With a Little Help from Our Friends
Part 4: Bringing the Smart Office to Life
Part 5: Stay tuned!