Rapidly Build COVID-19 Solutions to Re-Open Businesses
COVID-19 has generated massive changes faster than anything else in our lifetime. As the economy begins to reopen, businesses are faced with a critical balancing act–getting employees back to work while also doing everything they can to mitigate the spread of coronavirus.
To address this, VANTIQ has created a Back-To-Work Accelerator, to enable developers to take common requirements for businesses today and quickly customize a solution for any office environment.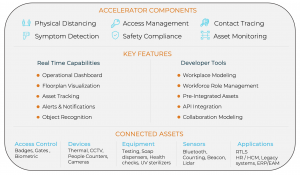 The  Accelerator is based on the ability for real-time monitoring, analyzing, and controlling what is happening around the workplace. This is the most comprehensive set of capabilities to build real time applications for monitoring people and assets in space and time to reduce Covid-19 spreading.
The Back-to-Work Accelerator is composed of six core components: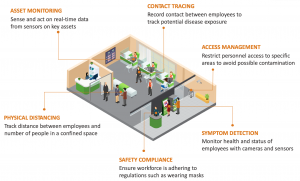 Symptom Detection: There is growing interest in temperature sensing technologies that can identify individuals likely to be infected. Other technologies can check for symptoms such as coughing or sneezing. If an infection is suspected operations can be alerted and can initiate a workflow to isolate the individual and determine the appropriate course of action.
Physical Distancing: One of the most effective measures to prevent the virus's spread is keeping people apart. The CDC has urged the public to maintain six feet of separation. But not everyone is heeding the CDC caution. This is where technology steps in. Software connected to cameras can locate people who are ignoring physical distancing and notify them of their need to separate. In addition, if the number of people in a fixed location exceeds a threshold number for a predetermined period of time, operations personnel in the area can be notified to address the problem.
Contact Tracing: Health experts have stated that contact tracing is critical to minimize the spread of the virus. The idea is to monitor individuals and keep track of anyone they have come in contact with. If a person is later found to be infected, all individuals they came in contact with over a predefined period of time can be alerted and potential disease spread can be mitigated.
Access Management: Medical experts say that early implementation of social isolation can help control the spread of coronavirus. Businesses can deploy quarantine management applications that monitor people who may have been exposed to the virus or show signs of being symptomatic and ensure that they are isolated. Technology can be used to block such individuals from entry and alert facility managers to disinfect impacted areas.
Safety Compliance: The proper use of masks and protective equipment is required to create a safe work environment. Furthermore, regulatory bodies are enacting policies that make compliance mandatory. Technologies, such as automated mask detection, that detect potential violations are vital for implementing back to work policies.
Asset Monitoring: There are physical assets in a business environment that need to be monitored and managed to support workplace safety and hygiene. Real-time data from cameras and sensors can be used to determine the state of cleanliness of shared resources. AI-enabled cameras can detect recently used equipment–anything from a piece of heavy machinery in an assembly line to a coffee machine–that may need to be disinfected. Sensors in a hand-sanitizing station can alert maintenance when the level is low.
Learn More in our On-Demand Webinar "Rapid Innovation at the Front Lines: VANTIQ Back-to-Work Accelerator"
Interested in building something with the Back-To-Work Accelerator? 
Contact [email protected] for more information
This website uses cookies to provide you with a better user experience. By using our site you agree to the use of cookies as described by our cookie policy. If you do not want to accept all cookies from our website, please see our cookie policy on how to modify the types of cookies that are accepted by your browser client.
This website uses cookies to provide you with a better user experience. By using our site you agree to the use of cookies as described by our cookie policy. If you do not want to accept all cookies from our website, please see our cookie policy on how to modify the types of cookies that are accepted by your browser client.