View the Recording
In Mandarin (中文讲座): Smart Building Solutions on VANTIQ
Watch this webinar by VANTIQ and Partners to learn about Smart Building solutions. We introduce the technology driving Smart Buildings, different types of Smart Building applications and how to build a Smart Building solution for your business.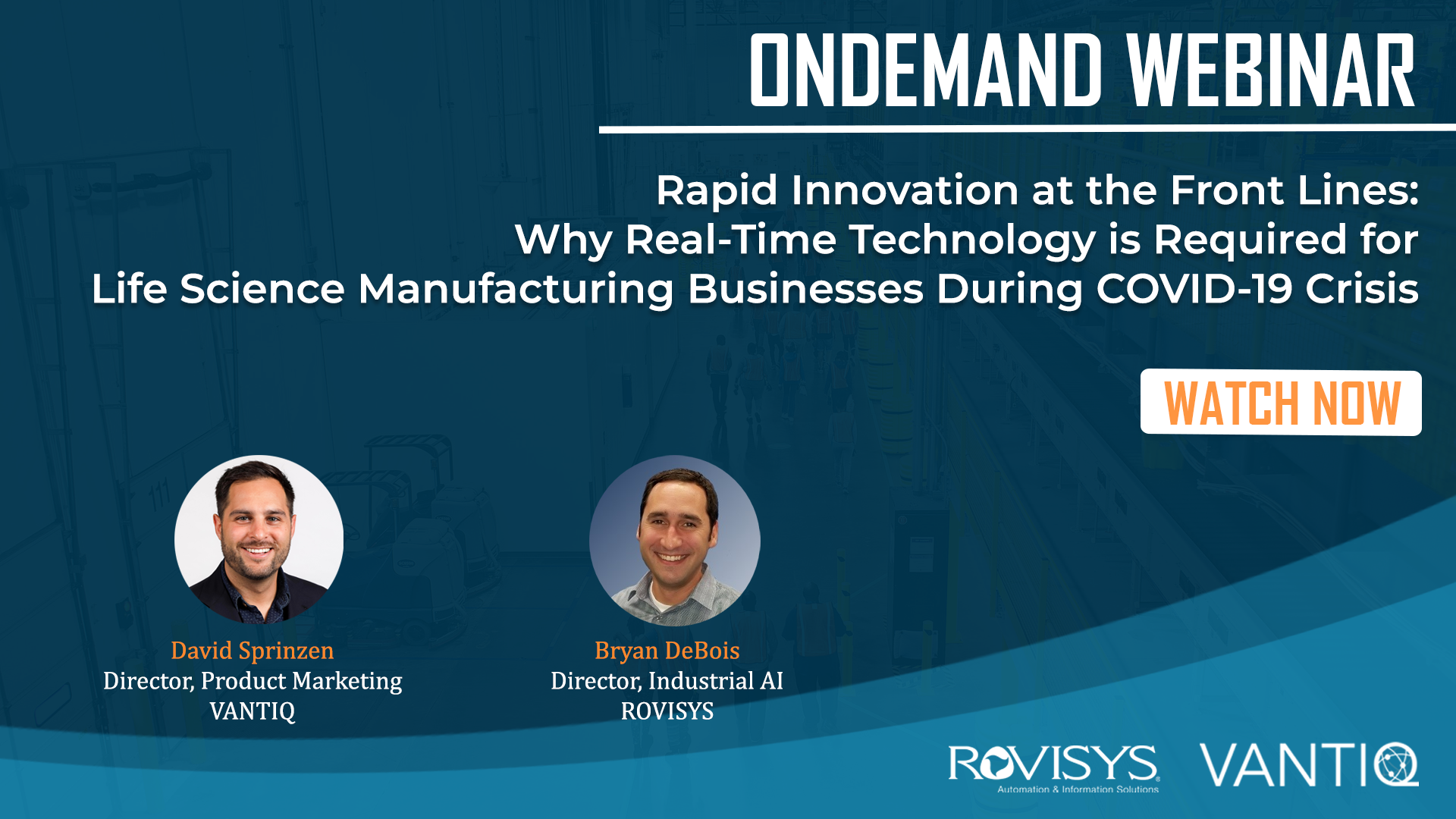 View the Recording
Rapid Innovation at the Front Lines: Why Real-Time Technology is Required for Life Science Manufacturing Businesses During COVID-19 Crisis
Watch this webinar by VANTIQ and Partner RoviSys to learn how real-time technologies can keep healthcare businesses operational. We talk about the needs of life science manufacturing businesses such as medical equipment manufacturing and pharmaceuticals, and how real-time applications are key for continued operations. With extensive knowledge in the industry, RoviSys discuss the trends and what kinds of solutions are necessary to survive in the time of crisis.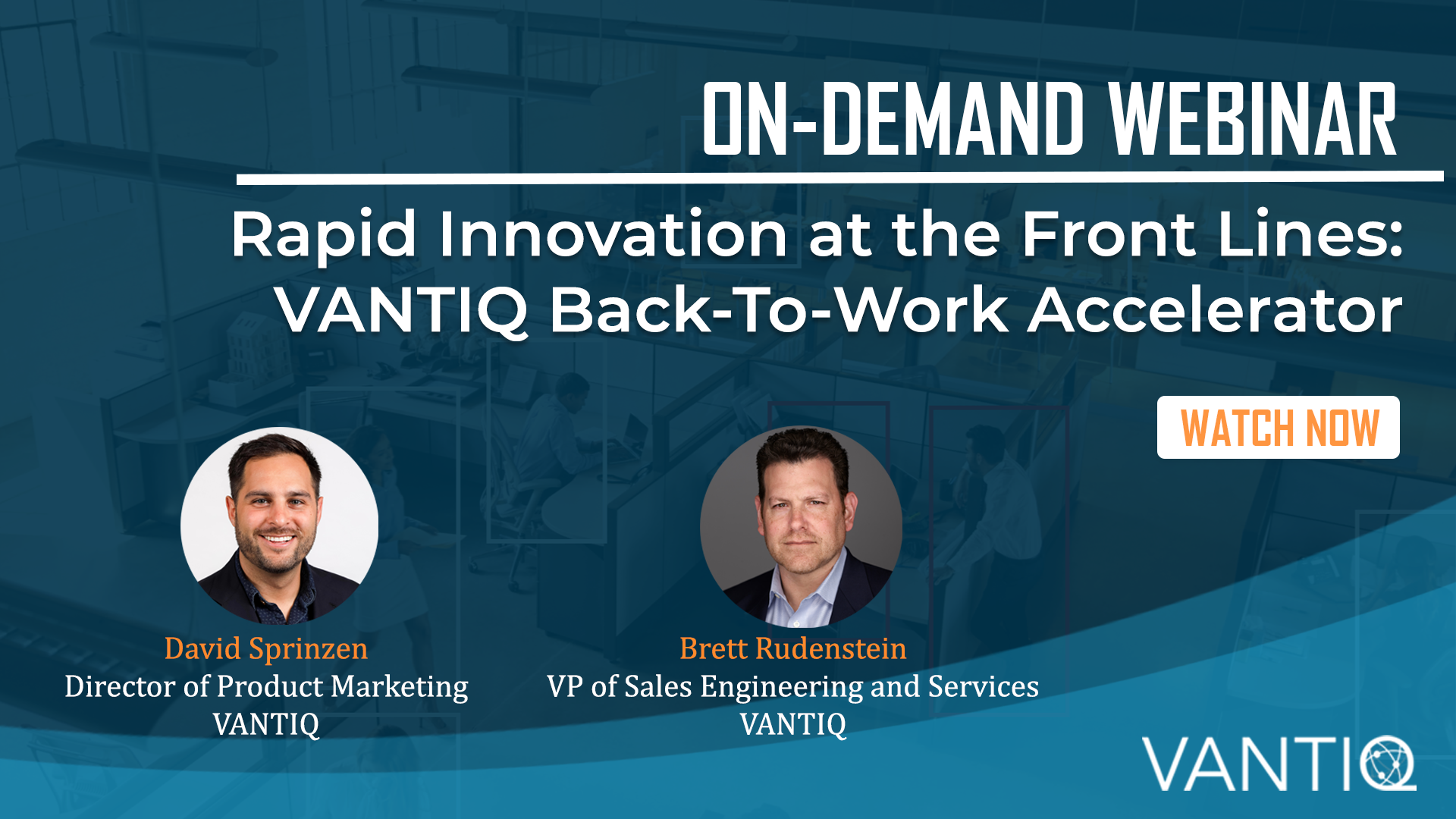 View the Recording
Rapid Innovation at the Front Lines: VANTIQ Back-to-Work Accelerator
COVID-19 has thrust major disruption into the working world. Businesses are faced with a critical balancing act of getting employees back to work while ensuring workplace safety. In this webinar, we introduce VANTIQ's Back-To-Work Accelerator, a rapid development tool that enables businesses to rapidly deploy solutions to solve these needs.
View the Recording
Rapid Innovation at the Front Lines: Tracking Solutions in Airports to Counter Coronavirus
Watch this webinar to learn about how technology like real-time applications and thermal camera devices are being used to address the needs of airports during and after the COVID-19 pandemic. We introduce a new application being made by VANTIQ and Amorph Systems that will help airports worldwide address real-time operational requirements during the COVID-19 outbreak. Also, camera hardware provider Hikvision discusses how their thermal camera technology can be used for fever detection in these next-generation tracking applications.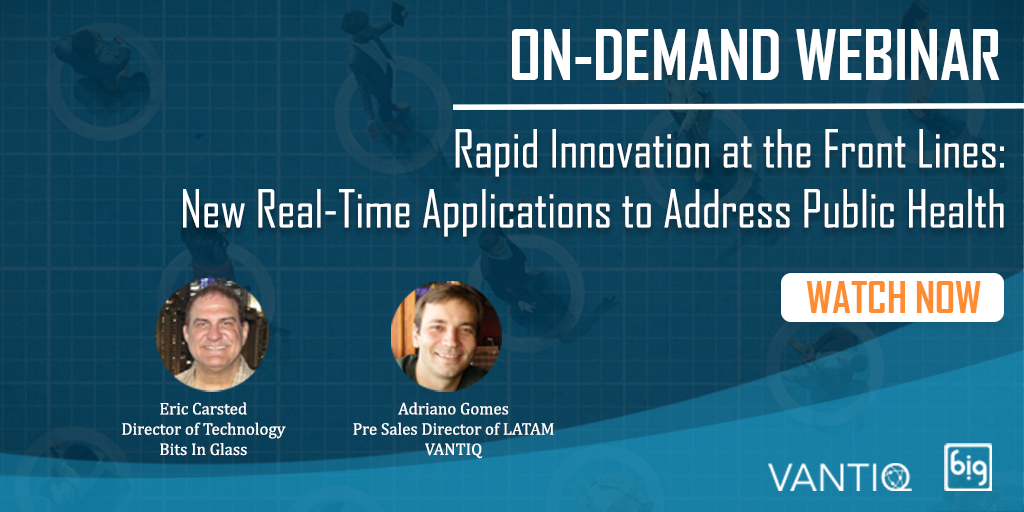 View the Recording
Rapid Innovation at the Front Lines: New Real-Time Applications to Address Public Health
Watch this on-demand webinar to learn about new applications made by VANTIQ and partner Bits In Glass. We will talk about a new application being made for local government agencies in Latin America to manage COVID-19 testing and reporting and support the health and safety of citizens. Bits In Glass, a System Integrators based in North America, will discuss a new physical distancing queue (PDQ) application that can be used by retail stores to manage crowd density in real-time.
This website uses cookies to provide you with a better user experience. By using our site you agree to the use of cookies as described by our cookie policy. If you do not want to accept all cookies from our website, please see our cookie policy on how to modify the types of cookies that are accepted by your browser client.
This website uses cookies to provide you with a better user experience. By using our site you agree to the use of cookies as described by our cookie policy. If you do not want to accept all cookies from our website, please see our cookie policy on how to modify the types of cookies that are accepted by your browser client.