Welcome to our Journey to a Smart Office blog series: a first-hand account of transforming our office into a smart office to enable our employees to return to work safely! This blog is part 4 in this series. To start at the beginning of our journey, click here.
In our last update, we introduced our partners that are working with us to create our development sandbox and discussed our agile approach for developing the application using Vantiq's Back-to-Work Accelerator.
Now that we have the initial assortment of equipment and partners, it is time for us to consider what we are actually implementing. In any smart x project, we recommend you and your team consistently evaluate the intended final product. Some components of your real-time application, such as true/false knowledge if a space is occupied, may appear simple at first, but will greatly affect the future system's capabilities when functionalities are added. You need to be sure your solution fits your evolved vision as things change over time.
Project Q
In the midst of evaluating our smart headquarters, we decided to give this project a name: Project Q, calling out our Q glyph in the Vantiq logo. Although we have been working on implementing a smart office for our headquarters, we do not want the transformation to stop with us. VANTIQ is involved in many smart x projects for companies like SoftBank, Ford, Inesa, and more. We plan for Project Q to be a proving ground for our platform and partners and encourage you to take on the challenge as we did, maybe with our help!

Running 24/7
Today, Project Q is a living real-time application monitoring our office 24/7. The recent surge of COVID-19 cases in June proved to us that smart workplace solutions will be required in our world moving forward. Fortunately, the limited number of people in our headquarters creates a great environment for testing with the least amount of risk.
With that in mind, what does Project Q do right now? Here's the use cases that we are now able to implement:
Symptom Detection
If a person enters our office with a fever, Project Q will recognize this using the turret thermal camera and will immediately direct our office official to rescan the entrant. This ensures no occupants enter symptomatically. As our occupants exit and reenter, they are rescanned to ensure their temperature stays normal.
To see example images from our thermal camera and IP cameras, see part 2 of this series, The Cameras.
Physical Distancing
We trained Project Q to identify human figures at varying distances via object recognition and used their relative height to chart safe distances between people. When two or more people are in contagious proximity (6ft) of one another for an extended time, Project Q recognizes this using our configured IP cameras and sends a notification to let the congregators know to keep their distance.
Occupancy Management
When too many people enter a space, such as our kitchen, Project Q also recognizes this using our IP cameras coupled with object recognition and sends an official to check on the status of the room or an alert to the individuals in violation.
Project Q, combined with the Rigado occupancy sensors, will sense occupancy in places that the IP cameras cannot view such as cubicles and personal offices. This is because the system can only identify a person via IP cameras if their body is visible, so the occupancy sensors are a good means of accounting for everyone in the space and showcasing multiple ways you can sense people in your smart building solution.
Smart Meeting Spaces
People that utilize our conference room and executive office begin meetings with a single touch and share their screens from their personal devices without the need to pass around an HDMI hookup or change tools. Occupants can seamlessly use Zoom, Airplay, or operate the monitors directly via Bluetooth devices. Meeting spaces are reserved ahead of time and display availability in integrated calendar schedulers so multiple groups do not end up crowding the space while attempting to begin conflicting meetings. Furthermore, knowledge if a meeting will be full will be predictive, enabling employees to make the decision to work from home or not based on meeting rooms' status.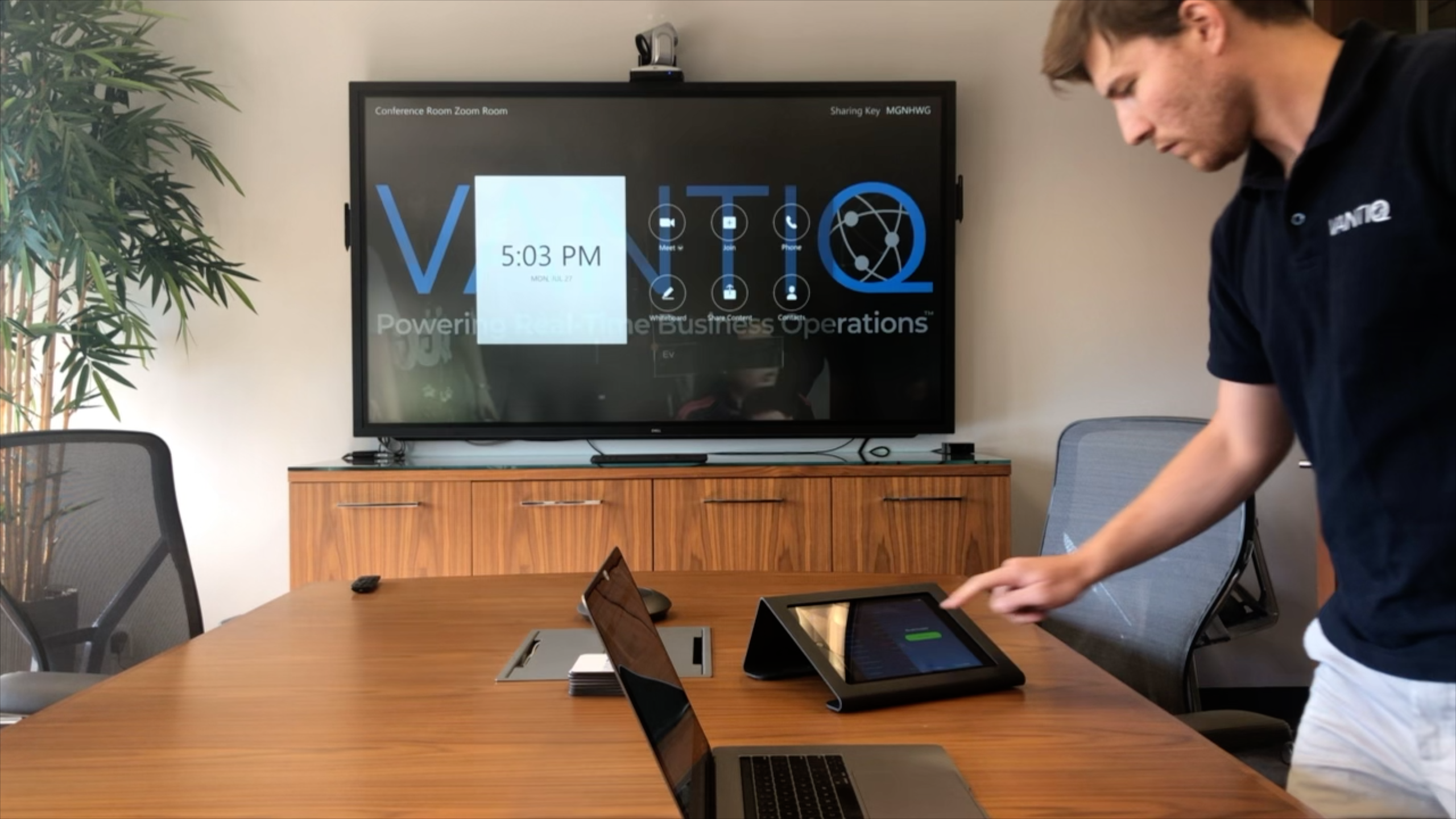 Real-Time Monitoring
The data coming from our network of hardware coupled with the VANTIQ platform enables us to have real-time knowledge of the space as things are happening. We can integrate this data into dashboards that can aid office officials and occupants in deciding if and when they should come into the office, where to sit, where they should meet someone, when sanitizers need refilling, or when the kitchen is available.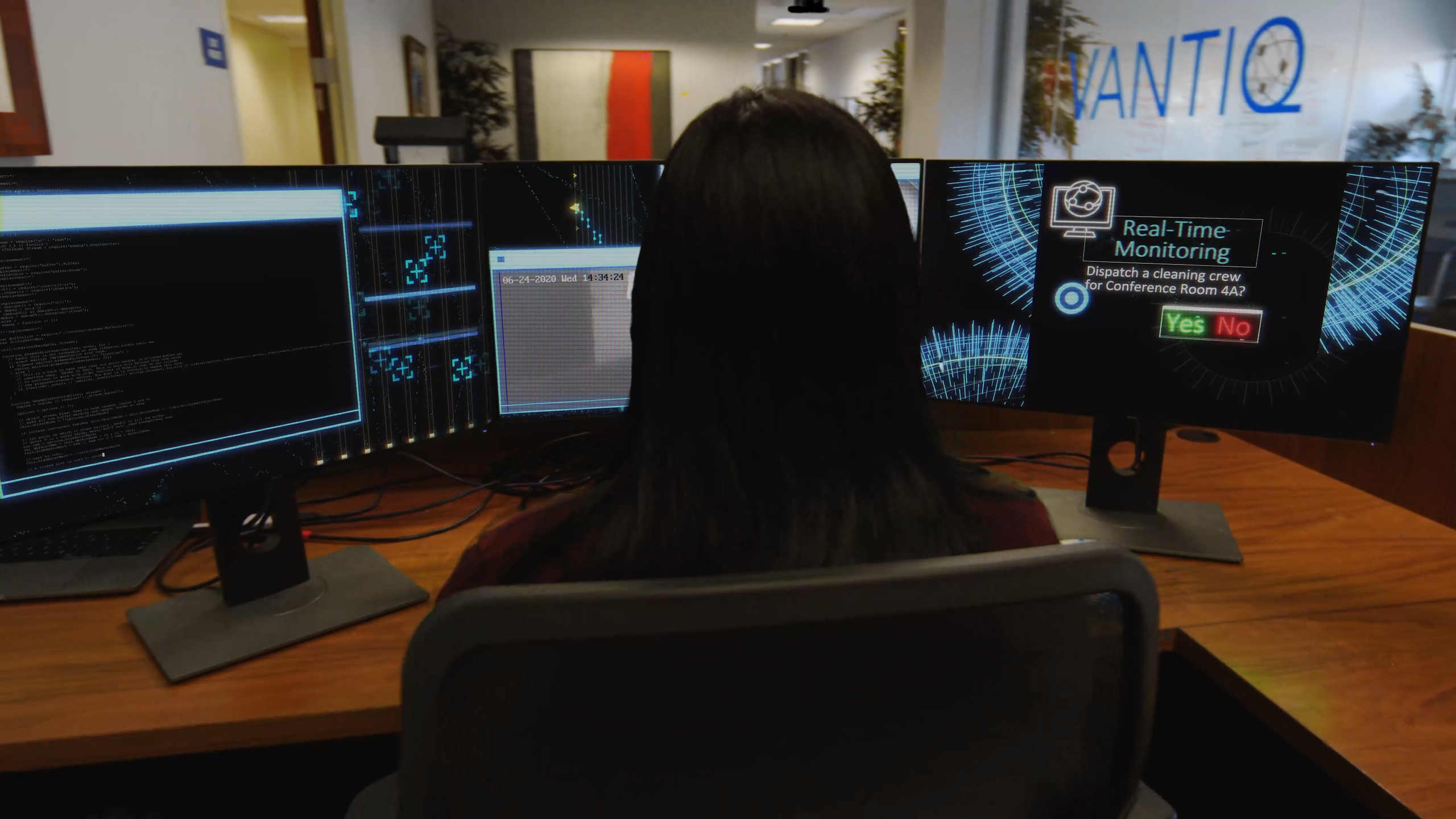 What's Next?
Our main focus today is testing the foundation of Project Q and capturing its behavior for future development phases. This includes further network and edge configurations. The added functionalities of the smart hand sanitizer stations, occupancy sensors, and people counting hardware from Rigado will allow for many more use cases to be possible in our headquarters in the near future. Due to shelter-in-place still being in effect, we will carefully recruit other people to come into the office to test the system as new features are rolled out.
To learn more about Project Q and how you can implement your own Smart Office Solution, watch our webinar with BIG and Rigado, Transforming our HQ into a Smart Building to Get Back to Work Safely.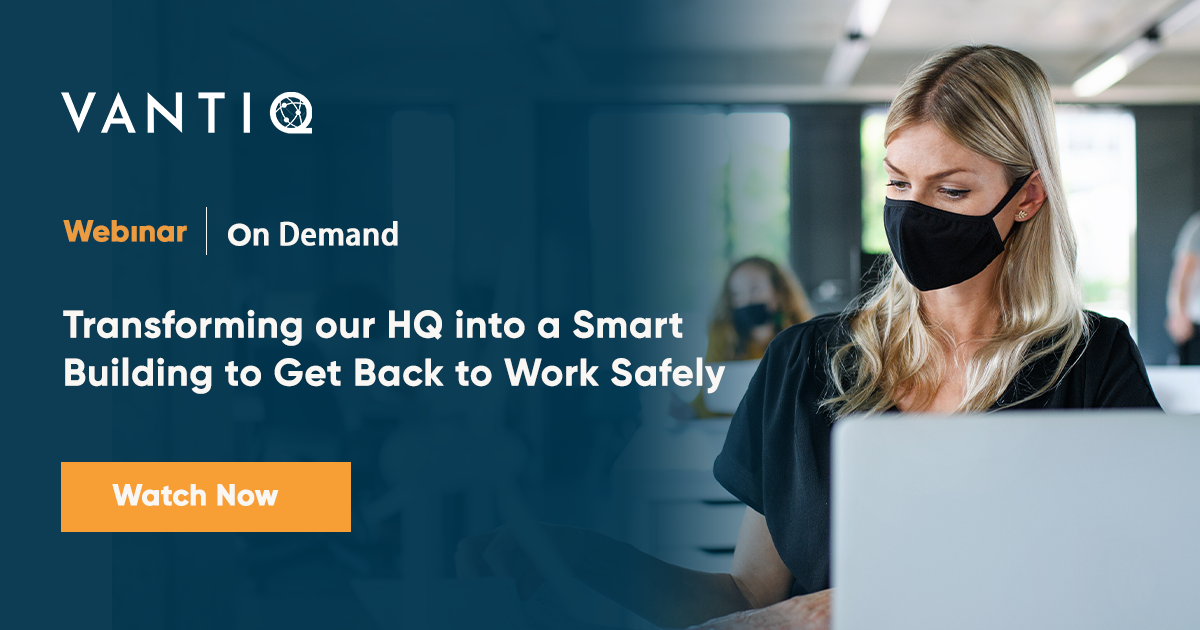 Join us as we continue our journey to a smart office! This blog is part of an ongoing series reporting on our Journey to a Smart Office. Click the links below to explore the series!
Part 3: With a Little Help from Our Friends
Part 4: Bringing the Smart Office to Life
Part 5: Stay tuned!