By 2021, 75% of organizations embarking on an IoT project will work with a system integrator to strategize, plan, deploy, and/or manage the initiative.

– IDC FutureScape 2020
Go Farther With a Digital Transformation Partner
There's an old African proverb that says "If you want to go quickly, go alone. If you want to go far, go together." In the world of fast-paced, modern digital business, strategic partnerships are the key to "go far". In this blog post, we will look at why partnerships are essential for digital transformation initiatives and how it takes a community to create lasting change in your organization.
84% of Digital Transformation Projects Fail
Transformation is hard, and digital transformation is even harder. Imagine integrating digital technologies into every aspect of your business: the way you build products, the way you sell products, and the way you market them.
A McKinsey global survey on digital transformation found that the success rate for digital transformation projects is only 16 percent. For companies in the tech industry (such as high tech, media, or telecom) the success rate is a little higher at as much as 26 percent. However, in more traditional industries, such as oil and gas, automotive, and infrastructure, only 4 to 11 percent of the organizations surveyed have successfully digitally transformed their businesses. But why is this?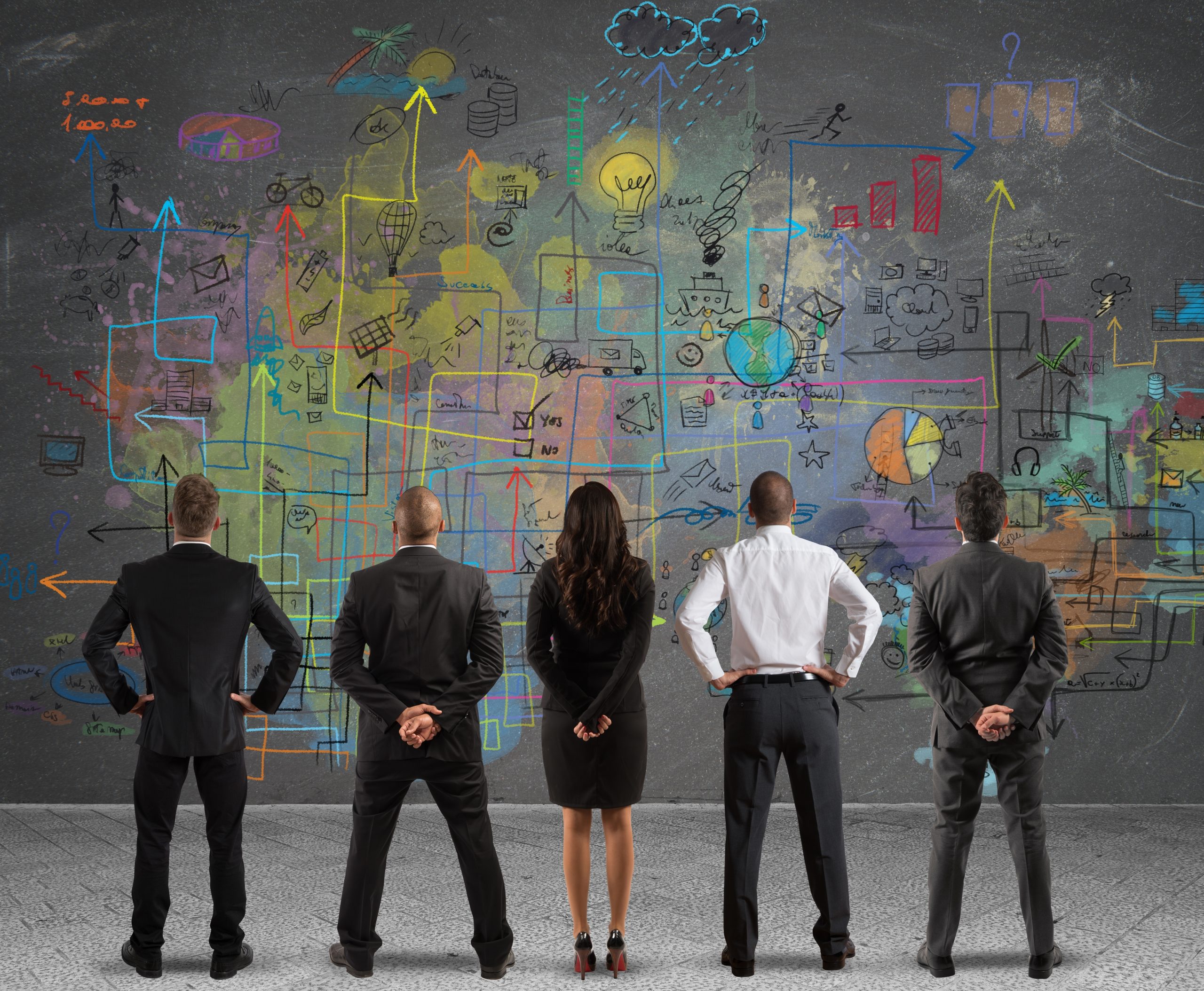 Digital Transformation Projects Can be too Complicated to do Alone
Whether you are a technology provider or an organization trying to apply new technologies to your business, you have at least once observed or experienced the complexity of digital transformation projects.
For a digital transformation project, you often need at least 5 core systems in place to ensure that the solution is well designed, developed, deployed, and maintained without any friction. Most of the time, these systems are the data input, network, data storage and processing, web services, and integrated apps or systems. Under each system, there are additional requirements and deeper layers of advanced technology.
Is there a single company or organization capable of conquering this complexity themselves?
Maybe. But it will take years for them to gather all the necessary technology, systems, and requirements. And by the time the project is claimed "successful", the market has already left them behind. This project then becomes one of the 84% of failed digital transformation attempts.
This leads us to the most critical question: how can we put together a digital transformation project, with speed and efficiency?
The clearest path through is an ecosystem of partners.
What is a Partner Ecosystem?
A Partner Ecosystem consists of 3 main pillars:
Development Platform
Technology Partners
Implementation Partners
Let's look at each pillar and see why – working together – they are the key to digital transformation success.
Development Platform
Like the foundation of a building, the development platform – where you build your application – is one of the most crucial parts of any development project. It determines whether you will build a single-family home or a skyscraper; whether you can expand your application as your client's business grows or get stuck with limited capabilities.
Depending on the characteristics of the project, there are many platform vendors on the market for corporations to choose from. When looking for an app development platform, besides cost and budget, here are some factors you should consider:
What are the Core Capabilities of the Platform and do they fit the vision of your project? List out the technologies required in your project and their level of importance before beginning your search. For example, you would want to know if the platform can process large amounts of data in real-time, work with Image Recognition, or integrate with sensors and other hardware.
What is the Development Environment of the Platform? Will it make your developers or engineers more productive? Does it provide low-code tools, or will your engineers have to code every single line from scratch?
What is the Deployment Environment of the Platform? Is it reliable? After creating the application, can it run smoothly and flawlessly? More importantly, if your customers want to add new functions in the future, will it be easy to expand the project with this platform?
VANTIQ provides the best platform for real-time event-driven application development. Built and run on an Event-Driven Architecture, the VANTIQ platform brings reliability, agility, and low-code highly visual tools to create any kind of app you want.
Technology Partners
The 2nd pillar in the partner ecosystem is technology partners. Technology partners include hardware vendors, independent software vendors (ISVs), OEM vendors, SaaS vendors, and so on. The role of technology partners in the ecosystem is to provide the technological capabilities throughout each step of building the solution.
Each partner has their domain expertise – from providing hardware for smart manufacturing to deploying machine learning algorithms to detect anomalous patterns. They are the pieces of a puzzle that, if put together correctly, will create powerful features to drive an application.
However, technology alone cannot function in the ecosystem individually without the last pillar – implementation partners.
Implementation Partners
Implementation partners are systems integrators (SIs) who have experience in building solutions. They take all the technology, put them on the table (a.k.a the platform), and create a complete solution out of all the pieces.
According to IDC, it's predicted that by 2021, 75% of organizations embarking on an IoT project will work with a SI to strategize, plan, deploy and/or manage the initiative.
The impact of implementation partners is significant. In particular, here are just a very few things SIs do for a digital transformation project:
Determines how to integrate a new solution into your legacy architecture
Understands the technologies required to solve potential business problems
Brings expertise through experience and domain knowledge
Acts as an advisor during the planning phase, evaluates workforce readiness for digital transformation, and delivers customizable applications
When working with SIs, IDC suggests that corporations consider employing a management platform that gives visibility into the various outside partners and create cross-department teams to determine goals/outcomes for the project. Furthermore, corporations should find integrators with experience building industry-specific apps and systems.
Partner Ecosystem – Summary
To sum up, here is how the partner ecosystem helps digital transformation projects come together:
Development Platform – Provides the core environment to design, develop, deploy, test, and maintain mission-critical applications.
Technology Partner – Provides key technologies to meet specific project requirements.
Implementation Partner – Integrates everything and fills in the blanks of your solution with experience and expertise in the industry you are trying to enter.
What it means in business terms:
Shorter time-to-market, reduced unnecessary costs and higher project efficiency
Expanded product delivery channels
Flexible and customizable applications
Smooth process from planning and designing, to deploying and maintaining the solution
Higher project success rate
VANTIQ's Partner First Strategy
At VANTIQ, we have a partner-first strategy. Since the founding of VANTIQ in 2014, we have been investing in building and nurturing our Partner Ecosystem. With about 150 partners to-date, our Partner Ecosystem consists of SIs, ISVs, OEM partners, and many strategic partners all over the world. We focus not on the quantity, but on the quality of our relationships and the engagement with our partners. Learn more about VANTIQ's Partner Ecosystem.
One of our most recent and exciting partnerships is with Bits In Glass, an award-winning software consulting firm serving clients across North America. Bits In Glass will develop real-time, event-driven business solutions built on VANTIQ's high-productivity application development platform.
"Adding event-driven architecture allows us to further elevate our clients' digital transformation journey by enabling them to solve highly complex, large-volume, dynamic business challenges. We're excited to bring over 15 years of digital transformation experience to complement the VANTIQ platform and offer this new technology to our clients."

– Lee Mainman, VP of Sales and Marketing at Bits In Glass.
Read more about the Bits In Glass partnership here.