This post was featured as the cover story for the September 2019 issue of Tech Mag Oil & Gas Edition where VANTIQ was listed as a Top 10 Oil & Gas Tech Solution Provider. Read how VANTIQ CEO Marty Sprinzen sees the Oil & Gas industry changing in the very near future and the role that VANTIQ will have to play in this digital transformation.

What are the major industry challenges facing the Oil & Gas technology arena, and how can VANTIQ address them through its revolutionary products/solutions?
The oil and gas industry is rapidly becoming more connected and more 'real time'. Whether the challenge is issue detection and control, loss prevention, physical security, employee safety, or operational efficiency, the reality is that legacy methods of running oil and gas operations must change–and are changing.
True digital transformation of the oil and gas industry requires entirely new applications that are real-time in nature. Most efforts to develop new, or transform old, applications into real time have failed because a database-centric architecture is not appropriate for real-time applications. As a result, a significant number of modern, event-driven systems are now being built that sense, analyze, and take immediate action on the events occurring in and around oil and gas operations in real time.
The results can be dramatic and produce distinct structural and financial advantages for those who embrace them. At a high level, this is what VANTIQ enables.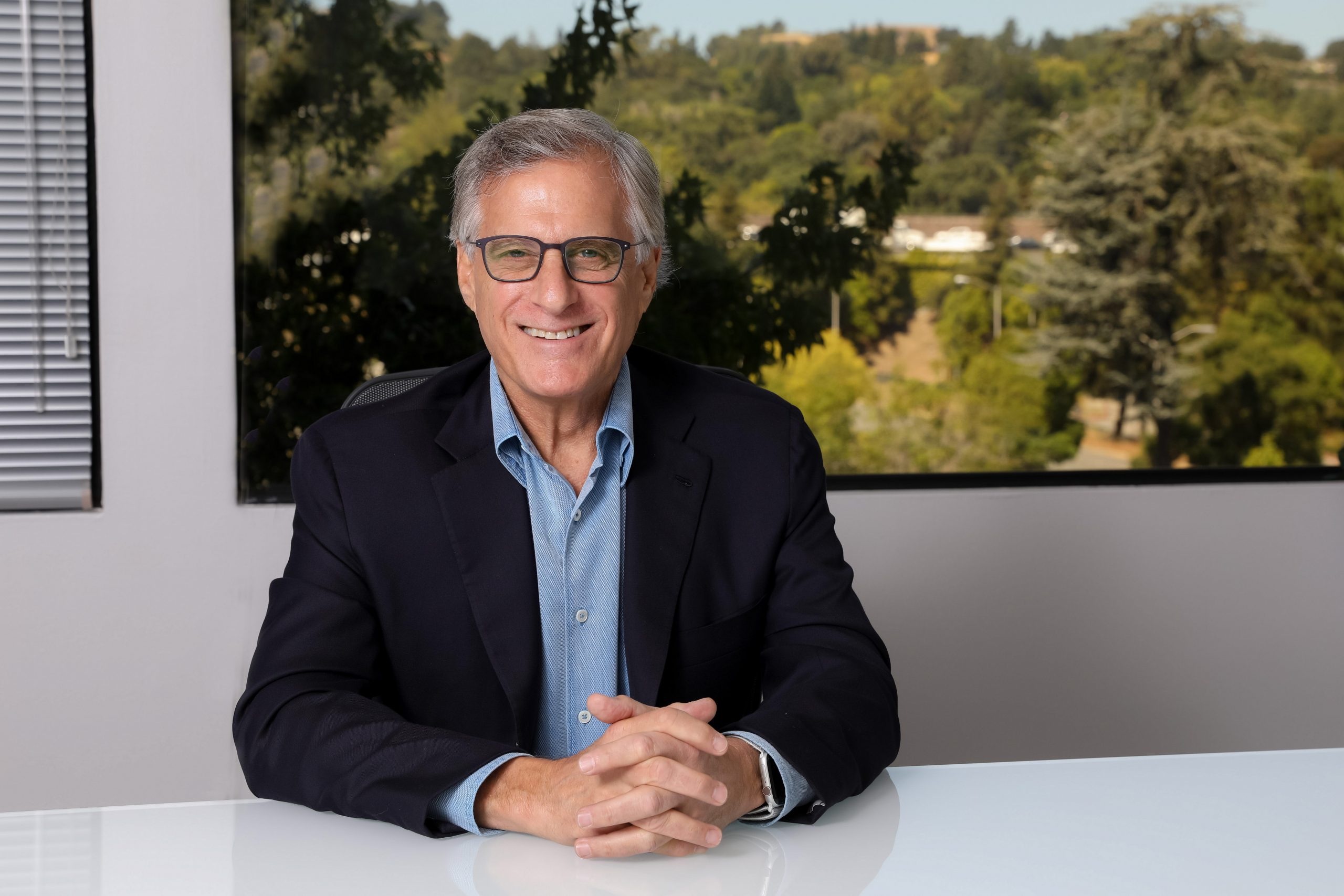 [Photo of Marty Sprinzen, CEO and co-founder]
In 2018, oil and gas companies are challenged to continue to focus traditional IT and, at the same time, dog-ear funding to invest in high-impact innovative technologies to help digitize and transform the business into a tightly-integrated and agile business environment.
– IDC, 2018 Top of Mind for Oil and Gas CIOs, Chris Niven, February 2018
So what exactly is VANTIQ?
VANTIQ is an application development platform that enables companies to rapidly build and deploy the next generation of software applications. These so-called 'event-driven' applications ingest the constantly flowing data about the important events happening in and around your oil and gas operations. As the data streams in it is analyzed in real time. Based on this analysis, complex actions are orchestrated–often involving true collaboration between people and systems or machines. Because VANTIQ abstracts away the vast majority of the complexity in building such applications, solutions are deployed, and value can be realized in weeks or months instead of the years it would normally take with legacy application development methodologies and platforms.
Such applications can take advantage of the latest advances in IoT, AI, machine learning, and edge computing both now and in the future–and they can evolve organically over time as simple use-cases expand to more complex and combined ones. In this way, oil and gas operators have a future-proof system that will deliver increasingly powerful results and integrate new technologies as new systems come online.
Marty Sprinzen, CEO of VANTIQ is a visionary leader and successful software entrepreneur. Along with his long-time partner and CTO Paul Butterworth, they have an extensive background in introducing innovative software solutions. What is their story and how did it lead to VANTIQ?
Marty and Paul had already enjoyed successful careers by the time they became early leaders at database pioneer, Ingres, in the 1980s. Along with Oracle, Ingres effectively created the market for relational database technology. From there, Marty and Paul co-founded Forté Software–the industry's first 4GL rapid application development platform for building the new generation of web-based applications that were gaining prominence in the 1990s. At the time, Forté was the fastest growing software company in history, and Marty eventually took the company public in 1996. Forté was used by over 3000 enterprises around the world for mission-critical, internet-based applications – and it is still in use today.
After further successful stints founding platform companies in the mobile application and web services spaces, in 2015 Marty and Paul both realized that the next generation of applications involving technologies like IoT and AI would require an entirely new type of platform–one based on an event-driven architecture operating in real time–not a database-centric architecture running operations in batch mode. It was also clear that such mission-critical applications would need to enable powerful collaborations between humans and machines and that they would very likely have to allow massive amounts of data to be processed on the edge. Later that year they formed VANTIQ and began developing what is now the hugely successful VANTIQ Platform. In summary, Marty and Paul have been at the forefront of major technology platform trends for the last 30+ years and continue those efforts today.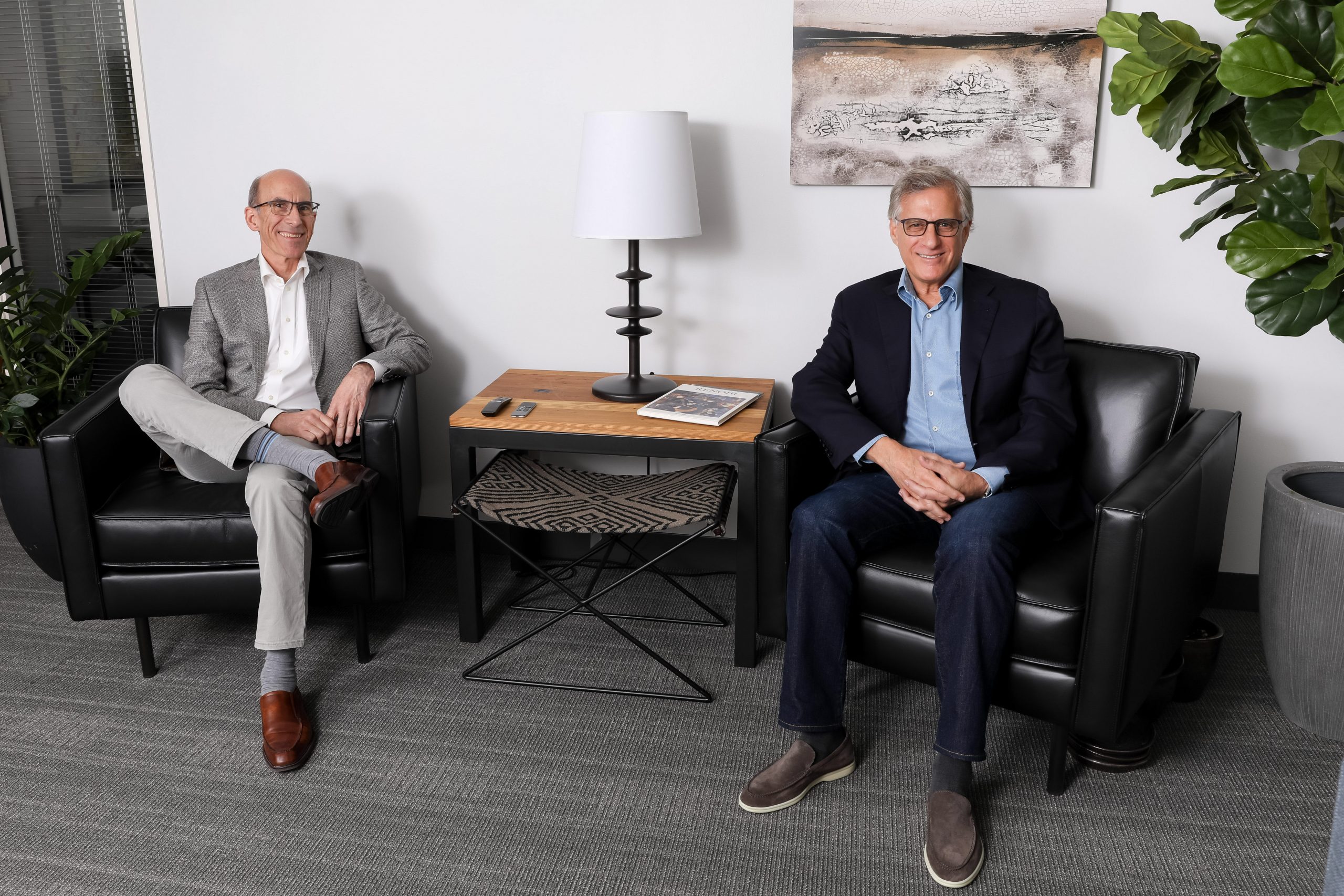 [Photo of Marty Sprinzen, CEO and Paul butterworth, CTO]
How did VANTIQ surface in the Oil & Gas Sector?
VANTIQ was initially sold as a horizontal platform that could be applied to a very wide range of use cases across numerous industries. This is still true – as most examples of effective digital transformation fundamentally involve converting processes and systems from batch mode into real-time mode–no matter what the industry. But, in 2018, VANTIQ began to discover that a few key industries had a particular propensity to be attracted to the VANTIQ solution. Oil and gas is one of those industries.
The reason for this is that the majority of the most common use cases for real-time applications – real-time field service, predictive maintenance, safety and security, environmental and system monitoring, and supply chain control – apply to the oil and gas industry. All of these scenarios dramatically benefit from being made 'real time' in nature and are increasingly impacted by the latest technologies such as IoT, AI/machine learning, and edge computing.
Although we aren't allowed to name them, VANTIQ is now working with three major oil and gas conglomerates to transform elements of their operations with real-time solutions. In all cases, these companies started with one particular use case and then began rapid expansions to adjacent use cases. Time-to-value is being measured in months, not years
How can VANTIQ clients in Oil & Gas–or their software development partners–quickly develop applications that transform the way they operate their business?
VANTIQ not only enables the next generation of digital applications to be built, but it ensures they can be built, deployed, managed, and updated with speed and great agility. This is because VANTIQ has embraced a low-code, visual development paradigm that abstracts much of the complexity of building event-driven applications away from the developer. The VANTIQ Platform also applies the latest DevOps methodologies to the management and maintenance of mission-critical applications, whether they run in the VANTIQ cloud, a private cloud, or on the edge.
In some cases, companies choose to develop these applications themselves using the VANTIQ Platform. In other cases–perhaps when the backlog of internal IT is too large–they involve their favorite systems integrator or VANTIQ suggests one for them. In any case, whoever is building the solutions will benefit from VANTIQ's training and support and be able to quickly bring systems online.
How does VANTIQ enable customers to analyze how events are occurring and changing in time and space throughout their business operations in real-time?
The following graphic depicts how events flow in from IoT devices and sensors, business systems, and mobile devices. Event data streams flow into a real-time, event-driven application and are processed continuously. The application understands the context for these events – whether they are appropriate and can be ignored, or if they are out of the ordinary and need to be acted on. Most importantly, actions can then be taken in real time and result in powerful outcomes. Of course, the actions themselves are also events that flow back into the application and must be processed in real time so this is not a simple one-way process flow but a complex, real-time, never-ending system.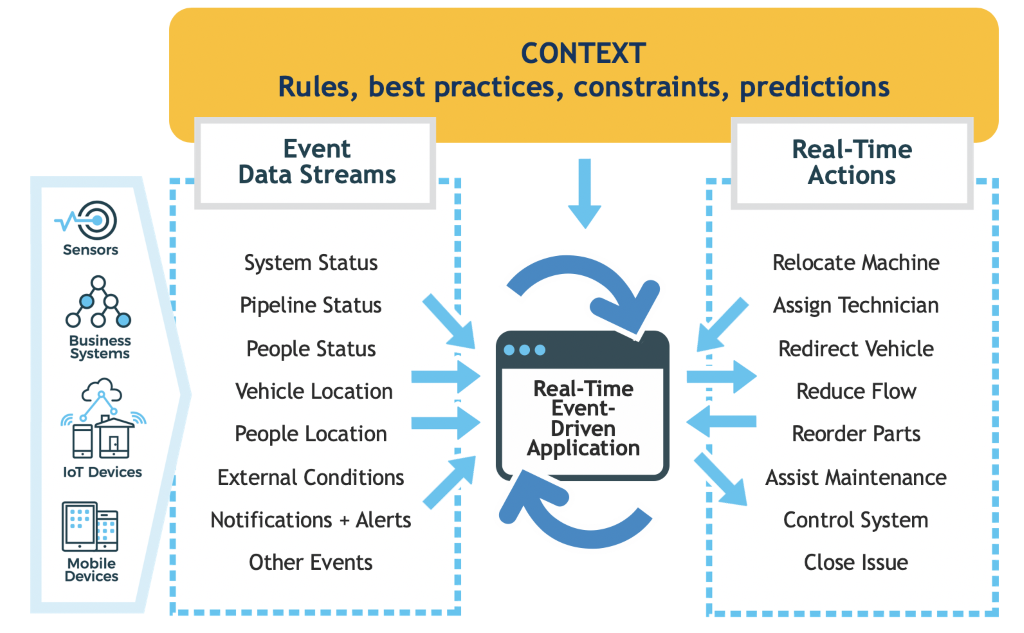 [How event-driven applications function]
How is VANTIQ is incorporating or bringing new technologies such as AI, IoT, and edge computing together with a client's legacy systems?
By 2021 over 40% of data generated in oil and gas production plants and in the field will be collected and orchestrated on IoT edge devices. By 2022, 75% of new assets will be deployed with some self-diagnosing and self-healing capabilities
– IDC Futurescape 2018, Worldwide Oil & Gas Top 10 Predictions
Industry trends are clearly driving the need to build systems that incorporate AI/machine learning, IoT, and edge computing. But the challenge is that none of these technologies actually does anything on its own. They are all simply pieces of a larger solution. VANTIQ is the application platform that takes these pieces and puts them together into applications that can sense, analyze, and take intelligent actions in real time.
Recently, VANTIQ developed an application with a client that uses machine learning to interpret video feeds from drones in real time to detect pipeline vegetation overgrowth conditions, and then dispatch technicians to address the situation as appropriate. This application was created by two developers in approximately two weeks and integrates with the OSIsoft PI System.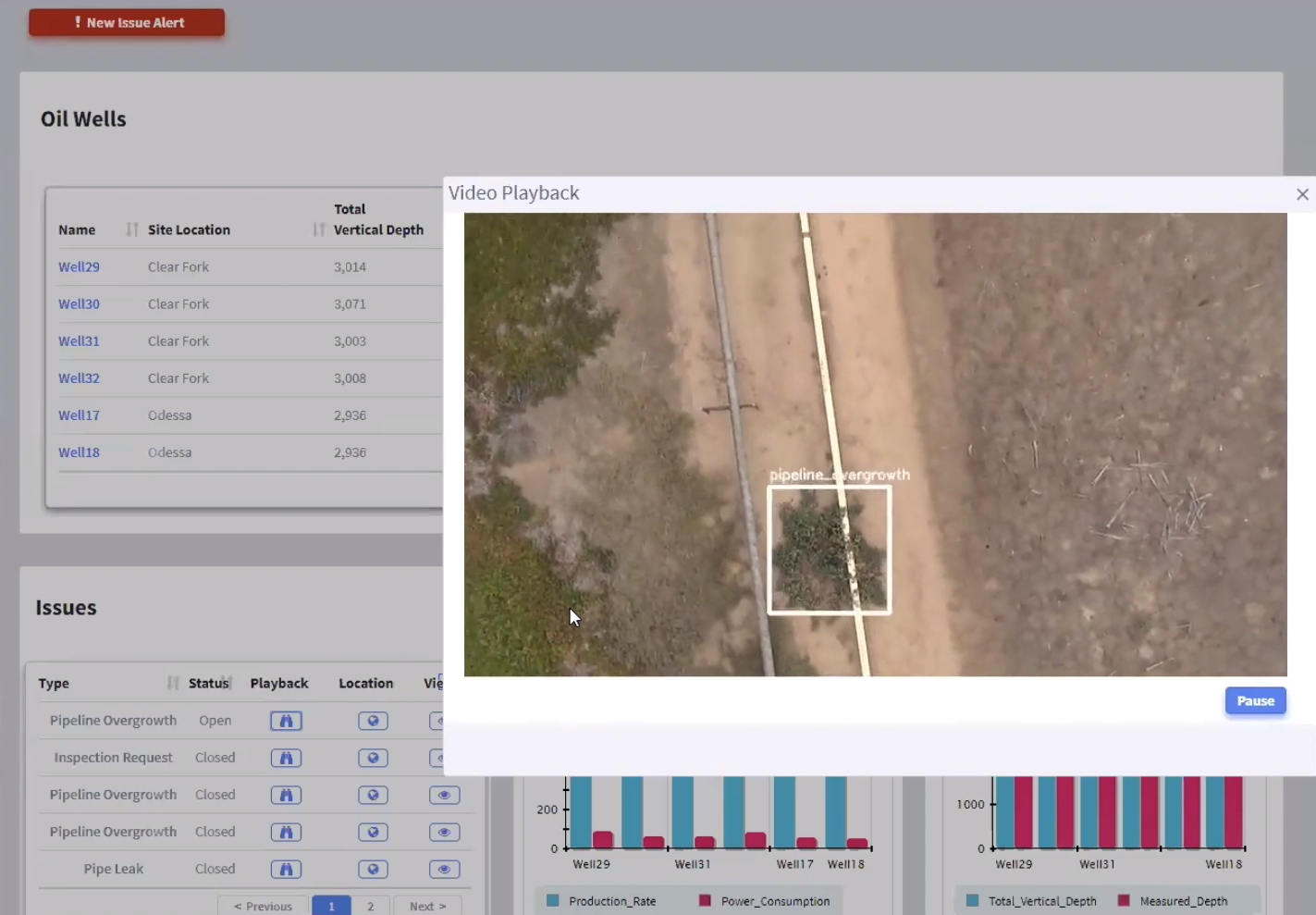 [Screen shot of real-time monitoring and field service application]
Here is a simplified breakdown of how this application functions: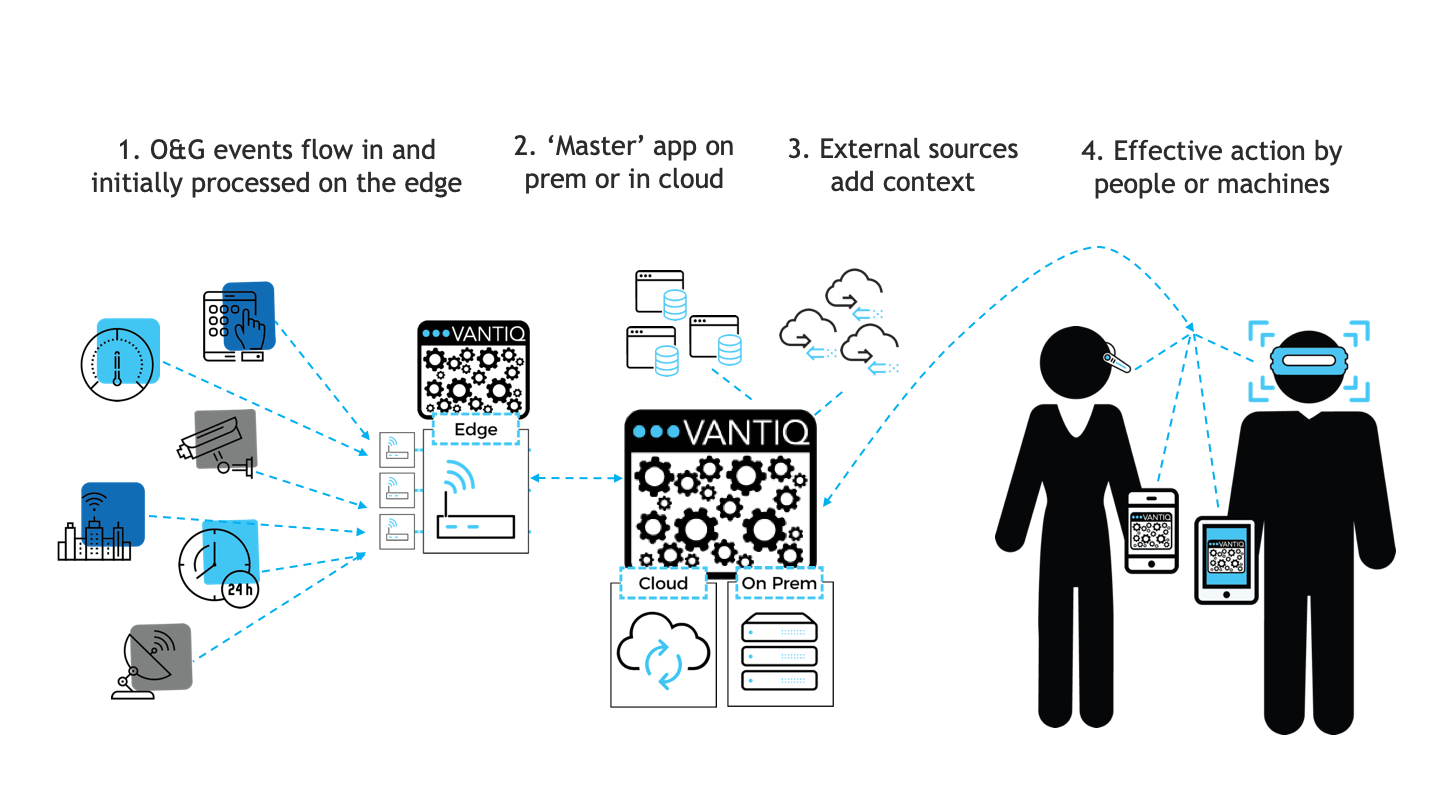 [Simplified process flow for event-driven application]
In the first step, event data (flow rates, temperatures, security alerts from stationary cameras, etc.) regarding the state of the pipeline flows in from sensors in the field. In this example, the event data is processed by a VANTIQ application running on the edge, close to where it is generated, which reduces latency and the amount of data that needs to be sent to the master application. In this particular case, a real-time video feed from a drone is also analyzed by machine learning to detect conditions of vegetation overgrowth on a pipeline.
In step 2, only the most important event data is sent to the master application which may be running in the VANTIQ cloud or on premises in a private cloud. This is where the processing of complex events takes place. At this point, additional information from supplementary sources, such as local weather conditions or historical data pulled from a database, may be added. In our specific application, a 3rd step involves adding information on the field service employee shift schedule from an ERP system and data about the local weather forecast.
Finally, in the 4th step, the application orchestrates the real-time service of the pipeline: the closest available field service team (determined via real-time GPS) is dispatched to the precise location of the issue; it is addressed; and a new drone is dispatched to verify the work and record it for historical purposes. In this way, people, machines, and systems all work together in real time to quickly and efficiently achieve a valuable objective–the removal of the overgrowth and prevention of a potentially costly or dangerous situation.
Why does VANTIQ focus on enabling effective human-machine collaboration?
Simply put, you can't automate the entire world. People must be utilized at the right time. For example, a security breach or a safety situation like an oil spill, an earthquake, or an operational situation focused on providing better service all require people to respond appropriately. The idea of having people involved is critical and unavoidable.
VANTIQ recognizes that using people at the right time and place is necessary because oil and gas systems are so complex. Humans have intuition, experience and creativity to figure out solutions that fully automated systems are not even close to deducing today. The concept of enabling true human-to-machine collaboration in real time is one of the biggest reasons why VANTIQ is chosen as a solution. Whether they are allocating technicians in an Uber like fashion or monitoring theft from a pipeline in real-time, VANTIQ built applications enable humans to take action, be informed, and approve various activities.
VANTIQ applications can easily utilize human-machine collaboration via web applications, mobile interfaces, natural language voice commands, text-to-voice systems, and augmented reality solutions individually or collectively.
If Marty was to draw an analogy of his personal interest or hobby and the VANTIQ Platform, what would it be?
After Forté, VANTIQ CEO Marty Sprinzen began a past-time of flying multi-engine jet airplanes. From this experience he clearly learned the importance of effective human-machine collaboration in which both people and automated systems work in concert. Both efficiency and human safety rely on it! The recent, unfortunate situation with 737 MAX airplanes highlights what can happen when modern technical systems are not architected as true event-driven collaborations. VANTIQ was developed from the start with this in mind.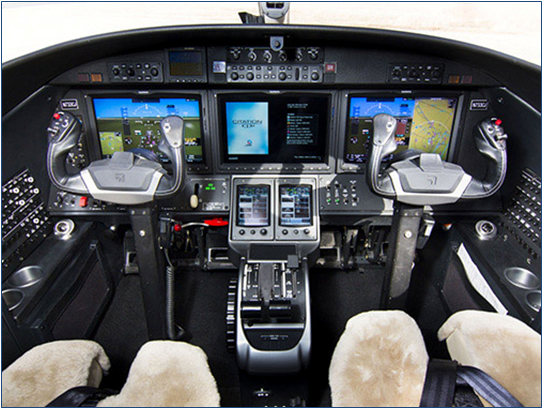 [Cockpit of Marty's jet. Human-machine collaboration necessary!]
How are digital twins relevant to VANTIQ?
A digital twin is a model of an asset represented in the digital domain. The asset may be a physical asset such as a sensor or vehicle, or it may be a logical asset such as a business process or service. Driven by instrumentation of the asset, the digital twin behaves as a high fidelity, digital simulation of a system. This capability is used to produce a digital profile of both the historical and current behavior of the asset with the resulting profile used to detect behaviors that are less than optimal or predictive of future behaviors.
Digital twins can easily be built in VANTIQ to simulate the behavior of machines, assets, and systems used in the oil and gas industry. But–even more importantly–digital twins built in VANTIQ can be quickly turned into fully operational applications once the machines, assets, and systems move out of the virtual realm and into the real world. This makes VANTIQ the perfect platform to both simulate and operate real-time systems for oil and gas.
How easy is it to integrate VANTIQ applications into legacy software and hardware systems?
Just as it is possible to rapidly build real-time applications in VANTIQ, it is also possible to quickly build integrations into both legacy and modern technologies. The VANTIQ Platform features pre-built integrations with most modern IoT and message transfer standards and technologies. It also comes with an Enterprise Connector SDK that makes it possible to build scalable and reliable connections to virtually any system. For example, VANTIQ recently built an effective integration with the OSIsoft PI system APIs in a matter of days. Additionally, VANTIQ Professional Services are available to assist developers as necessary.
How secure, scalable, and reliable is the VANTIQ Platform?
In many applications, security and scalability are an afterthought. POCs are built and then thrown away when production-quality systems need to be architected. VANTIQ is entirely different in that applications built in the platform–even POCs–are inherently secure and scalable right from the start. In many oil and gas scenarios, mission critical systems cannot be taken down for upgrades or enhancements. The VANTIQ Platform allows for most applications to be updated while they are still running. This is a true legacy of the Forté experience of Marty and Paul – some of the most scalable and reliable software systems in America, including 911 call systems and subway operations applications are still in use 20+ years later, were built using Forté.
Tell us more about VANTIQ as a company.
The VANTIQ co-founders began building the core platform in 2015 based on their decades of previous experience developing application platforms. The company now has approximately 100 employees with offices in Japan, China, Singapore, Latin America, Europe, and headquarters in Walnut Creek in the San Francisco Bay Area of California. VANTIQ has over 30 system integrator partners around the world building applications with the platform. In 2018, VANTIQ was rated as both a Gartner Cool Vendor and as the CODiE Award Winner for Best Platform as a Service. The platform has been featured in numerous Gartner reports as the only platform combining low-code, rapid application development and an event-driven architecture at its core.
Tell us a bit more about VANTIQ's newly-established collaboration with SoftBank?
In July 2019, VANTIQ announced a strategic partnership with the world-renowned SoftBank Corp. This partnership features VANTIQ as the core element of SoftBank's massive IoT and AI initiative, initially focused around Smart City solutions and eventually expanding to many different industries and real-time use cases. It also involved a strategic investment from SoftBank that ensures VANTIQ will thrive in the years ahead.
What's next for VANTIQ?
VANTIQ continues to push the boundaries of technology for real-time application platforms involving IoT, AI, edge computing, and other key technologies. A key aspect about VANTIQ is that it is future-proof. As advanced technologies continue to evolve and multiply, VANTIQ will increasingly function as the intelligent integration layer allowing companies to build complete applications with such technologies. To this end, VANTIQ is continuing to develop capabilities in its platform that enable multiple real-time applications to work in concert as powerful systems.
From the business perspective, VANTIQ is growing rapidly–adding many new enterprise customers each quarter. Already an international company with a network of partners around the globe, VANTIQ can effectively serve the needs of multi-national corporations.
Watch our quick Oil and Gas Explainer Video and see how VANTIQ is planning to change the way the oil and gas industry operates.
---
Now that you've read the article check out the print version of Marty Sprinzen's cover story for My Tech Mag Oil & Gas Edition and see why VANTIQ was named one of the Top 10 Oil & Gas Tech Solution Providers 2019.
Got someone in mind who is leading the charge when it comes to digital transformation? Are you that person? We would love to learn more about what thought-leaders in IoT and EDA are doing to solve the challenges of today and share that expertise with our readers. Reach out to the editor at: [email protected] for more information.