Vantiq has been working closely with its partners to implement successful smart building and environment solutions to combat the spread of COVID-19 as well as help transform the world to adopt smart technology. Codenamed Project Q, our homegrown smart office solution was built with our partner Rigado using tailored edge hardware that senses people and things in our office. We sat down with Kevin Tate, CMO of Rigado, to discuss how and why workplaces are changing permanently.
With 20 years of Sales and Marketing experience serving G2000 brands and agencies and a Stanford graduate, Kevin is an avid technologist, tinkering in all things internet, mobile, and media. As CMO of Rigado, he leads sales, marketing, and business development, enabling companies to to build robust IoT systems.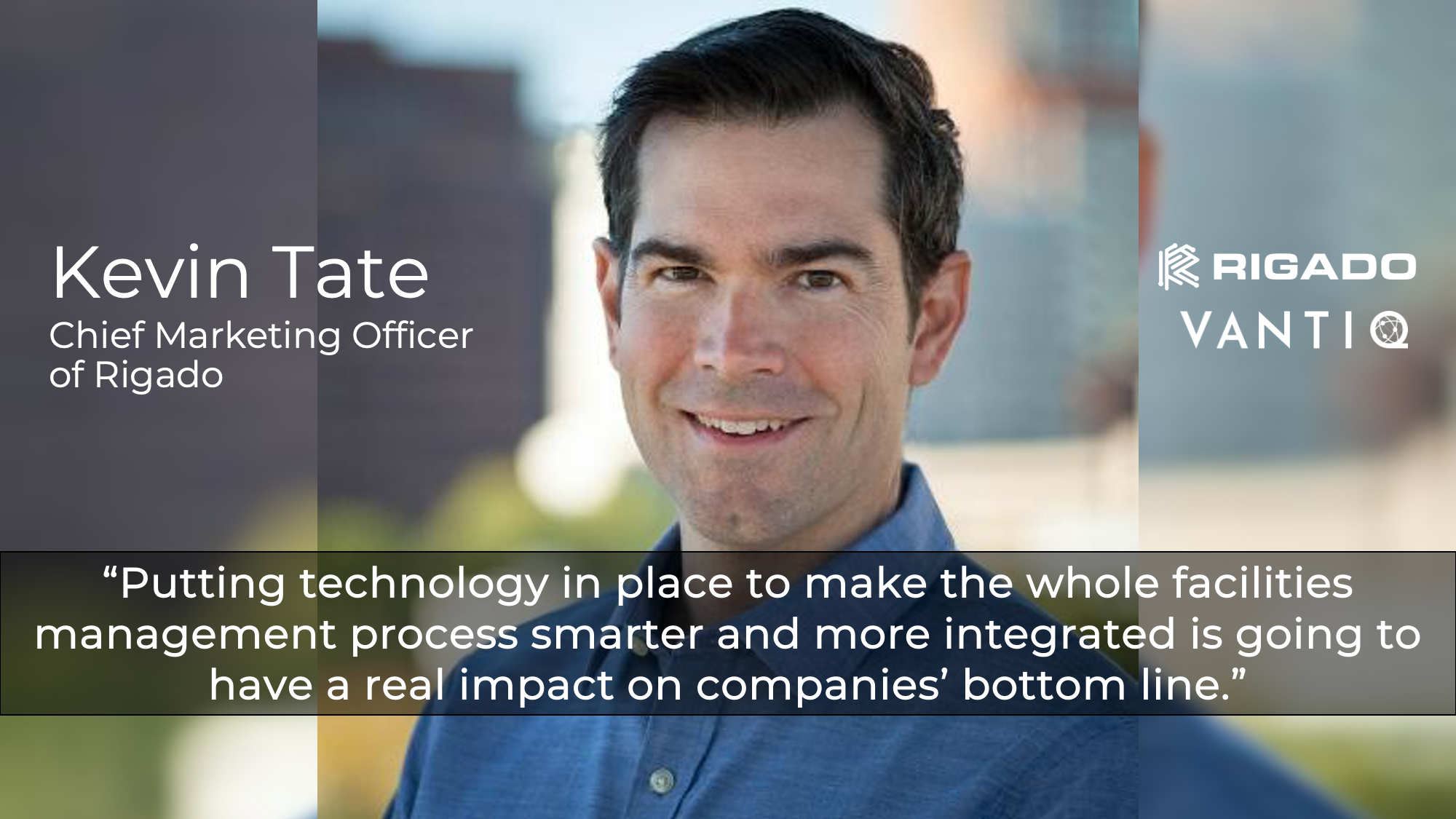 Q: How has the pandemic affected your business?
Kevin: The pandemic created a real urgency around bringing technology to smart workplaces that, frankly, we haven't seen in the market before. We've been in smart buildings for some time doing things like tenant experience enablement, tracking utilization, and occupancy so portfolio managers can better understand what space is needed and how to use it best, supporting things like hot desking and reservation systems.
What's interesting about the pandemic's effect is that a lot of those same use cases and technical capabilities have now been refocused on return to work, COVID-related safety issues and what employees are expecting out of those safer workplaces so they can feel safe enough to return.
Q: There's certainly an urgency about it. It is hugely relevant to maintain workplace safety. However, it's hard to get IoT devices to start talking to each other and get a response that you want. What is Rigado's approach to enabling IoT or getting this stuff to work?
Kevin: Part of what we learned early on that can really simplify the implementation of IoT for customers is to reduce the number of moving pieces; to try to create larger building blocks.
What we've done with our integrated sensor and device networks is we've taken several pieces and put them into one building block that's still flexible and extensible for whatever you're implementing. Specifically, what we put in that building block is the sensors and devices themselves, the gateway hardware for all the communication and computing, then a software layer that manages the devices, data processing, and connectivity to the cloud.
We then have tools that live in our cloud to keep the hardware configured, secure, and updated. Importantly, though, it still allows the customer to do whatever they want with the data that's coming out of that system. We really believe customers want to create, configure, and manage their own enterprise applications and drive value that is unique for them. We want them to be able to do that.
The other thing we've done is put those pieces together as a managed service. We call it 'edge-as-a-service". This kind of borrows from what has happened in industrial IoT: being able to take all those gateways, sensors, and software and roll them together into a monthly subscription; something that has ongoing support and updates so you don't have to worry about it.
Q: IoT is now going to come alive and help us feel safer getting back to school and back to work. Let's talk a bit about our partnership around the Vantiq Back-to-Work Accelerator which is being implemented in our headquarters as we speak using components from Rigado. Where does Rigado fit in the Back-to-Work Accelerator?
Kevin: Some of the most important pieces we are bringing are around occupancy and activity: understanding from a safety and compliance perspective how many people are in the space and if it has exceeded its max occupancy. Also, we focus on understanding how that is applied in things like common areas, conference rooms, restrooms, or places where you could have social distancing concerns.
Think about Rigado as a solution from the sensors and devices up through the edge, but stopping right there, right as the data is sent to an enterprise app or the cloud. Our job is to collect that data, process it, and format it in a way that 'tees it up' so someone can use it to create value.
With Vantiq, someone can create a system of dashboards, workflows, and alerts that are specific to the problems they're trying to solve. I think that is really key as companies address something as new and as nuanced as safe workplace management.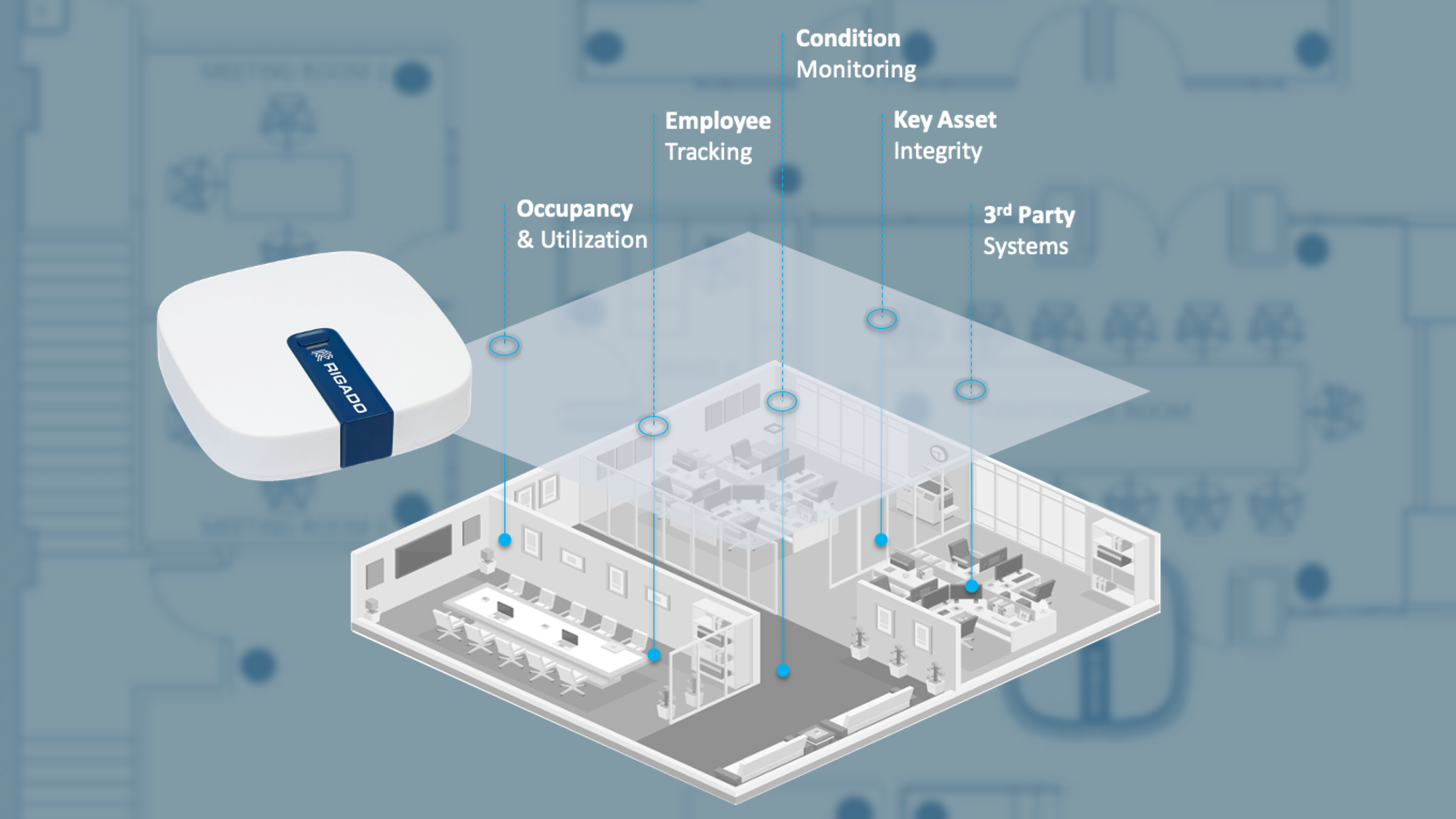 Q: There was a trend before COVID-19 of the digital workplace that escalated after the pandemic occurred. How will digital workplaces become the norm?
Kevin: I like to joke when I when I go to bestbuy.com, it knows all about me, whereas the building I work in literally has no idea who I am or that I work there. That's weird, right?
Trying to figure out how to make buildings at least as smart and as responsive to us as we've come to expect from websites and mobile apps: that feels like a place to start. I think that's very real. Now that is coming true and I think we're seeing that drive some of the longer-term thinking as people put in safe workplace technology that they want to see scale to a smart workplace.
Specifically, the role of workplace management, cleaning management, and facilities management is a really interesting space. By and large, what we're finding is a real pull from both the owners and the occupiers of a space to get more integrated with facilities management.
There are a lot of forces conspiring in a good way to rethink the workflow and the technology around facilities management. I think we're going to see those things really come together. I hope that drives recognition and value placed on that shared infrastructure and letting the facilities management and management services personnel leverage the same data and infrastructure that the owners and occupiers are.
Q: Do you think digital workplace transformations are here to stay?
Kevin: Companies feel a need to be an employer of choice. They want to create an amazing tenant experience that's part of why people want to come work there or be in their buildings. Thus, we previously had companies heaping on services and amenities: delivery to your desk, laundry services, bike parking that includes automatic tire filling, etc. That felt a bit less real to me than what we're seeing now, which is: occupancy is critical to manage and there are significantly enhanced cleaning needs. So, the focus is now on optimizing that cleaning and keeping a building suited to its occupancy rate.
Putting technology in place to make the whole facilities management process smarter and more integrated is going to have a real impact on companies' bottom line.
To get in touch with an expert at Rigado, click here.
To learn more about Project Q and how you can implement your own Smart Office Solution, check out our webinar with BIG, Transforming our HQ into a Smart Building to Get Back to Work Safely.