Vilavanh Messien, Managing Partner at Infosquare, Evendro Prieto, Business Executive at NX2, and Vincent Wang, SVP at Sunsea AIoT were panel guests at VANTIQ's 2018 Global Partner Summit in San Francisco for a special episode of VANTIQ TV's The Real-Time Enterprise.
What follows are some takeaways from their conversation. You can watch the complete interview here.
Blaine: As you can see, we're joined live by an audience of almost 70 people from around the world, actually ten different countries represented at the Global Partner Summit. Today, we're joined by four experts in digital transformation. We've heard from some of them over the course of the summit in the last two days.
Tell us a little bit more about yourself. How did you get to be where you are today?
Vilavanh: I'm one of the co-founders of Infosquare. We started the company four years ago in Belgium. Prior to Infosquare, I had another company that was bought out. We are starting again; a new adventure. We specialize in information management, whatever that may mean. It's a pretty broad term.
Evandro: I am 36 years old. I founded a small company when I was 17. I've been always working with IT, especially in financial areas. Last year, I founded NX2, a new company in developing software, performance of database software. I have a degree in computer science. Now, I'm starting to do the commercial part, the sales. I'm learning with the team about how to do presales, but this is not new for me.
Vincent: I'm also a technical guy, a hardware engineer. My background of technology is based on some hardware design. 13 years ago, I founded Longsung and have started with Sunsea last year internally. It took me some time to get accustomed to that.
Blaine: What particularly excites you about what's going on in technology these days and where technology and business are mixing? What excites you?
Evandro: I like to solve problems and solve problems fast; to produce with velocity and to produce more avenues or sales. I want to change companies to do that. The technology is possible. This speed and velocity are so hard, so maybe it's possible to provide these solutions for companies. Real-time applications are the path for this future.
Vilavanh: The fact that you can nowadays address things that we weren't able to do a few years ago. I don't know if any of you watch sci fi movies. A few years ago, these are things that we never imagined to be possible to do. Now, we have those technologies available. Those technologies are there to be used to help businesses. I think that's the most important thing.
Blaine: Where do you think the future of people working collaboratively with machines is or do you believe that the future is machine to machine and people will be out?
Vincent: I liked Marty's idea in the first statement very much, this collaboration of human and machine. I think it's why we are there. If there are only machines dominating the world, why are we here? I think this a great idea.
Evandro: I believe that the future really will be machine and humans. I believe that all work that involves reproduce and repeat, repeat, repeat, we will replace it for machines. That's the case. But, when you need to understand, to make some analysis, you need a human to choose the best options because the machine's view really will only predict based on some numbers: probabilities. But the human can watch nuances, little things that I believe the machine cannot. It's important, this collaboration.
Blaine: Yesterday, our guest speaker, Raz Heiferman, gave a great presentation about digital transformation and he introduced us to a new term: agilification. What do you think about the agility of companies?
Vincent: I think for many of the companies, they are not so ready for that. I think the best part of VANTIQ is it helps the customer view that. VANTIQ also provides freedom for the customer and also for us to think about, to focus on our business itself.
For many customers, when we talk with them, they want to be agile, but they don't know where to begin. The frame of VANTIQ, when we show them this frame, they are very happy because it helps us and the customer to have a simple language to think together, to work together.
Vilavanh: Agility is a nice buzz word nowadays. Everyone tries to be agile. The reality is most of them are not because of reasons that were mentioned in the last few days. Some countries think that because they introduced some agile project like SCRUM, they are agile. But, they are not. Agility is not about using the right technology. It is a different way of thinking. It is also about the willingness to test risk and have the structure to support that.
Click here to view the full episode!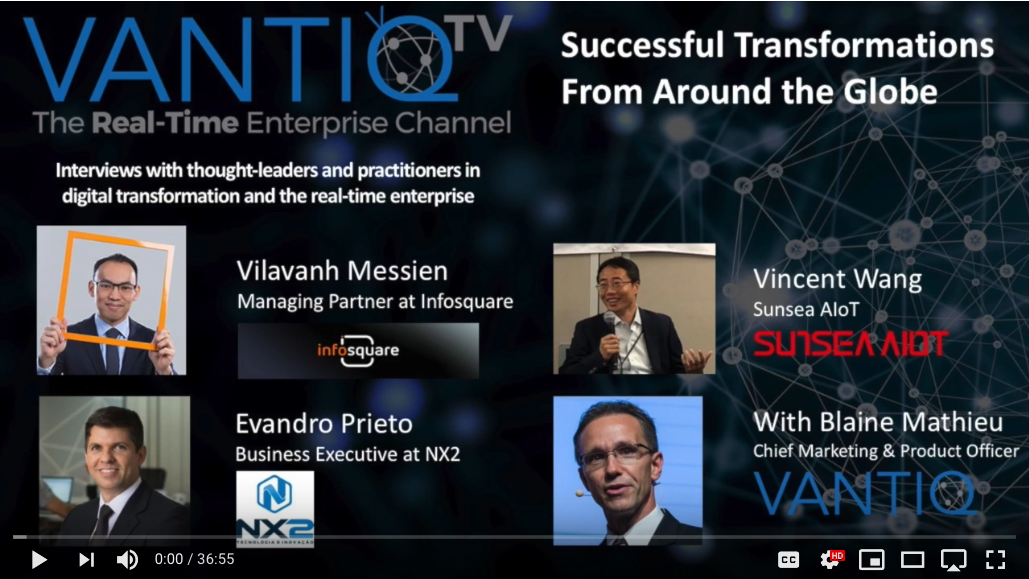 You can reach out to us anytime at [email protected]