The Connected Industry is a concept through which industries can create new solutions to problems in society through the connectedness of various facets, from humans and machines to systems, and companies. For example, the Japan Ministry of Economy, Trade and Industry (METI) has been working on developing a vision for the so-called "Connected Industry initiative." According to METI, "Connected Industries represent a vision of industries creating new added value and providing solutions to societal challenges by connecting a variety of data, technologies, people and organizations in the midst of the global rise of the internet of things (IoT) and artificial intelligence (AI)." 
The idea of the Connected Industry means that machines and people are connected across boundaries to improve processes and outcomes. This connectivity must be in real-time to enable the business of the future – one which can see and process data from thousands of systems and devices and respond in the moment an event occurs.  
As Vantiq's Chief Technology Officer Paul Butterworth shares in our whitepaper The Connected Industries Integration Platform, the vision of the Connected Industry requires a level of integration that can operate in a distributed, real-time and heterogeneous environment – in both computing and networking.
To realize the complete vision of the Connected Industry, the following forms of integration are critical:
Event-Driven:

Coordinate activities throughout the business in real-time with asynchronous processing from any streaming data source such as kafka or MQTT

Service-Driven:

Construct each application in an agile fashion using micro-services, which implicitly support sharing data among applications and naturally integrate with 3rd party APIs

Data-Driven:

Share data among applications and business databases using batch integration approaches to pull relevant information to contextual the real-time data as well as store data for historical reporting and analysis

Collaboration: Efficiently integrate people with intelligent systems so the right person has the right information at the right time to initiate the right action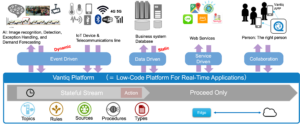 Coordinating across all these different modes of data requires an integration platform that can provide real-time analysis, intelligently respond to situations, and be constructed with libraries of pre-built connectors. As shared in the whitepaper, Vantiq can enable the Connected Industry through its real-time, event-driven integration platform to support the complete hyperconnectivity of devices, machines, applications, AI and people into an integrated and smart digital business.
Want to learn more about how Vantiq supports the integration of a wide variety of AI and IoT systems into real-time business operations? Download our whitepaper The Connected Industries Integration Platform.