Jordan Mayerson, Co-Founder and CEO of Hoplite Power was a guest on VANTIQ TV's The Real-Time Enterprise. Prior to founding Hoplite Power, Jordan was an investment banker with Guggenheim Securities and Goldman Sachs. He has degrees in finance from the Wharton School and in computer science from the University of Pennsylvania.
What follows are some takeaways from the conversation. You can watch the complete interview here.
Blaine: Truly, we look like we're in startup land here. I see you're at a shared office space now that you're sharing with a bunch of other startups in New York City. Is that right?
Jordan: That is correct. We are based out of the New York Designs Incubator in Long Island City which is right outside of Manhattan. Its focus is hardware and design-based companies, which is not the easiest thing to do in a city like New York where everything is more advertising, tech, fintech, or software. We're a small community of like-minded individuals who are building hardware-based products and physical products as opposed to just software. We have a lot of electrical engineers, mechanical, industrial design. We have access to a shop upstairs. We've built all of our products to date in our office, so it's a good place for us.
Blaine: What exactly is Hoplite Power? What problem does it solve, and what is the business model of the company?
Jordan: Hoplite Power, at its core, is providing on-demand smartphone charging solutions through a shared distribution model. Basically, what that means is that we have engineered a network of kiosks on demand, connected. They are about a foot and a half by foot and a half and hang on a wall that we install into a bar or restaurant.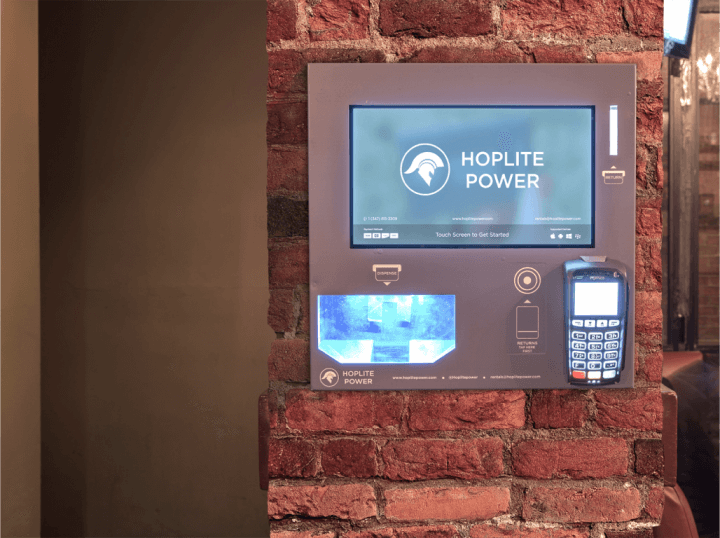 We have a pretty sizable network here in New York City. Basically, it is a vending machine for batteries, for smartphone chargers that you can rent on demand for any type of phone that you have. Utilize the battery pack, charge your phone, and then, like other sharing services, you can actually take it with you from place to place. So, you're never really tethered to a physical location.
Blaine: And how many battery packs does a machine hold? How many customers can you serve at once?
Jordan: Currently, our Gen 1 machines are 15 battery packs at a time. Because we leverage real-time data solutions in VANTIQ, actually, as our backend, we are able to maintain very high-level of supply without having to have a large in-market stock.
So, we could have had a machine with 45 batteries in it and then just kind of let it run, but we really prioritize having a very small footprint machine so we can get into these businesses. And then we just monitor the levels as they occur, transactions wise. If a machine needs to be refilled or serviced, we know that before any of our operating partners would.
However, we are actually in the process, and it's very exciting for us, of developing our next generation machine which is the same exact concept, but much higher capabilities from both the technical and other value added services. We've come up with a very novel, internal system that is allowing us to maximize battery space with minimizing footprint.
Blaine: What's one thing you would do differently?
Jordan: I would've said "bloody hell" to prototype zero. I realize now that the most important thing is speed to market as analogous of a final product as possible. So, when we cut out the capability of doing self-charging, that allowed us to really move quickly because we didn't have to design our own battery pack. We white labeled and sourced directly from manufacturers overseas. We didn't have to figure out complex charging protocols, battery management, and power issues there. It's a very simple system.
We have a tendency to forget that without the hardware, the phone, all the really cool stuff that our phones do would be useless. So, if I would kind of do it again, [I would focus on] getting quicker to market and focus less on proving and building out the full tech prototype. We could have easily jumped to our current machine without much loss and could have done it a lot quicker because we built it in-house. We didn't hire contractors to do it. We controlled our own destiny.
For those interested in hearing more about Hoplite Power, check out hoplitepower.com. And if you are in the New York City area, keep your eyes open for the kiosks!
Click here or below to watch or listen to the full interview!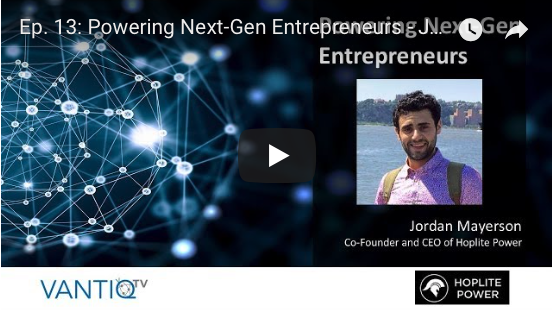 Have a thought for an interesting posting on the topics of real-time business, digital transformation, event-driven applications, human-machine collaboration, edge computing, Internet of Things (IoT), or high-productivity/low-code development? Reach out to [email protected]