The VANTIQ UK team along with Blaine Mathieu, VANTIQ CMO, and members of our partner, Arch Global, attended the IoT Tech Expo Global event at the Olympia Grand in London, UK, April 25 – April 26, 2019. VANTIQ was happy to return to the IoT Tech Expo World Series, this time in Europe. The series visits Silicon Valley, London, and Amsterdam each year featuring three main categories of industry: cybersecurity & cloud, AI & big data, and blockchain. These categories include organizations that influence manufacturing, transportation, supply chain, insurance, logistics, government, energy, automotive, and practically any vertical one can see being affected by tech.
See our recap of the IoT Tech Expo in Santa Clara, CA and subscribe to the blog if you are interested in this series.
After attending, our team members expressed their thoughts on the London event:
Blaine Mathieu, our CMO, gave an excellent opening Keynote speech on rapid creation, deployment, and agility of real-time applications that captivated the audience.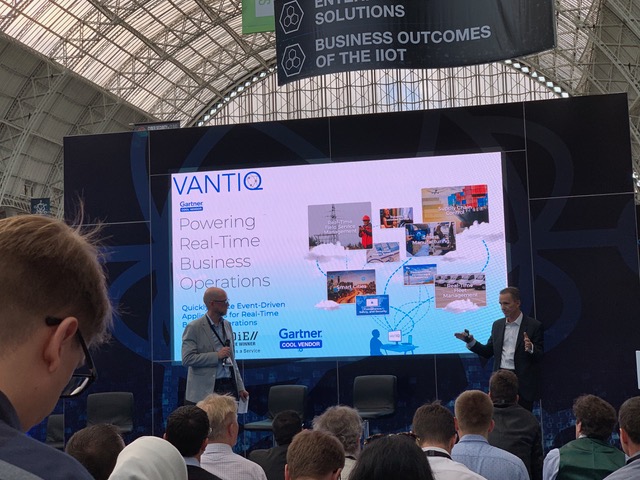 The VANTIQ booth was manned by the UK team of Scott Yarnell, Mark Munro, Clinton James, Blaine Mathieu and Henry Blythe, CEO of Arch – a VANTIQ UKI partner.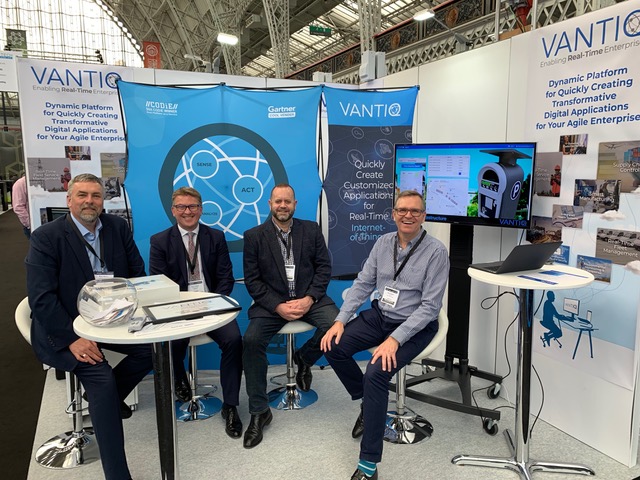 We hosted some terrific conversations with business leaders, sparking new discussions and business relationships for the future. Use Case discussions covered a plethora of industries including smarter cities, insurance risk, oil and gas, manufacturing, and transport and communications, to name a few.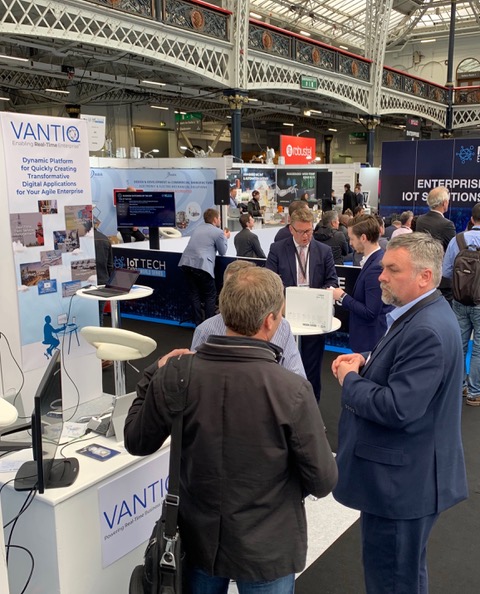 Our social presence helped us connect with the larger VANTIQ community prior to the event and pre-arrange meetings at the VANTIQ booth. The new demo we produced that involved a rolling highlight real of some of our best use cases and our new banners helped attract passing interest and stimulate the debate around real-time, event-driven applications.
Great conversations, great opportunities (for partners and customers), and a great team supporting really helped to make this a worthwhile event.
– Scott Yarnell, VANTIQ Managing Director UKI
Our stand was in front of one of the stage areas which meant that we had a steady stream of interested parties across the two days of our attendance. We were also able to witness testaments from other formative IoT companies. The diverse coverage of the Expo enabled us to effectively connect with other exhibitors. We were able to explain VANTIQ and find where it could compliment other products and enterprises.
There was a clear belief that there is a missing piece in the puzzle of IoT. Businesses need a layer of logic over the top of their IoT platforms.
– Clinton James, VANTIQ Principal Consultant
Subscribe to the blog for more updates on events we attend addressing future technologies.
Have a thought for an interesting posting on the topics of real-time business, digital transformation, event-driven applications, human-machine collaboration, edge computing, Internet of Things (IoT), or high-productivity/low-code development? If so, send us a note: [email protected]