Blaine Mathieu, VANTIQ CMO, interviewed Falk Bothe, Director, Digital Transformation Office at Volkswagen AG, exploring his thoughts on leadership, change management, and the real-time digital transformation of Volkswagen AG.
What follows are some takeaways from their conversation. You can watch the complete interview here.
Blaine: I'd love if you could tell us more about yourself, your role at Volkswagen, and your path at Volkswagen that eventually brought you to the Digital Transformation Office.
Falk: Yeah sure Blaine! Thank you very much.
I started with Volkswagen 17 years ago so I'm kind of still the new guy. [Laughter] At Volkswagen, you usually get born into the world. I started with Volkswagen financial services as my background is in banking. Two and a half years ago, I started to work for Mr. Jungwirth, the group CTO that came from Apple to Volkswagen and practically built up his organization for digital transformation within Volkswagen.
Blaine: What does digital transformation mean to you? It's a term that so many people are talking about and using these days. It's almost lost its meaning, to some degree. What does it mean to you?
Falk: Digital transformation, in my opinion, is something more. It's a transformation of the whole business model or the way we work. For example, in the past, if you wanted to have a meeting, you had to meet everybody in person. Now, if you want to collaborate, you could work in a document then save it to a specific folder or if you work with G suite or Office 365, other people can work on the document around the world, not depending on time zones, being there in person, and so on.
Blaine: You've mentioned change management as being key to the challenge of digital transformation. I know change management was part of your experience and how you came to be in the Digital Transformation Office. Talk to us a little bit more about how critical change management is to DX initiatives.
Falk: So, I think if you really want people to work on the new things or on digital transformation, you need to help them understand what it is really about and how they can benefit from what's happening.
In my experience, people don't resist change. They resist loss. If you say to them, "Right now, you don't have to do this anymore. You have to sit in another office, with other colleagues, and do Skype conferences. You are not allowed to use the phone anymore or whatever." The implementation of new software, new processes, new things to do, or letting people not do what they have done for 20 years is a loss.
You really need to explain what they are gaining in adapting to the new challenges, new technologies, and new collaboration system and how they can implement the experience and the knowledge that they have gained over the last 20/25 years into these processes and why it's really necessary that we have this knowledge. This is why I think that change management is a very critical part of the transformation process.
Blaine: So, to change gears a little bit, one of the themes of VANTIQ TV is this notion of the real-time enterprise or real-time business as becoming central to digital transformation. Does that notion resonate with you? Is Volkswagen trying to become a real-time business, more of a real-time enterprise?
Falk: Well. I think we actually are. If you order a car at the moment, then the whole process is being started and all the material is being ordered by suppliers and delivered just in sequence to our production facility. If you were to order a car, material would be ordered and so on. So, we are a real-time company in terms of facilitating all of our production processes.
"In my experience, people don't resist change. They resist loss. You really need to explain what they are gaining in adapting to the new challenges, new technologies, and new collaboration system."
– Falk Bothe
Blaine: Are there any elements of technology that you're particularly interested or focused on at this point?
Falk: To analyze big amounts of data to really answer questions that have never been answered before or to even calculate several processes or scenarios with the help of quantum computing, we implemented a project where we make use of quantum computing to develop a better battery to simulate how batteries of the future can help us with the electrification of cars.
Blaine: Is there any topic like that where you're thinking maybe a little different than the crowd?
Falk: The most common mistake I think you can make in digital transformation is talking about the old and the new business. We always have developed new things and new services, but it's just one company and it's the people that make the difference. To talk about old and new would be not fair to the ones who have been here for a long time, and it also divides people up. Transformation is about uniting together, internally and externally with the right partners, to create the services that will help us have this company even longer and start into the next decade or the next century, for that matter.
Click here for more content from The Real-Time Enterprise including demo videos and interviews.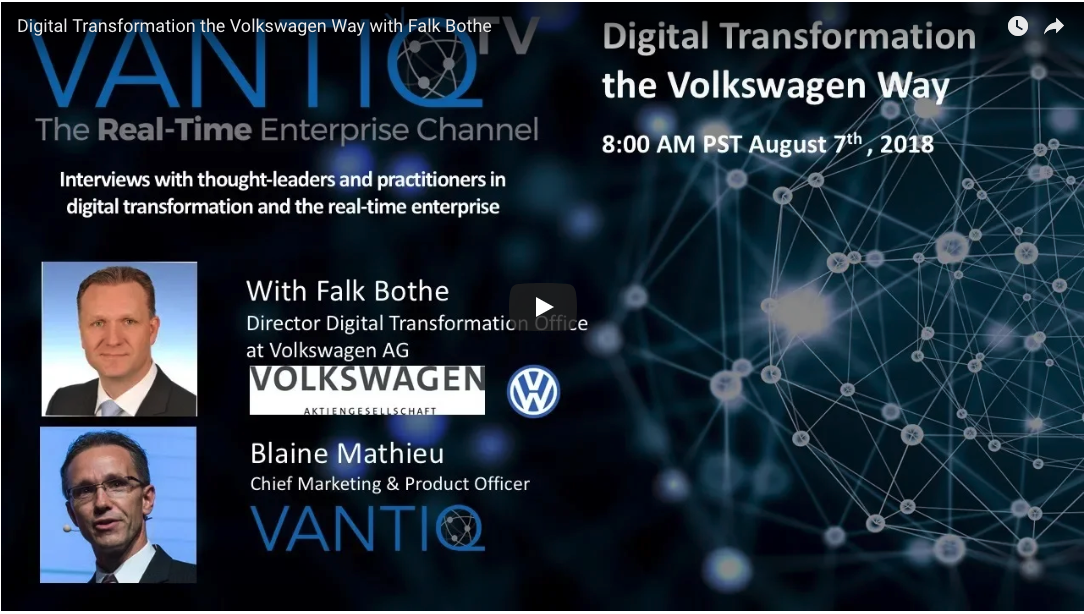 Click here to watch or listen to the full interview.
Subscribe to The Real-Time Enterprise blog to receive notifications of future blog posts.
Have a thought for an interesting posting on the topics of real-time business, digital transformation, event-driven applications, human-machine collaboration, edge computing, Internet of Things (IoT), or high-productivity/low-code development? If so, shoot me a note: [email protected]