RT Insights Special Report: Why Smart Cities Need an Event-Driven Architecture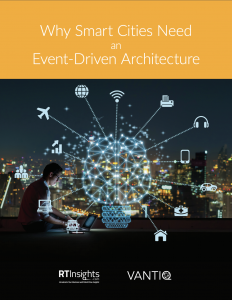 The Need for a Future-Proof Architecture Has Never Been Greater
Cities must be able to respond to events as soon as they happen. The current infrastructure in use by cities cannot keep up with the exponentially increasing speed of our world. When a crisis situation occurs and lives are on the line cities must ingest, analyze, and act on streaming data.
Real-Time Applications are the Key.
Read why RT Insights thinks developing on an Event-Driven Architecture is critical for modern society in their most recent Special Report. Also included are use-cases of businesses and cities utilizing the power of real-time technology today.
This website uses cookies to provide you with a better user experience. By using our site you agree to the use of cookies as described by our cookie policy. If you do not want to accept all cookies from our website, please see our cookie policy on how to modify the types of cookies that are accepted by your browser client.
This website uses cookies to provide you with a better user experience. By using our site you agree to the use of cookies as described by our cookie policy. If you do not want to accept all cookies from our website, please see our cookie policy on how to modify the types of cookies that are accepted by your browser client.