Understanding Event-Driven Systems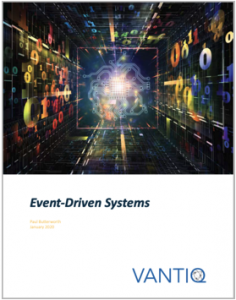 VANTIQ chief technology officer (CTO) Paul Butterworth thinks event-driven systems are the most effective way to support the modern, real-time digital enterprise.  
In this white paper, he outlines what event-driven systems are and how they are structured.  Then he dives into the reasons that event-driven systems are easier to design, build, and execute. Finally, he provides specific examples of event-driven systems in actual enterprises VANTIQ works with. 
Learn more with the Event-Driven Systems white paper.
This website uses cookies to provide you with a better user experience. By using our site you agree to the use of cookies as described by our cookie policy. If you do not want to accept all cookies from our website, please see our cookie policy on how to modify the types of cookies that are accepted by your browser client.
This website uses cookies to provide you with a better user experience. By using our site you agree to the use of cookies as described by our cookie policy. If you do not want to accept all cookies from our website, please see our cookie policy on how to modify the types of cookies that are accepted by your browser client.