A large initiative in our world today is making energy clean and sustainable for our future, but traditional management systems for energy enterprises are dropping the ball when it comes to agility and ease of integration. Vantiq and our partner, CodeOasis, have implemented a real-time application for Electra, the largest infrastructure group in Israel, as an answer to the challenges many energy companies are facing. In just 6 weeks, CodeOasis implemented a Vantiq system that enabled Electra to have real-time visibility of their energy flow from hundreds of energy sites and immediate notification and response to malfunctions, dramatically increasing operational efficiency and reducing risk.
We spoke with Asaf Borreda, Electra Project Lead at CodeOasis, who was instrumental in organizing the relationship. Asaf is a business leader passionate about software and digital products with over 17 years of experience in international information technology (IT), enterprise innovation, and business development. He is also an outdoor enthusiast with particular interest in bird migrations near his home on the outskirts of Ramat HaSharon.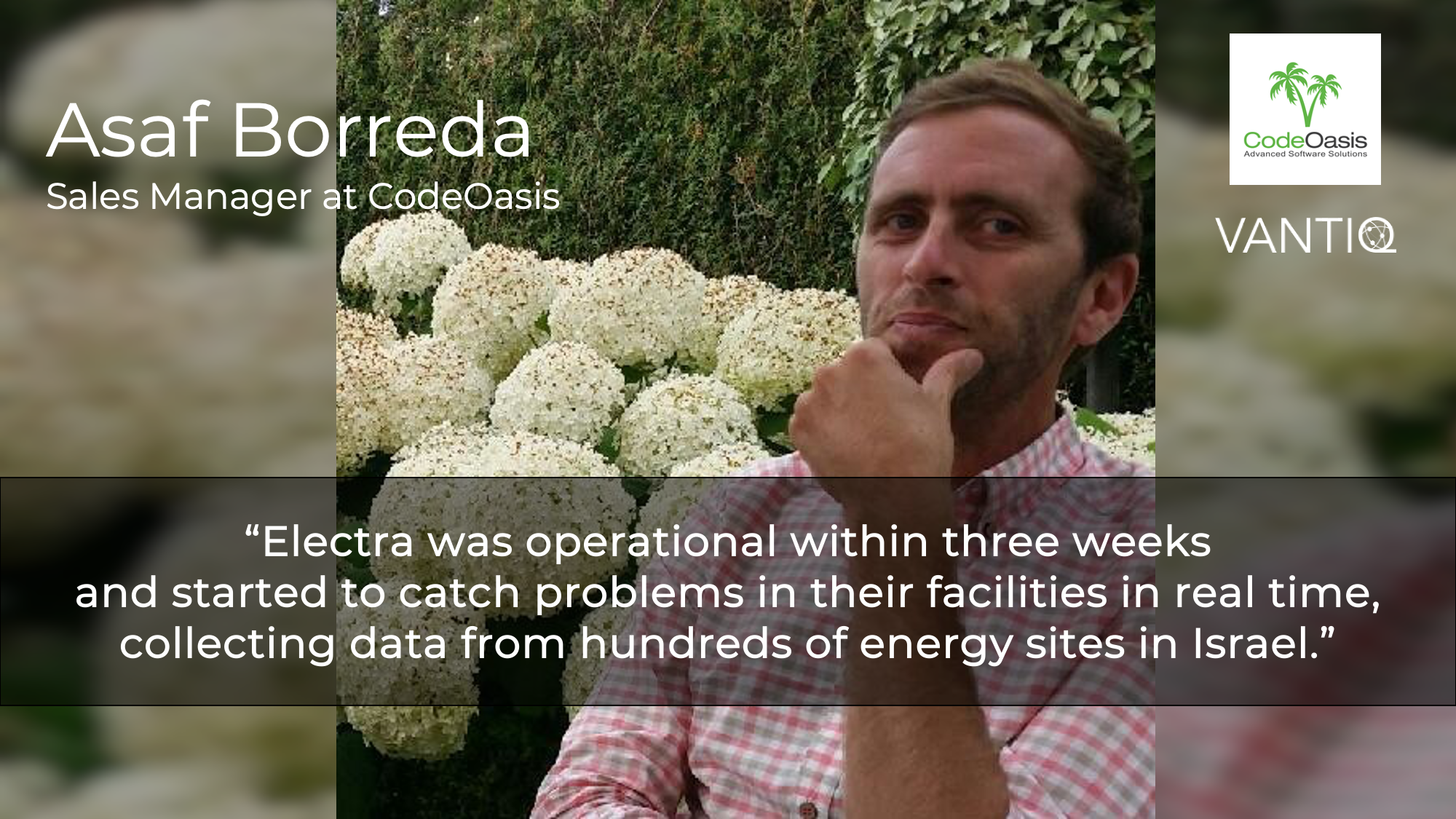 Q: Please tell us a little bit about CodeOasis.
Asaf: We see ourselves as an external technical arm of our customers that helps them build digital and technological products. We've done this for sixteen years using a wide variety of technologies. On top of this, we have a really good studio that knows how to think product-wise and build digital products.
We see our service as adopting cutting-edge technologies and always looking for the next new thing. We've done this with Wix, Gett taxi, MOVEit, ClickSoftware, Electra, and more.
Q: The conversation today is around your partnership with Vantiq and also the project, which has just kicked off with Electra. How did this team come together?
Asaf: Electra is the largest infrastructure company in Israel. They have a diverse line of services and products within infrastructure, real estate, facility management, energy, elevators, and water. We developed a nice get service application for them that runs over their ERP and allows their customers to see things digitally without calling a call center or the situation they are interested in already occurring. Ever since then, we developed all kinds of custom products for them. Then, we met the guys from Vantiq.
When we heard and understood what Vantiq does, we understood that there is a game changer here. We found in Electra a CIO of the group that sees the needs of the whole group and the COO that understands that they are a low-tech operational company with a lot of OT products. All the IT there is far from being perfect, to say the least. They understood that Vantiq can be the glue that connects the ERP, CRM, and all their legacy systems with their OT to create something that is 1+1 = 3.
Q: That's actually quite amazing. Can you tell me what Electra is trying to achieve in this specific project? Was there a problem they were looking to solve?
Asaf: As an operational company, they are obligated to produce a certain amount of electricity per day. They needed one view of the whole country's facilities and one platform that can integrate into all kinds of data sources and streams. Before they had this integrated platform, they used each companies' data source separately. Sometimes they had more than one manufacturer in the same site. In order to understand, they needed to do a lot of work.
The biggest problem was that data was not coming in real time due to communication problems and a lot of numbers were missing on the way. They understood that they needed one platform.
When the CIO of the group heard about their need and heard what CodeOasis was offering, he immediately made a connection. They were amazed that within one month, we've integrated to the ERP and we are collecting data from hundreds of different sites in Israel.
The next stage of this product that we've built for them with Vantiq's platform is human-machine collaboration by automatic allocation of field services. For example, if you have an electrical problem in south Israel, you can allocate a technician according to his skills, availability, and location.
Q: Before Vantiq, did you try using other pieces of technology to do this?
Asaf: No, but when we were negotiating with Electra, we gave them an estimation how long it will take us, budget and time-wise, to build something which answers 80 percent of what they need. Very shortly, we got two numbers, which are six/seven times faster and with six/seven times less cost.
Q: From three to five other multiple pieces of products stitched together, right?
Asaf: Exactly. Not all of the organization is like this. You need to find the right people. The CIO is a visionary. He understood.
They [Electra] were operational within six weeks and started to catch problems in their facilities in real time, made their SLA much better, and saved more money.
Q: You said the project was implemented in six weeks. Is that literally from start to finish?
Asaf: I have to say a good word. Vantiq has a wonderful technical team. Sagi in Israel is a chief architect at Vantiq and he is a top service. I put a lot of pressure on people that I need to deliver. He's always calm, cool, and positive. He knows his job and is a professional. Him and the whole team helped a lot.
Israel is considered to be a startup nation. For the first six months, we got a lot of no's because Israel is a country where companies believe they can build the solution themselves. People have now heard about the success. Inside the group, we have already had another opportunity open in water facility management.
Q: What's next for CodeOasis and Electra using Vantiq?
Asaf: We reached an understanding with Electra that they will help us as much as they can to penetrate more daughter companies because they see the needs and they can show us the way, lead us to where the opportunity lies. It would be nothing if the other daughter companies would not join the success. It's already starting.
Electra GridTech, which is a sister company in charge of most of the sewer facilities in Israel, produces electricity and raw materials for agriculture. There, the use case is much more complicated. It's much more classical for Vantiq because it involves multi parameters. Every facility buys its own electricity, so we can help them optimize the price they pay for local electricity, produce the mud with more minerals so they can sell it at a higher price to the to the agriculture industry, and reduce the pollution/carbon footprint that they are producing in this whole procedure.
Lately, there are also some security issues, which I cannot say more here, but Vantiq as a good monitoring platform that can also help in the field of cyber attack.
I can tell you one thing about Electra group: all of the companies are running on the same DNA: operational efficiency. Vantiq helps Electra and its daughter companies to be more efficient in terms of operational efficiency. When you are efficient in your operation, you save money. When you need to sell some of your products, you can sell them at higher prices because the quality of the process when Vantiq is in the right places, monitoring and interfering for good.
Electra is even finding new markets from the platform. Now, Electra energy is going to offer this solution to all kinds of governmental companies that have the potential to operate themselves and have the need to monitor their electricity.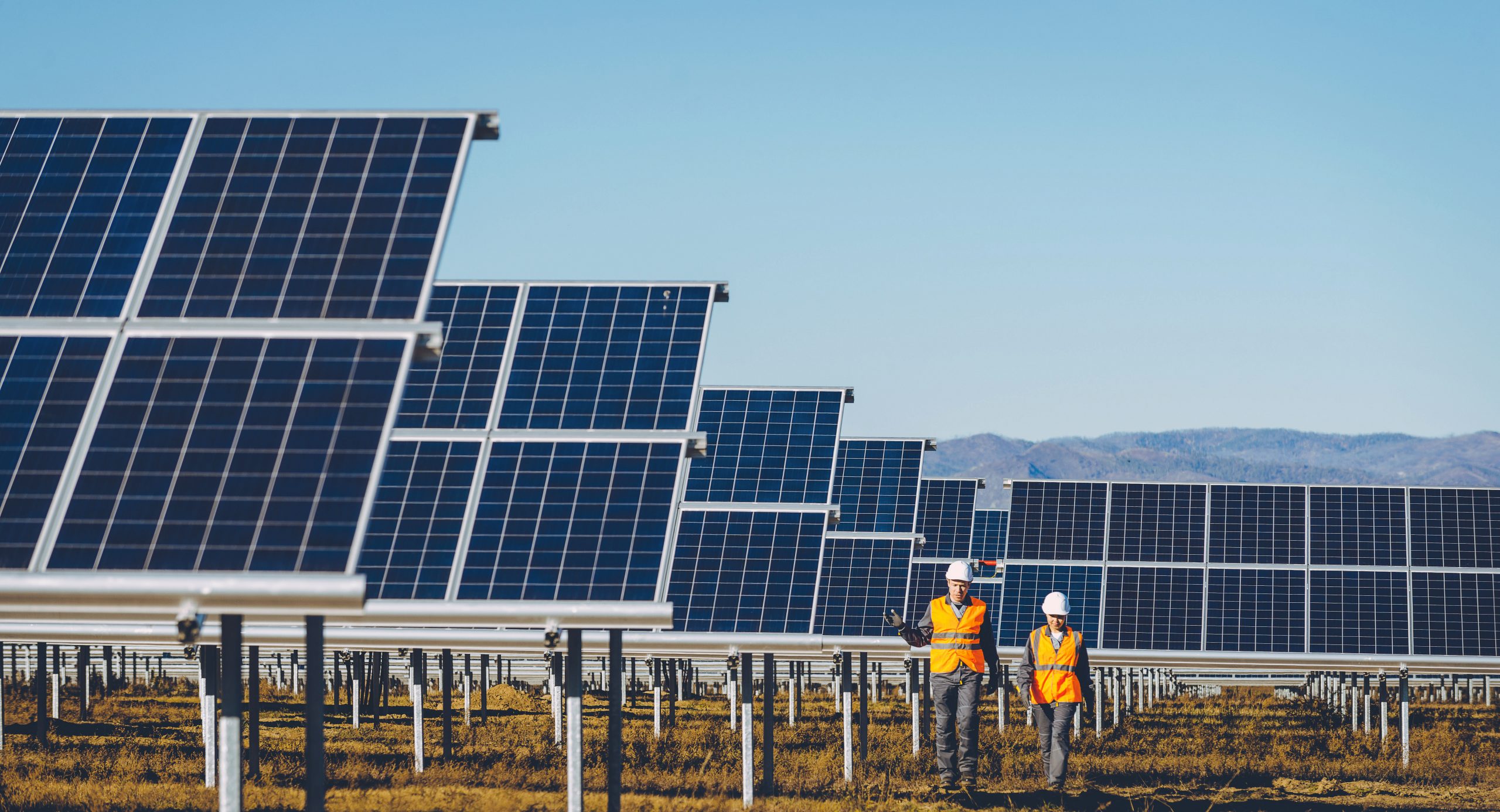 Q: You mentioned opening up new markets or new lines of business. What about risk reduction? What is the human use case where you're saving lives or impacting the Earth?
Asaf: With Electra GreenTech, we will help them find chemical abnormalities in the water. If you put too much chlorine in the water, it can poison people. Big amounts of the population are using this facility to treat their water. Especially in countries that are half desert, they rely on this very much. We'll help them control the water and be efficient. So, yes, we're saving lives.
To read more about the solution, see our case study.
Register for our webinar, Innovating the Energy Grid with Real-Time Technology, to see a live demo and ask experts like Asaf how you can create a real-time solution for your energy operations.