As low-code technology has come to real-time applications, organizations have evolved their real-time abilities to become more agile, scalable, and resilient to changing market conditions, just to name a few. But a new development paradigm that sharply reduces the amount of time developers need to spend working on event-driven projects is here, allowing for a truly "composable business".
Introduced in Vantiq 1.31 (the latest product release), is the new concept of components which are modular building blocks that enable easy reusability and repurposability of real-time applications. The image below represents a workplace safety application composed of six components that can be mixed and matched to create a customized smart office solution.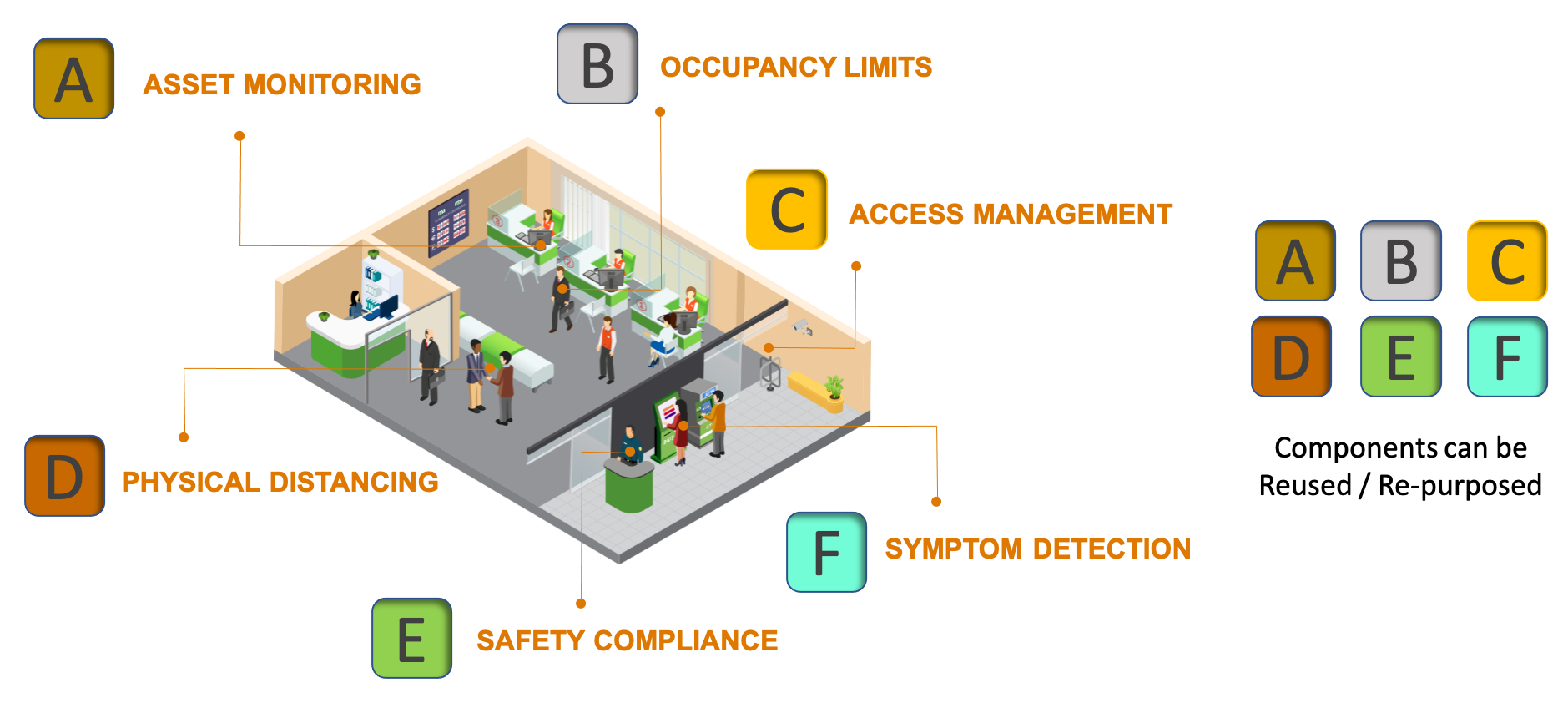 These new building blocks will usher in a new era of software development with pre-built application components and services that developers and customers can use to quickly build real-time, edge-native, event-driven systems; clearing the path for companies to embrace Gartner's concept of the composable business, which frees organizations to rearrange and reorient as needed with interchangeable building blocks. This new way of developing applications is particularly imperative as more and more IOT use cases come online.
"Our approach to components and composability as a concept is different from what's ever been done before. For organizations looking to do digital transformation, this means they'll be able to create pre-built application frameworks without needing a heavy lift to get them to work anymore. Developers will be able to quickly incorporate different functionality into their applications with minimal configuration – or even no configuration. This is a fundamental change." – Vantiq CEO, Marty Sprinzen
Using Vantiq components, developers will be able to create configurable modules they can apply and reuse elsewhere, allowing enterprises to create portfolios of packaged business capabilities. Combining a collection of components into assemblies can be configured within Vantiq's no-code framework, allowing developers to combine and orchestrate how they work together to address specific problems they're trying to tackle.
Separately, Vantiq customers will also be able to distribute their components on a centralized catalog, allowing other departments within the same enterprise to reuse them when they start other development projects, a time-saving measure that avoids the need to solve the same problem over and over again.
"This will make developers more efficient when it comes to building real time applications in real-time, distributed systems. Many developers are not good at creating components or assemblies from scratch. We're giving them a way to create assemblies from existing applications in a no-code fashion to build event-driven, real time applications." – Vantiq CTO Paul Butterworth
This Lego-like approach eliminates the need to create components or assemblies from scratch for each new development project. As a result, the tools eliminate much of the friction preventing enterprises from adapting to changes in their business by allowing corporate developers to assemble, reassemble, and extend their applications.
These myriad event-driven services and drag-and-drop components will be particularly important as more enterprises and municipalities look to build new applications to deploy IoT devices and other sophisticated hardware in their operations. The use cases range from smart buildings and smart cities to factory automation and real-time crowd tracking and security incident detection.