The retail experience as you know it will soon be transformed into smart and connected environments that take full advantage of new innovative technologies. If you've ever been stuck in a long checkout line, had trouble finding an important item, or been frustrated with not knowing the price of a product in front of you, you've experienced the challenges of today's in-store shopping. The convenience of online shopping has left us expecting a real-time digital ecosystem that now needs to manifest in our physical world. Not to mention, recent world events have put an emphasis on creating smarter, safer spaces. That's where Vantiq partner, Store Intelligence, comes in with their expertise in connected retail and dynamic pricing solution via a network of electronic labels running on Vantiq software.
We spoke with Simon Jones, COO of Store Intelligence, to investigate Store Intelligence solutions for retail businesses and enterprises and gain a perspective on what innovations are soon to hit the Retail Industry. Simon has a long history of delivering technology solutions to a broad variety of clients. With almost 20 years of experience in managing international operations, Simon drives transformative impacts within retail for a safer and smarter shopping experience.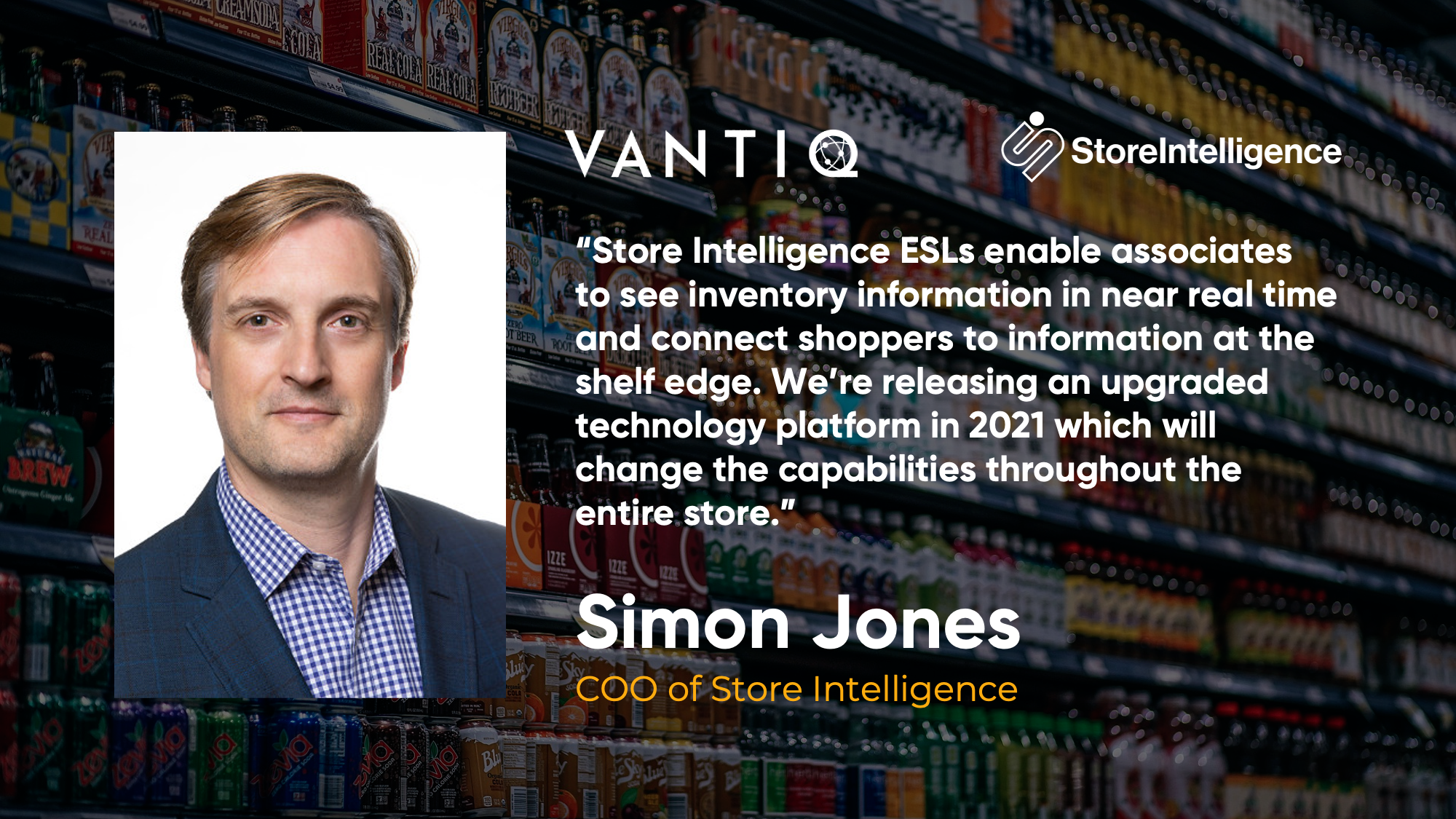 Q: Please tell us a little bit more about your core product or platform.
Simon: The product that Store Intelligence provides is an Electronic Shelf Label (ESL). Electronic Shelf Labels are digital versions of paper labels that are used within stores to represent item prices, promotional information, product attributes (gluten-free, vegan, etc.), legally required information (unit of measure, price per ounce, etc.), and a variety of other types of information. Our customers also use their connected store infrastructure to display operational information like inventory levels to their associates. Our infrastructure works on the principle of electronic information sent in the form of price or inventory. That information is consumed by our gateway and then provided via the RF protocol that we use directly to tags in a store. All of the tags work through an infrastructure which supports an amazing amount of tags for a very small footprint in the infrastructure site.
Q: What is the origin of the solution?
Simon: Electronic Shelf Labels have been popular with retailers for almost 20 years. They have been widely adopted in Europe and are becoming increasingly popular in the US. The very first generation of ESLs were segmented (think Casio digital watch), whereas today's ESLs are fully graphical and support multiple colors and sizes. Store Intelligence has provided this solution to many of the world's largest retailers like LeClerc in France and Kohls in the US for over a decade. Our solution is unique in its ability to support high numbers of price changes in very dense environments rapidly and accurately.
Q: What are the major factors that motivate customers to deploy your solutions?
Simon: Retailers face an increasingly competitive environment. Digitally-native brands can now access consumers through a variety of channels. Online channels can provide dynamic prices, personalized promotions, and individualized product assortments and recommendations in real time. With ESLs in place, retailers can deliver the same capabilities in the physical store.
The use cases for ESLs have grown significantly over time. Retailers now display inventory information, ordering information (average day sales, lead time, etc.), and other data points which accelerate store operations processes. They have morphed from showing price into providing operational value to the store.
Q: Is there a strong demand for these prices to change in real time?
Simon: Yes, there is. Prices and promotions can change online in real time, so why can't retailers do the same in a store? But it's not just about price and promotion. Retailers want to update many different data points and then display them at the shelf edge. Inventory levels change in real time and average day sales change each day. Increasingly, retailers and their brand partners will want to test ideas, experiment with promotions and offers, and send different types of information to the shelf edge in real time.
Q: Before using Vantiq, did you try to solve this problem before? With Vantiq, was there a certain advantage that you saw?
Simon: We had embarked on trying to build a cloud solution directly ourselves. As most people will know, when you go through building that stack, scaling it, and looking at all of the complexities, it's a daunting task depending on what you're trying to achieve. Our platform is architected to support retailers with thousands of stores in their network with hundreds of thousands of items in each store who may change price daily and update operational information in parallel.
When we embarked on building our cloud platform, we experienced a number of challenges related to components, scalability, and processing. We began our collaboration with Vantiq, and quickly discovered that their event-driven platform could solve these challenges. So far, we've been very successful. We're now scaling up our testing to support hundreds and soon thousands of stores and we are moving forwardly rapidly with great success.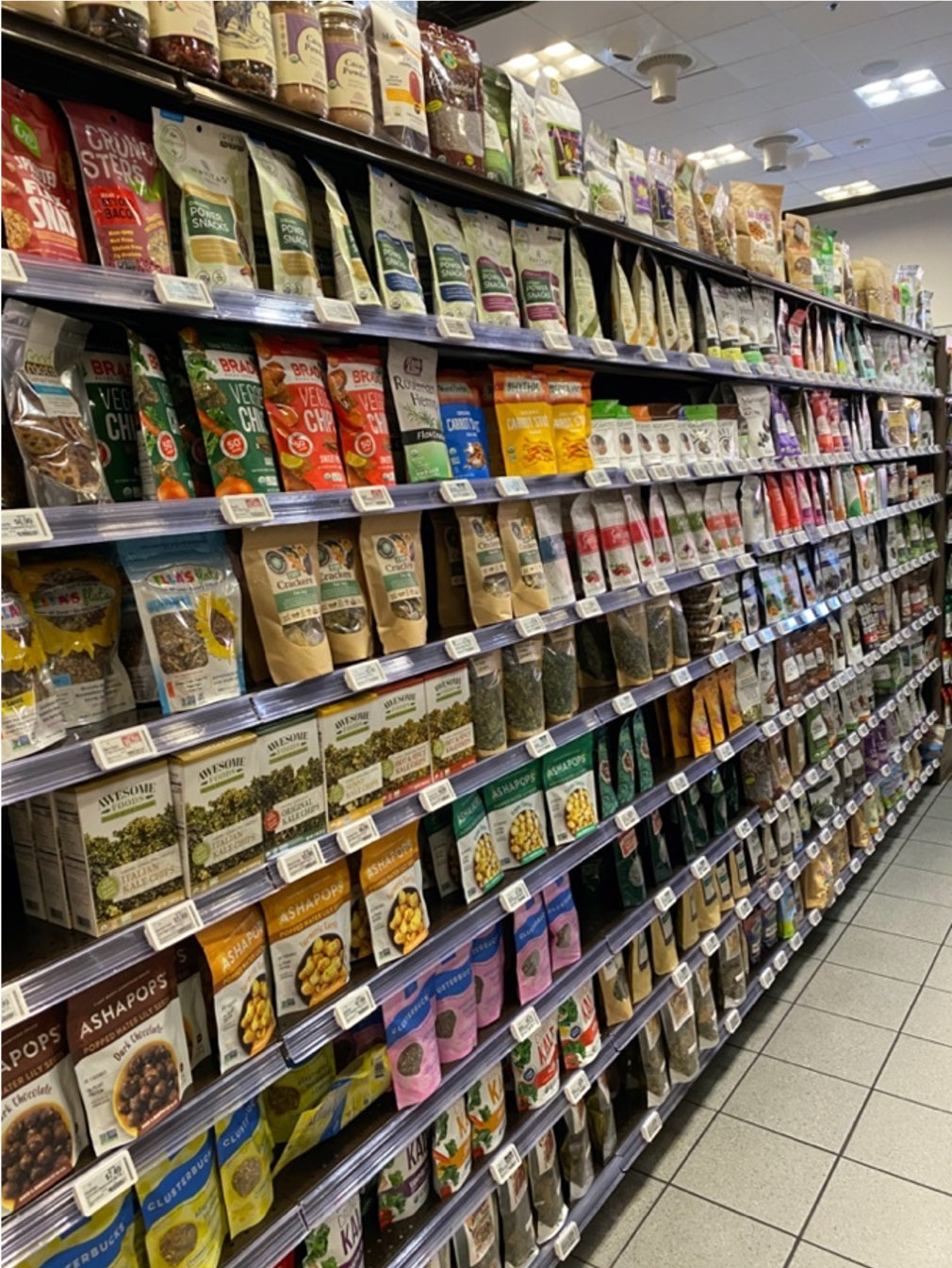 .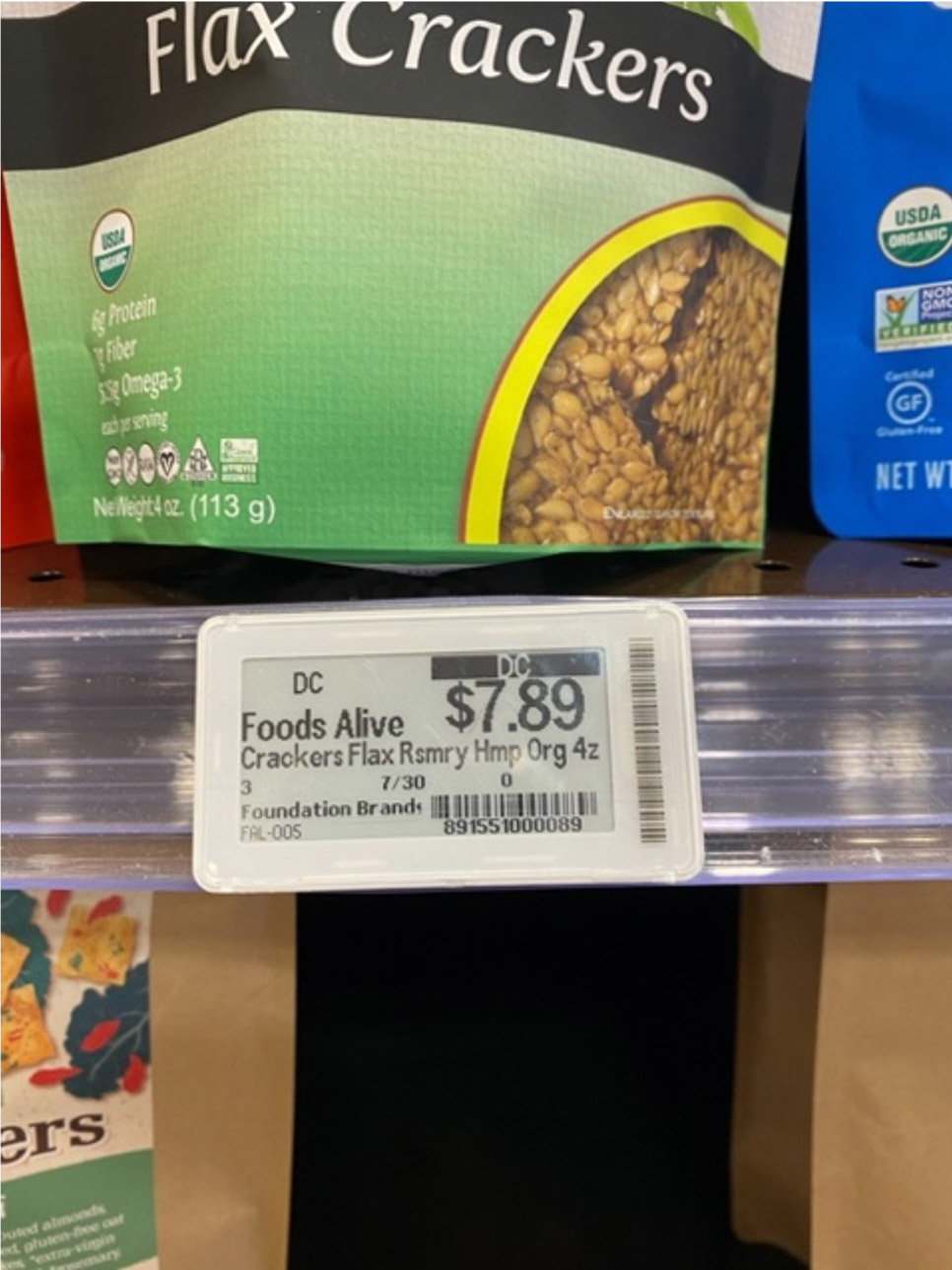 Q: This past year has been a roller coaster for everybody. How has Store Intelligence been impacted by the pandemic?
Simon: We've seen some slowdown in capacity from our supply chain partners and the uncertainty that the pandemic has created has impacted different areas at different times. This environment requires us to partner more closely with our customers and drive a deeper discipline around forecasting wherever possible.
Our customers have experienced unprecedented disruption. Online and Omni-channel grocery has grown more in the last 12 months than it did in the past decade. Our grocery customers now have to pick baskets for their customers to drive up and collect, work with third-party services like Doordash and Instacart, manage physical environments to comply with regulations, and most importantly, protect their associates. They are largely achieving this with no additional staffing, so a technology which frees up associates and is contactless is very attractive now.
Q: The pandemic has left a negative impact on a lot of things, but it has also ushered in a whole new digital era, as you rightly said.
Simon: It removes the barriers that may have prevented some people from doing things. Now, people have to think in a different way. They're more worried about contact and proximity. So, they want to move to a digital world because of that. A lot of companies are coming forward now and accelerating their plans as a result of it.
Q: What do you think are the business benefits or the value propositions that Vantiq's platform helped you gain on your product?
Simon: As most companies now will find, it's difficult to have all the resources you need to do everything yourself. Vantiq brought to us a solution that we could build on top of a platform. That's where I think the biggest benefit was. All of those components were there. All of the support we needed was there. All of the assistance to understand how to build and to build where we needed to was provided to us. That was the benefit of going with Vantiq for us. We could focus our resources on what we do, not having to worry about how to build all of the other components that need to be built for a client's solution.
Q: As mentioned earlier, this past year was a roller coaster, but definitely ushered in a digital age and a whole new sort of thought process. 2021 is the coming-out year for 5G, IoT, and edge computing. Is that going to impact or enable what you're currently doing?
Simon: Obviously, we're in the IoT field. That will definitely grow through this year. We're already hearing things from the supply chain about how many of these chips and devices are now being built and how that's exploding. We definitely see 2021 as being a big year for IoT.
On our roadmap, we not only deliver a cloud solution, but we also deliver in-store solutions. Where customers don't want to connect to the Internet to process all of their data, they may want to do it in-store. Edge computing is going to be vital for that in the future. We definitely see the move that way in 2021.
If we look at digital transformation as a whole, realistically, I think a lot more capabilities will be contactless, remote, and as automated as possible. We know the pandemic is going to last for a while longer. It's likely to go through all of 2021. I think anything that faces a consumer or a customer of any sort will become more automated at some point.
Q: For store intelligence, what does the road map look like beyond electronic labels and dynamic pricing?
Simon: The road map for Store Intelligence is actually very exciting.
I think we're laying the foundation with Vantiq to use newer technologies, faster chips within our ESLs, scaling up, being able to deliver more information onto tags. But, because of the protocol that we use, we're able to actually use that for other things. I think what you're going to start to see within stores is it's going to be an experience within a store, like an experience online; the retailer to know what you're doing, what you've looked at, connect the dots, deliver things to you as you walk down the store aisle. That's important. We want to be part of that, and that's what we're looking to build on the Vantiq platform, to add more and more components to help the retailer provide that experience.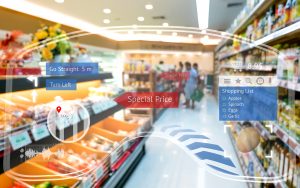 You're also going to see more of the omnichannel idea: what you see online is what you're going to see in stores in the future. A lot of retailers are going to look that way because they want to give the same customer experience. We're part of that. That's what we want to deliver to the customer as we go forward.
Q: Store Intelligence aside, what are your personal technology predictions for 2021?
Simon: We're seeing this trend in Europe and I think it's going to grow where you're not going to want to necessarily go to a checkout and pay. You're going to just want to pay as you pick something up and walk out the store. We've seen that with some of the other high tech stores. The small ones are out there already.
I think it's going to be more of a digital transformation in terms of digitizing nearly everything. That's what I think is really going to kick off next year. We've already seen it. Everything is going to be automated, online, and as simple and as intuitive as possible. That's the moves that I think we're going to see very shortly.