Solution
Details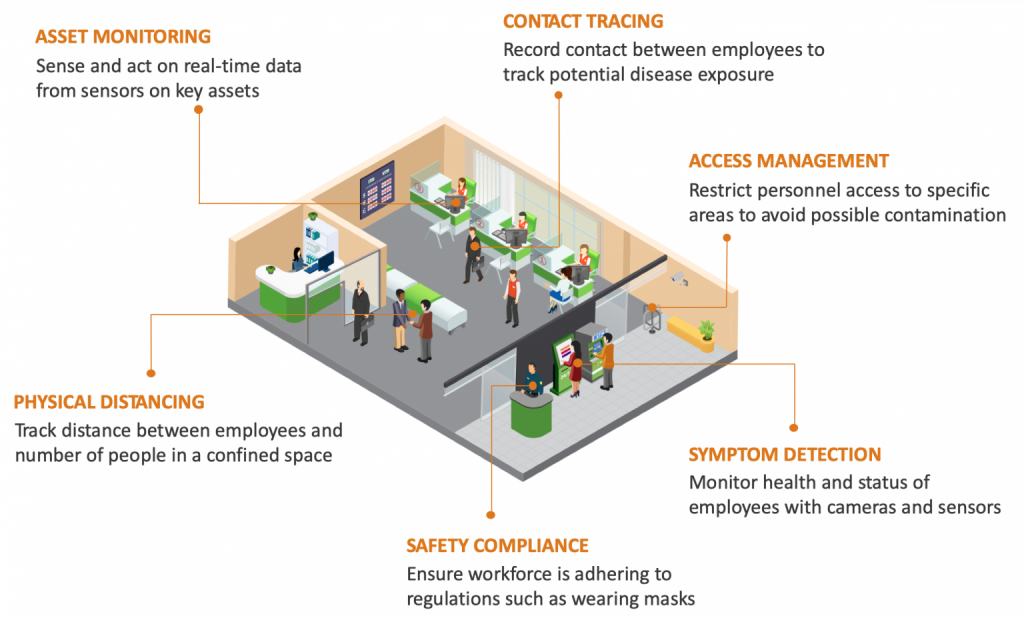 The Vantiq Back-to-Work Accelerator allows for real-time monitoring, analyzing, and acting upon what is happening in and around a smart building.
The Accelerator is a prepackaged set of components and tools that allows businesses to safely return to work. Configurable to any business environment, it provides a framework to jump-start the construction of solutions that enable the reopening of businesses.
Based on Vantiqs real-time digital twin technology, developers can quickly model the workplace and tie data coming from cameras, IoT devices, and other enterprise systems. This data is used to provide real-time awareness and decision-making tools to better serve and monitor the workforce during the Coronavirus pandemic or any subsequent outbreak of disease.
Vantiq, along with partners Rigado and Bits in Glass, has implemented a real-time smart office/smart building system for the Vantiq Headquarters, called Project Q using the Back-to-Work accelerator.
Back to Work Accelerator Project Features:
Symptom Detection
If a person enters our office with a fever, the system will recognize this using the turret thermal camera and will immediately direct an office official to rescan the entrant. This ensures no occupants enter symptomatically or asymptomatically. As occupants exit and reenter, they are rescanned to ensure their temperature stays normal.
Physical Distancing
The Back to Work Accelerator can identify human figures at varying distances via object recognition and use their relative height to chart safe distances between people. When two or more people are in contagious proximity (6ft or less) of one another for an extended time, the system recognizes this using configured IP cameras and sends a notification to let the congregators know to keep their distance.
Occupancy Management
When too many people enter a space, such as our kitchen, IP cameras coupled with object recognition cameras send an office admin to check on the status of the room or alerts the individuals in violation.
Smart Meeting Spaces
People that utilize our conference room and executive offices can begin meetings with a single touch and share their screens from their personal devices without the need to pass around an HDMI hookup or change tools. Occupants can seamlessly use Zoom, Airplay, or operate the monitors directly via Bluetooth devices. Meeting spaces are reserved ahead of time and display availability in integrated calendar schedulers so multiple groups do not end up crowding the space while attempting to begin conflicting meetings.
Real-Time Monitoring
The data coming from our network of hardware coupled with the Vantiq platform enables us to have real-time knowledge of the space as things are happening. We can then integrate this data into dashboards that can aid office officials and occupants in deciding if and when they should come into the office, where to sit, where they should meet someone, when sanitizers need refilling, when the kitchen is available, and more.