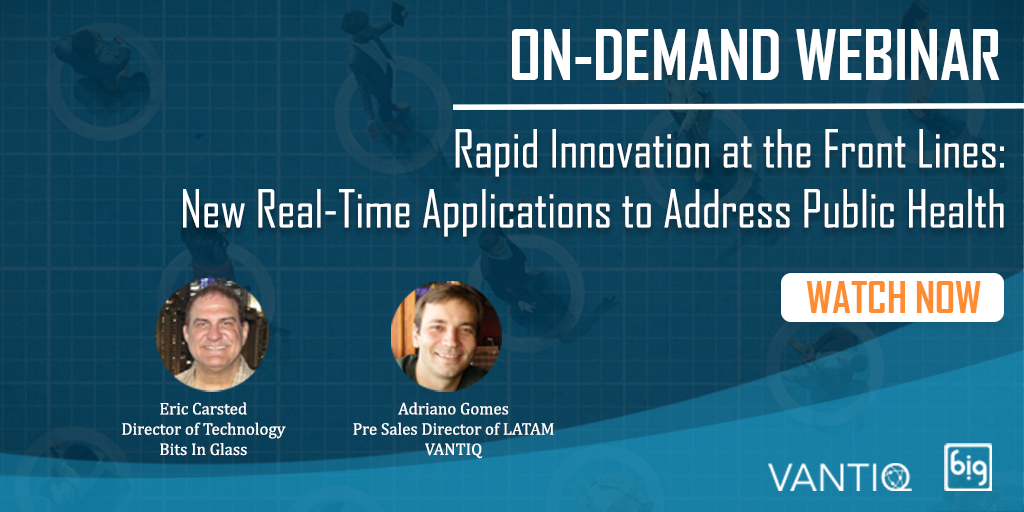 Rapid Innovation at the Front Lines: New Real-Time Applications to Address Public Health
The most pressing need facing humanity at this time is the rapid response to the global pandemic of Coronavirus (COVID-19). In this series, VANTIQ and partners will discuss how technology and innovation are being used to address the challenges facing businesses and society today.
Watch this on-demand webinar to learn about new applications made by VANTIQ and partner
Bits In Glass
. We will talk about a new application being made for local government agencies in Latin America to manage COVID-19 testing and reporting and support the health and safety of citizens. Bits In Glass, a System Integrators based in North America, will discuss a new physical distancing queue (PDQ) application that can be used by retail stores to manage crowd density in real-time.
Why join?
Hear from industry experts about how technology is being used to address problems of business and society during this pandemic
Learn how businesses are rapidly innovating and driving new modern solutions
Watch a demo from Bits in Glass about their solution that helps stores manage physical distancing between customers and eliminate the need for waiting in line at the entrance
Discover how VANTIQ is working to save lives through tracking coronavirus testing and symptom reporting
Speakers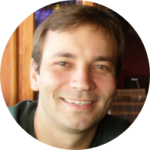 Adriano Gomes – Pre Sales Director of LATAM at VANTIQ
"Adriano is the Technical Director for LATAM at VANTIQ. Professional with 20 years of experience in the Sofware world, working at companies like Microsoft and Tableau, he has been in roles as consultant, sales and marketing.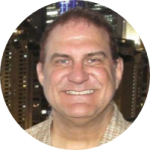 Eric Carsted – Director of Technology at Bits In Glass
Eric is the Director of Technology Enablement at Bits In Glass (BIG) where he's responsible for evaluation and adoption of emerging products and solutions, leading the BiG architecture team, and the technical quality assurance of BIG's projects. He has over 36 years in the industry with 25 years in an architecture role at companies such as Sun Microsystems and IBM. He most recently was the Chief Architect for Enterprise Integration for Air Canada enabling the Passenger Reservation and Departure Control Systems migration.
This is the first of an ongoing webinar series about how VANTIQ is working with partners across the globe to address Coronavirus challenges. Stay tuned for more webinars to come. In the meantime, read more about these innovative applications here.
View the Recording
Register now to watch the complete webinar video online.
This website uses cookies to provide you with a better user experience. By using our site you agree to the use of cookies as described by our cookie policy. If you do not want to accept all cookies from our website, please see our cookie policy on how to modify the types of cookies that are accepted by your browser client.
This website uses cookies to provide you with a better user experience. By using our site you agree to the use of cookies as described by our cookie policy. If you do not want to accept all cookies from our website, please see our cookie policy on how to modify the types of cookies that are accepted by your browser client.