Event-based applications must be secure, allowing only authorized access to the functions of the application as well as maintaining the privacy and integrity of any enterprise and personal data managed by the application. VANTIQ's comprehensive approach delivers security, integrity and privacy features spanning:
Authentication
Authorization
Integrity
Privacy
Edge Devices
Audit
In addition, VANTIQ operates hosted, event-based applications using secure technologies and procedures.
This document discusses these VANTIQ security features in more detail.
Read VANTIQ Security White Paper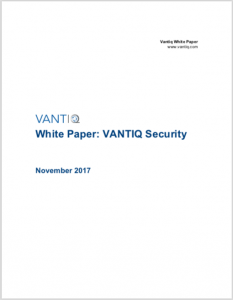 This website uses cookies to provide you with a better user experience. By using our site you agree to the use of cookies as described by our cookie policy. If you do not want to accept all cookies from our website, please see our cookie policy on how to modify the types of cookies that are accepted by your browser client.
This website uses cookies to provide you with a better user experience. By using our site you agree to the use of cookies as described by our cookie policy. If you do not want to accept all cookies from our website, please see our cookie policy on how to modify the types of cookies that are accepted by your browser client.