VANTIQ – Enabling the Digital Enterprise
Read the vision of Marty Sprinzen, CEO of VANTIQ on how VANTIQ truly enables the digital enterprise.
Every company must innovate with technology. The next generation of real- time and event-driven applications will incorporate modern technologies such as the IoT (Internet of Things), mobile, and AI (artificial Intelligence). They will run in the cloud, on the edge, and in corporate datacenters. These applications will become a company's nervous system as they will connect everything and run everywhere.
Read VANTIQ – Enabling the Digital Enterprise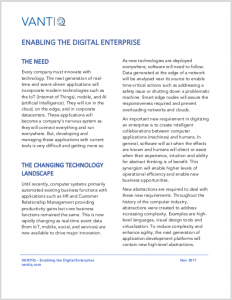 This website uses cookies to provide you with a better user experience. By using our site you agree to the use of cookies as described by our cookie policy. If you do not want to accept all cookies from our website, please see our cookie policy on how to modify the types of cookies that are accepted by your browser client.
This website uses cookies to provide you with a better user experience. By using our site you agree to the use of cookies as described by our cookie policy. If you do not want to accept all cookies from our website, please see our cookie policy on how to modify the types of cookies that are accepted by your browser client.