Technology to the Rescue of Insurers Featuring Nick Walker
Many insurers have embraced connected technology to better understand risk in the vehicles they insure. Others have thought about it but not yet acted. But very few are taking advantage of the opportunity to use the data they get to build better customer experiences and relationships to build loyalty. Join insurance industry expert Nick Walker and VANTIQ's Blaine Mathieu for this webinar which will take a look at the solutions available and relevant to insurers and show how they can be deployed to build customer service and loyalty and grow profits.
Click the image below to access this webinar: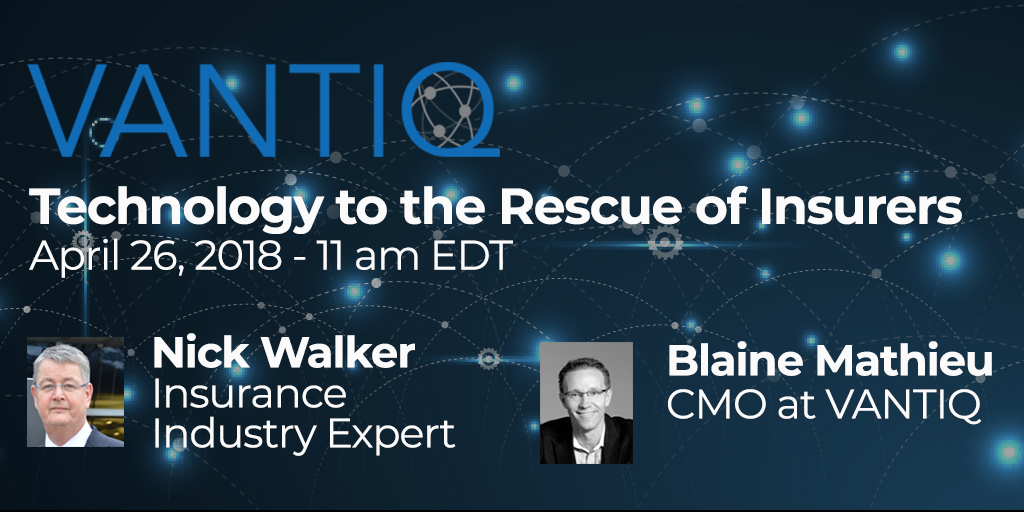 Transcription
Blaine: Hello everyone and welcome to the VANTIQ webinar "Technology to the Rescue of Insurers". I'm Blaine Mathieu, the Chief Marketing Officer at VANTIQ. We have a special guest today, Nick Walker, who owns management team GMBH, and will be providing much of the content for this insightful webinar. You will also see a great demo by Brett Rudenstein, our VP of Sales Engineering.
The agenda today will be Nick discussing the needs of insurers and the overall emerging technology landscape that exists within. Brett will be providing a live demo of a real-time insurance application, and then we will be answering your questions. While the webinar is going on, please type your questions into the Q&A box at any time. And now, I will turn it over to Nick Walker.
Nick: Thank you, Blaine. Thanks very much and welcome everybody. My name's Nick Walker. I'm [in] a consultant management team, reasonably small, but efficient management consulting business based out of Germany. We're around 20 consultants, and we are heavily involved in the deployment and project management off IoT programs. A number of industries, one of the main customer bases, is insurance.
Myself, I have spent the last many years, too many years to even tell you, in IoT. [I] worked in connected car industries. [I] ran the connected car program at the RAC in the UK and also ran European-wide business for a telematics business called Master North for several years in Germany.
Without further ado, let's move to the beginning of the webinar here. I'm going to start with a question: What do these items have in common? Let's bring up a few pictures here: an umbrella, a fire extinguisher, and a first aid kit. One of the answers is they're all red. But actually, the answer I am looking for is we all buy these things in the hope that we're really not going to need them at al. It's just a characteristic of people. People like to avoid risk, and buy things that they're not going to need.
One of the things that falls into that category is an insurance policy itself. Insurance policies are all about risk or mitigating risk. So you pay an insurance policy in the hope that you're never going to make a claim. We all know that at times we do have to make claims, but that's just the nature of the business.
One thing I would really like to look at it is, what are the characteristics and the challenges of the insurance companies that face a challenge like that? Basically, selling something that nobody really wants to use at all. Moving along to the next slide here, this is about the characteristics and challenges of insurance.
Click the image above to access this webinar and the full transcription.
This website uses cookies to provide you with a better user experience. By using our site you agree to the use of cookies as described by our cookie policy. If you do not want to accept all cookies from our website, please see our cookie policy on how to modify the types of cookies that are accepted by your browser client.
This website uses cookies to provide you with a better user experience. By using our site you agree to the use of cookies as described by our cookie policy. If you do not want to accept all cookies from our website, please see our cookie policy on how to modify the types of cookies that are accepted by your browser client.