VANTIQ Enables More Innovative and Effective Application Development
Latest release of the VANTIQ platform makes it faster and easier to develop and deploy real-time, event-driven applications
SAN FRANCISCO – December 5, 2017 – VANTIQ provides the only high-productivity development platform for event-driven, real-time collaborative applications that power your enterprise nervous system. Today the company announced a new release of the VANTIQ platform that brings many new features to simplify the development of the next generation of digital business applications.
"The VANTIQ platform brings together the capabilities of many application development tools into a single, comprehensive platform," said Saurabh Sharma, principal analyst at Ovum. "By simplifying development processes, VANTIQ is turning the vision of real-time, event-driven applications into a reality."
The VANTIQ App Builder is a new visual tool used to identify important business situations by ingesting real-time event streams and automatically driving actions between humans and other systems. This is accomplished by giving developers a visual way to capture, transform, and make decisions on these streams of events with little or no code to describe and automate sensing, analyzing and identifying.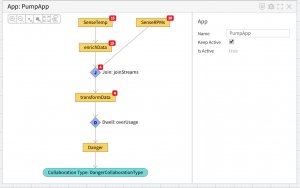 The VANTIQ Client Builder brings enhanced user facing web experiences to the VANTIQ platform.  "Clients" represent interactions with an end user, and can be used to display and collect information in a standard web browser. A Client is constructed by a VANTIQ developer using a drag and drop interface. The "Client Builder" is a component in the Developer Portal that allows a VANTIQ developer to create, edit and test a "Client".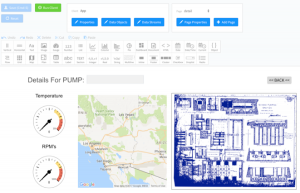 New Natural Language Processing Integration enables more people-literate systems, providing easy-to-understand interactions for users. VANTIQ supports providing natural language interfaces to users of their applications by integrating with external sources that provide parsing and interpretation of natural language utterances.
Once a business situation, such as an opportunity or threat, is identified with the App Builder, it must be resolved. In many situations the optimal decisions result from collaboration between the application, its users, and other systems. VANTIQ Collaboration Builder enhancements simplify the development and operation of these interactions with a visual diagraming tool that allows complex workflows to easily be assembled with little or no code.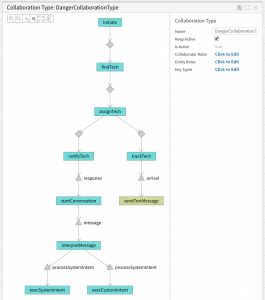 The latest release also adds new functionality within the VANTIQ Collaboration Builder that integrates situations identified in the new App Builder with the Collaboration Builder to allow an organization to visually model the entire application. Additionally, new activity patterns have been added to support conversations through chat bots and directly incorporate natural language processing into collaborative workflows.
About VANTIQ
VANTIQ, the company that powers real-time business operations, provides the only truly dynamic platform for quickly and easily creating transformative, event-driven applications to drive your agile business operations in real time. Founded in 2015 by renowned tech industry veterans Marty Sprinzen and Paul Butterworth, VANTIQ enables those involved in mission-critical business operations to benefit from a new breed of real-time applications with dramatically reduced time-to-market, significantly lower development and maintenance costs, and maximum agility in response to constantly-changing operational requirements. For more information, visit VANTIQ.com.
This website uses cookies to provide you with a better user experience. By using our site you agree to the use of cookies as described by our cookie policy. If you do not want to accept all cookies from our website, please see our cookie policy on how to modify the types of cookies that are accepted by your browser client.
This website uses cookies to provide you with a better user experience. By using our site you agree to the use of cookies as described by our cookie policy. If you do not want to accept all cookies from our website, please see our cookie policy on how to modify the types of cookies that are accepted by your browser client.