VANTIQ Named a Finalist for the SIIA Business Technology CODiE Award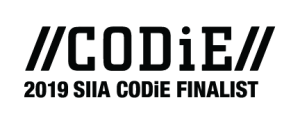 VANTIQ Modelo earns prestigious industry recognition in 'Best Platform as a Service' category
SAN FRANCISCO –May 1, 2019 – VANTIQ, the company that powers real-time business, today announced that VANTIQ Modelo has been named a 2019 SIIA CODiE Awards finalist in the "Best Platform as a Service" category. Finalists represent the best products, technologies, and services in software, information and business technology.
"VANTIQ Modelo is a game-changer for building modern applications that meet the demands of real-time business," said Marty Sprinzen, CEO and co-founder of VANTIQ. "Being recognized by the Software & Information Industry Association and its panel of experienced judges for 'Best Platform as a Service' is a testament to our platform and the benefits it brings to our customers and partners."
VANTIQ Modelo is a low-code application Platform-as-a-Service that enables companies to quickly and easily build, deploy, and manage cloud-to-edge, event-driven 'transformative' applications that deliver maximum business agility. Modelo includes a low-code/no-code rapid development platform; a secure, scalable, multi-cloud deployment platform that enables distributed applications; and the architecture and tools to simplify DevOps and increase resilience in ongoing runtime operations.
VANTIQ Modelo transforms the process of building powerful event-driven applications, greatly reducing complexity. Now, applications that historically took months or years to create and deploy can be gotten into production and scaled in just days or weeks.
"The 2019 CODiE Award finalists are some of the most innovative, high-impact products in the market. We are happy to recognize these products and the power they have to transform the future of how we do business," said Ken Wasch, President of SIIA.
The SIIA CODiE Awards are the industry's only peer-recognized awards program. Business technology leaders including senior executives, analysts, media, consultants and investorsevaluate assigned products during the first-round review that determines the finalists. SIIA members then vote on the finalist products and the scores from both rounds are tabulated to select the winners.Winners will be announced during the Business Technology CODiE Award Celebration at the SIIA Annual Conference & CODiE Awards, June 12 in San Francisco.
Details about each finalist are listed at http://www.siia.net/codie/Finalists
About the SIIA CODiE™ Awards
The SIIA CODiE Awards is the only peer-reviewed program to showcase business and education technology's finest products and services. Since 1986, thousands of products, services and solutions have been recognized for achieving excellence.  For more information, visit siia.net/CODiE.
About VANTIQ

VANTIQ, the company that powers real-time business operations, provides the only truly dynamic platform for quickly and easily creating transformative, event-driven applications to drive your agile business operations in real time. Founded in 2015 by renowned tech industry veterans Marty Sprinzen and Paul Butterworth, VANTIQ enables those involved in mission-critical business operations to benefit from a new breed of real-time applications with dramatically reduced time-to-market, significantly lower development and maintenance costs, and maximum agility in response to constantly-changing operational requirements. For more information, visit www.vantiq.com
Media contact:
VANTIQ
Dana Dye
+1-415-928-1310
[email protected]
SIIA Communications
Benjamin Price
+1-703-909-4034
[email protected]
This website uses cookies to provide you with a better user experience. By using our site you agree to the use of cookies as described by our cookie policy. If you do not want to accept all cookies from our website, please see our cookie policy on how to modify the types of cookies that are accepted by your browser client.
This website uses cookies to provide you with a better user experience. By using our site you agree to the use of cookies as described by our cookie policy. If you do not want to accept all cookies from our website, please see our cookie policy on how to modify the types of cookies that are accepted by your browser client.