Arch and VANTIQ Partner to Bring Real-Time Business Applications to the United Kingdom
London, UK – 18 March 2019– Arch, a leader in user experience software solutions and VANTIQ today announced their partnership to deliver real-time, event-driven applications in the UK.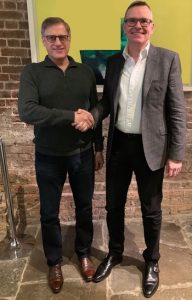 Using VANTIQ's Modelo application platform, Arch customers will be able to benefit from the fast deployment of real-time applications that are truly event-driven, exploiting the IoT and AI for high value digital transformation projects.
"Organizations need to be able to deliver on the promise of the digital economy quickly and economically. The VANTIQ platform has so much functionality already that it allows us to build high added value solutions without the overhead of integrating disparate components. The one piece of integration our customers want – to SAP – we know inside out. We are very excited and proud to be amongst the first VANTIQ partners in the UK for this game-changing technology." said Henry Blythe, Arch CEO.
"VANTIQ's platform and Arch's expertise are the perfect match for ensuring companies in the UK can drive truly transformative business outcomes," said VANTIQ CEO Marty Sprinzen.
ABOUT VANTIQ
VANTIQ, the company that powers real-time business operations, provides the only truly dynamic platform for quickly and easily creating transformative, event-driven applications to drive your agile business operations in real time. Founded in 2015 by renowned tech industry veterans Marty Sprinzen and Paul Butterworth, VANTIQ enables those involved in mission-critical business operations to benefit from a new breed of real-time applications with dramatically reduced time-to-market, significantly lower development and maintenance costs, and maximum agility in response to constantly-changing operational requirements. For more information, visit www.vantiq.com
ABOUT ARCH
Arch is a market-leading provider of usability software that brings together the power of SAP solutions with the simplicity of user-friendly interfaces. It delivers business solutions that help empower organizations of any size to realize huge process efficiencies and deliver enhanced engagement.
The company is privately owned and headquartered in the U.K.
###
TRADEMARKS
VANTIQ and Modelo are trademarks of Vantiq Inc.
MORE INFORMATION
For more information, please contact: Chris Scott, [email protected] or Dana Dye, [email protected].
This website uses cookies to provide you with a better user experience. By using our site you agree to the use of cookies as described by our cookie policy. If you do not want to accept all cookies from our website, please see our cookie policy on how to modify the types of cookies that are accepted by your browser client.
This website uses cookies to provide you with a better user experience. By using our site you agree to the use of cookies as described by our cookie policy. If you do not want to accept all cookies from our website, please see our cookie policy on how to modify the types of cookies that are accepted by your browser client.