How Digital Twins relate to Gartner's top 10 strategic trends
It is always interesting to analyze Gartner's top 10 strategic technology trends for the year ahead.
During the last Symposium/ITxpo, David Cearley, Gartner Vice President, presented the trends for 2018, highlighting  "IT leaders must factor these technology trends into their innovation strategies or risk losing ground to those that do".
And no surprise that we are all on the same page here, but this time prediction #4 grabbed all my attention, not because it was a surprise. Digital Twin was rated Trend #5 in 2017. No, my surprise is about the paradox comparing the Gartner hype cycle where digital twin is expected to be at mainstream adoption within the next 5 to 10 years, vs. the 2018 trend and the digital twin momentum we see in the market today.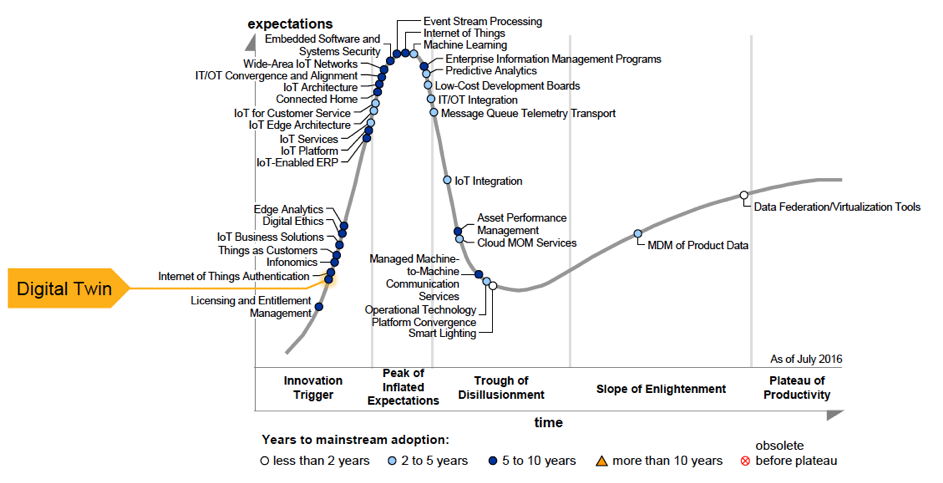 Today, we see this hype in North America, Europe, and Asia, with applications in product design and development, machine and equipment monitoring, predictive maintenance, and manufacturing process optimization.

STEP BACK A LITTLE AND ANALYZE THE PURPOSE OF A DIGITAL TWIN




The term "Digital Twin" was first introduced by Dr. Michael Grieves from the University of Michigan in 2001. Even though, the concept has evolved since that time and specially this last 4 years with the development of IIoT or Industrial Internet of things.
A digital twin is a digital representation of a real-world entity or system. In the context of IoT, digital twins are associated and interconnected to real-world objects and offer information on the state of their counterparts, respond to changes, improve operations and add value.
A digital twin can be described as an evolving digital profile of the past and current behavior of a real-world object or process. It helps to optimize business performance and to drive differentiated value and new revenue streams for companies driving digital transformation initiatives.
Digital twins give visibility to the operations of a complex manufacturing plant or a single equipment or product. Collecting real-time data from the physical systems and machines through connected sensors and actuators, the Digital Twins allows organizations to track every single event in real-time, offering a powerful way to monitor, control assets and act upon unexpected situations.
The real-time data can also be routed to a larger repository to implement massive data analytics which can be enriched by using machine learning techniques. The digital twin can then predict the state of the machines and the functional health of the system.
Through properly designed interfaces, it is easy to interact with the model and ask the what-if questions to the model to simulate various conditions that are impractical to create in real life.
Digital twin can also be used as an integrated communication tool to understand and explain the behavior of a machine or a system. Therefore, it is important to integrate human-to-machine collaboration capabilities to the systems.
The digital twin has to connect and interact with the legacy business applications (ERP, SCM, MRO, etc.) to drive business outcomes, for example, in the context of a manufacturing operation.
Complex industrial processes will often need multiple digital twins to map them from A to Z. These will drive further development and integration because there will be different business requirements to meet each layer of a digital twin.

DIGITAL TWINS WILL POWER THE BUSINESS OF THE INTERNET OF THINGS BY OFFERING A POWERFUL SYSTEM TO MONITOR, CONTROL AND IMPROVE ASSETS, PROCESSES AND ORGANIZATIONS
In the past, the manufacturer's knowledge stopped once the product left the warehouse. But now, connected devices are making efforts possible to extend insights to the whole process, asset or product life-cycle from design, to build, to in-the-field usage.
You can start to learn the usage, behavior and performance of these processes or products in the real world, and even make engineering changes to improve them over time or in real-time.
It is a tremendous shift that helps you build the continuous feedback loop, leading to:
• Smarter process execution

• Efficient product design

• Effective services

• Better performing products.


You can even monitor usage patterns in order to remove unused features over time or add new ones, just like in the automobile industry where connected cars send back enormous volume of data to be analyzed to improve designs going forward, as well as inform when defaults appear.
The continuous feedback loop allows organizations to apply changes and evolutions retrospectively to legacy processes and products.
INDUSTRY 4.0 DIGITAL TWIN BUSINESS BENEFITS
Quality

·Improve overall quality

·Predict and detect quality trend defects sooner

·Control quality problems and be able to determine when the issue started

 

 

Warranty cost and services

·Understand current configuration of equipment in the field to be able to service more efficiently

·Proactively and more accurately determine warranty and claims issues to reduce overall warranty cost and improve customer experiences

Operations cost

·Improve product design and engineering change execution

·Improve performance of manufacturing equipment

·Reduce operations and process variability

Record retention and serialization

·Create a digital record of serialized parts and raw materials to better manage recalls and warranty claims and meet mandated tracking requirements

New product introduction cost and lead time

 

·Reduce the time to market for new products

·Reduce overall cost to produce new products

·Better recognize long-lead-time components and impact to supply chain

Revenue growth opportunities

·Identify products in the field that are ready for upgrade

·Improve efficiency and cost to service product
Source: Deloitte
So, Gartner is right and perhaps a little conservative – a lot of elements are converging to take ''digital twin'' to the forefront as a very disrupting trend that will have deep impacts over the next 2 years and beyond. By the way they predict that, by 2021, half of large industrial companies will use digital twins, resulting in those organizations gaining a 10% improvement in effectiveness.
That's part of the reason why we are proud at VANTIQ to offer solutions that help create the digital twins that form a core part of the digital transformation of many industries.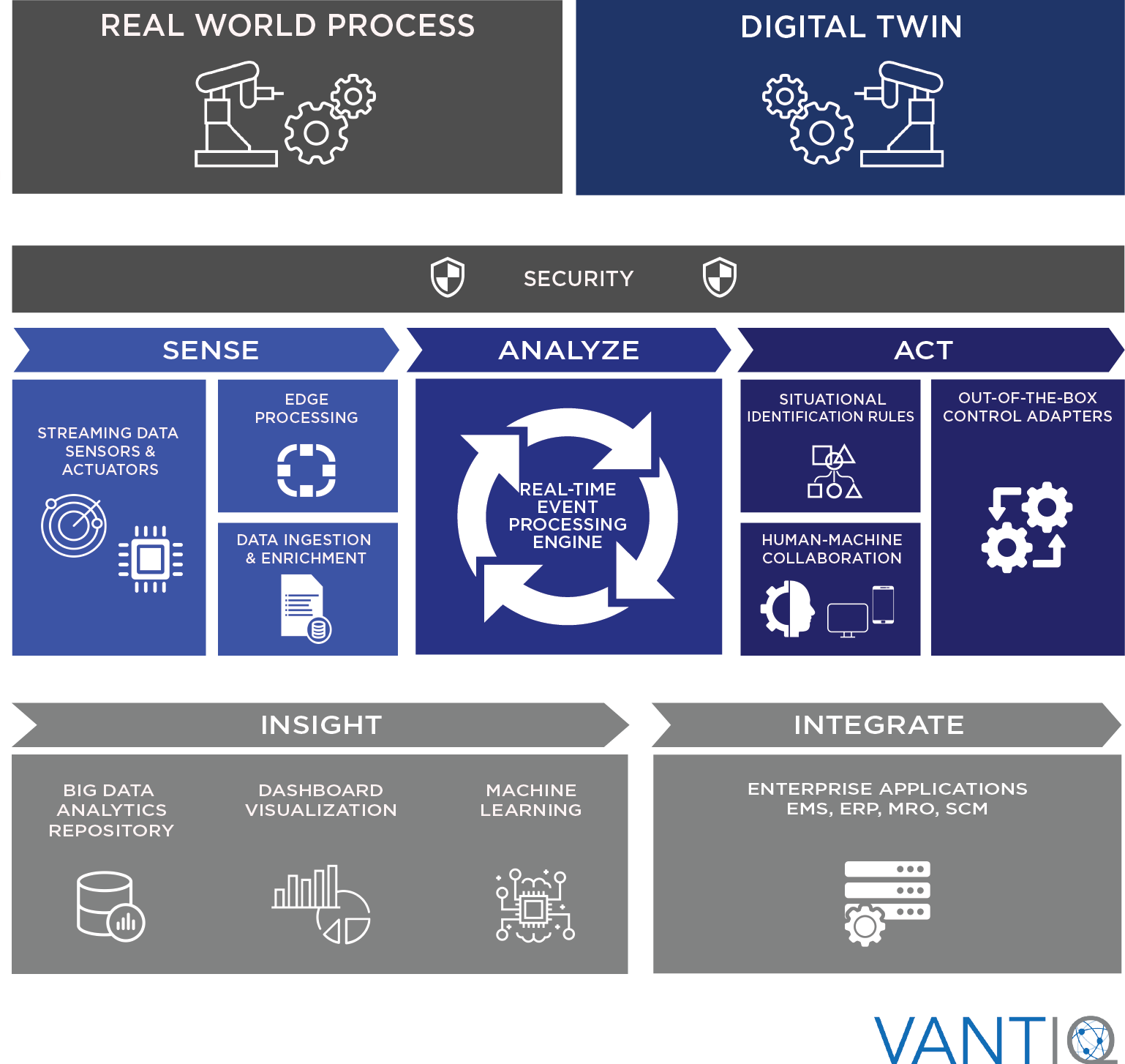 References:
Gartner "Top 10 Strategic Technology Trends for 2018". https://www.gartner.com/smarterwithgartner/gartner-top-10-strategic-technology-trends-for-2018/

Industry 4.0 and the digital twin Manufacturing meets its match About Deloitte University Press

Grieves, Michael and Vickers, John (2001). Digital Twin: Mitigating Unpredictable, Undesirable Emergent Behavior in Complex System.