What is required of today's businesses to not only survive, but thrive in a world of transient competitive advantage?
Raz Heiferman, Senior Digital Transformation Advisor at i8 Ventures based out of Israel spoke with Blaine Mathieu, VANTIQ CMO and host of The Real-Time Enterprise about his '4 Forces Framework' and its relation to businesses in the midst of digital transformation.
Raz has also previously held senior IT and leadership positions in both the Israeli government and industry.
What follows are some takeaways from their conversation. You can watch the complete interview here.
Blaine: Tell us a little bit more about i8 Ventures and what you do there.
Raz: i8 Ventures is actually a new company established at the beginning of this year by Professor Yesha Sivan who is an academic and a senior digital consultant. We worked together for many, many years teaching a lot of courses in the executive MBA programs.
i8 Ventures is really a consulting company which has several targets. One is providing high level, senior level, executive, and boards consulting services, but we also develop materials. We also are going to present or prepare materials for professors and for teachers so that they can shorten their way to produce such lessons on digital transformation.
Blaine: Your presentation, and I think it sounds like your upcoming book as well, at a high level, what's the core thesis behind your presentation?
Raz: The core the court thesis is that gone are the days that companies can talk about sustainable, long-term competitive advantage. They must now be much more adaptive to the new challenges and the environment.
I'm using the term that Professor Rita McGrath has written about and she calls it "The Transient Competitive Advantage" which means that companies should be very agile in order to be able to change quickly the course of the company and the competitive advantage in order to react quickly to what is happening in the technology, business models, competitive arena, and so on. What I believe the biggest challenge that companies have is becoming agile companies.
"What we really believe in is that it must begin from the top. It's something that is much larger than a single department. We are talking about an organizational culture."
– Raz Heiferman
Blaine: You mentioned culture as one of the forces that organizations need to consider. What are some of the impacts on culture? How does culture have to be adjusted to enable success in this transient world of competitive advantage?
Raz: As you know, culture is a very broad term, but eventually, it is a very important one. It impacts the companies in the way they behave. If there are companies that are very rigid and very slow in decision making and very slow in reacting and are more silo based, then they will have challenges in the new era. We believe that the culture is almost one of the most important, and most challenging parts of the agilification of the company.
What we really believe in is that it must begin from the top. It's something that is much larger than a single department. We are talking about an organizational culture: the speed that you are making decisions, the way that you work together with your peers, how quickly you adapt to new challenges and new business models, and so on. So, we believe that having said culture is a very, very important issue. Somehow, sometimes, companies miss this, and they go directly to more technical parts of the challenge.
Blaine: I usually give my guests a chance to call BS on some aspect of conventional wisdom, maybe where the gurus are saying one thing and you believe it's actually going to go in another direction. Is there an area where you think most people are just off base?
Raz: I'm reading a lot of articles and even books that are predicting that humanity will lose a lot of jobs and maybe the unemployment will be very significant in the coming years. I'm not sure about that because I would say we have witnessed a lot of technologies. At the beginning, everybody was afraid that we were going to lose jobs.
Just take one example. If you take the refrigerator, when the electric refrigerator appeared, a lot of people lost their jobs. Their job was cutting ice and distributing the ice. Suddenly, you don't need that. So, there was a sense of losing. We are talking about large numbers, millions of people. If you look a couple of years later, now the refrigerator is a commodity. Still, there are people selling refrigerators, distributing them, and repairing them.
There was a shift in the employment, but I'm not sure that we lost many jobs. We lost some types of jobs, but we gained some other types of jobs. Coming back to robotics, AI, and all the digital stuff, I believe that this will be the same. We are seeing and witnessing now that there are new jobs that we didn't have a couple of years ago.
Blaine: I fundamentally agree with you, Raz. As we've discussed in previous episodes, it's about humans, machines, and systems collaborating. That will raise standards, raise the economy, and create jobs everywhere.
Raz: There will be a need to reskill people, to teach people. But, I believe that the overall picture is not so pessimistic as some people are trying to tell us.
Click here or below to watch or listen to the full interview!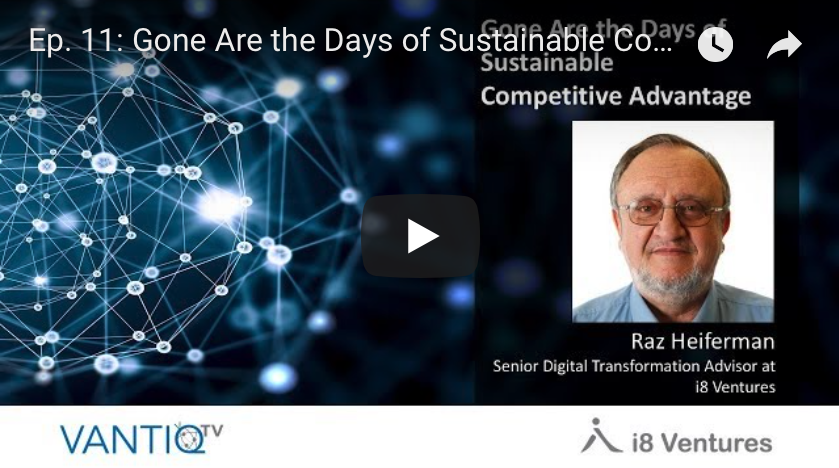 —
Those interested in hearing more of Raz's thoughts can follow @rheiferman and also visit i8 Ventures website . You can reach out anytime at [email protected] if you Have a thought for an interesting posting on the topics of real-time business, digital transformation, event-driven applications, human-machine collaboration, edge computing, Internet of Things (IoT), or high-productivity/low-code development .