Blaine Mathieu, VANTIQ CMO, spoke with Rob Tiffany, Chief Technology Officer and Global Product Manager for Lumada IoT at Hitachi Vantara, discussing the practicality of digitization and the necessity for companies to be especially proactive in its achievement. 
What follows are some takeaways from their conversation. (You can watch the rest here.)
Blaine: So, Rob, why don't you tell us a bit more about yourself, your current focus and what brought you here, to be an expert in IoT among other things?
Rob: I kind of got involved in something you'd call IoT back in the early mid 90s, actually. I worked at a startup called Real-Time Data when I got out of the military. And the thinking of this startup was bringing these old vending machines to life. I hear about no shortage now that IoT is so in vogue. I hear all kinds of people using vending machines as their example for their use case for IoT: inventory and stuff like that.
Blaine: I read something you quoted in your blog about IoT just now moving past the shiny object stage. If we've been doing this for the last 20 years, and I know we have to some degree, why is it only now just moving past the shiny object stage?
That's a good question. IoT has certainly underperformed. I don't want to come off as some jaded guy but I really feel like this is all evolutionary.
I think it's about money – the price sensors started to drop like a rock, the price and ease of using a microcontroller. I know consumers think of things like Arduino or Raspberry Pis, but microcontrollers got really cheap and more accessible.
Storage to store all this data, storage is going to zero. Cloud storage, I mean, nothing is cheaper than that. Another crosscurrent happened with analytics. Even if you could do all this other stuff, (this advanced analytics, trying to do things like machine learning, AI, and all that fun stuff) that was out of the reach of just almost everybody. So you had some really high-end companies that have been doing analytics, SaaS, a whole bunch of people for forever. But not everybody knew how to work with that stuff.
Blaine: It's interesting. I absolutely agree with that. What's your overall thought on the concept of digital transformation?
Rob: I think it's OK to let the customers do baby steps and I think any company who's involved in that space, or if you're a consultant trying to guide a customer, let them do those baby steps. If they haven't digitized lots of things, let them do that.
Like anything in life, digitize, get that early value, and then sit back and look. Now that these things are digital, is there a better way to be doing this rather than mimicking the old analog ways?
Blaine: There's a whole other discussion going on right now about what is commonly called, and we talk a lot about it, human-machine collaboration; the fact that systems and people, increasingly intelligent systems need to be able to work effectively to make people more powerful and effective versus just this notion of just replacing all the people out of the system or out of an organization. Are you on the side of eventually, we will all just be sitting in our easy chair because the robots will be doing everything for us or do you see that there's this future of humans and machines collaborating together maybe like OT and IT should be doing more?
Rob: I think people should be actively working and speaking about human-machine collaboration because there's too many people talking about, "No the machines are going to get more intelligent. We're going to hit that singularity and it's game over. We hope things work out for the rest of you folks." Working together is huge. We've been doing that in different ways with computers, just generically speaking, making people more productive. So, I think that's got to continue on. How can you aid a person?
Click here to watch or listen to the full interview.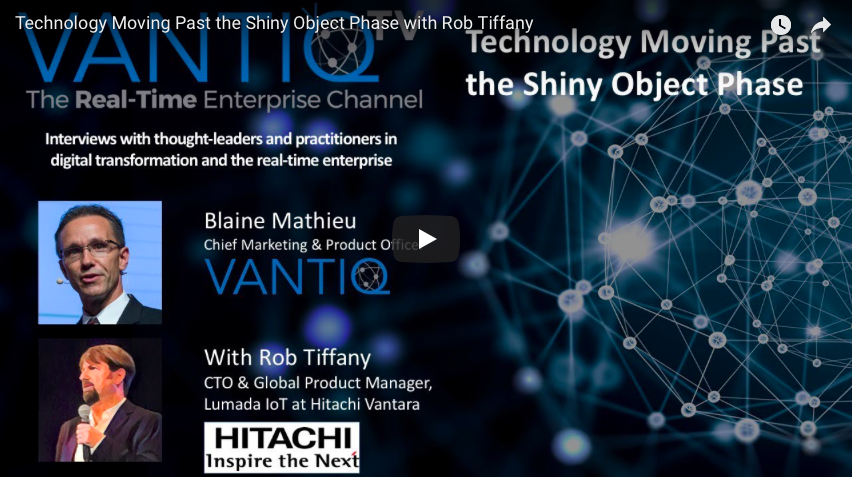 Click here for more content from The Real-Time Enterprise including demo videos and interviews.