With around 150 attendees, the 3rdAnnual IIoT and Digital Solutions for Oil & Gas, hosted on June 3 – 4, 2019 in Amsterdam, was a real success.
IoT, Big Data, AI, Cloud, Blockchain: every new digitalization technology brings a promise to completely redefine the oil & gas industry and generate new business value in an energy transition context. How are oil & gas companies navigating the change and benefiting from it? To answer these questions, Big names such as SHELL, PETROBRAS, PETRONAS, GASPROM, ENI, EQUINOR, BP… shared with us their experiences.
Key takeaways:
Humans have to be at the center of every digital transformation: no matter how advanced the technologies, how much they can automate operations, and how effectively they can help decisions, by their unequaled adaptability, human beings have to remain at the center. Noorddin Taj, lead architect at BP perfectly illustrated it with this video.
We're at a disruption point: traditional approaches are leading to failure. According to Bain & Cie, only 1% of digital transformation initiatives achieved or exceeded the expectations that were set. 32% failed to deliver, producing less than 50% of the expected results, and 66% settled for dilution of value and mediocre performance.

Operational Technology and Information Technology still have a lot of difficulties communicating. Sharul Rashid, custodian engineer, instrument and control from PETRONAS summarized it in this sheet: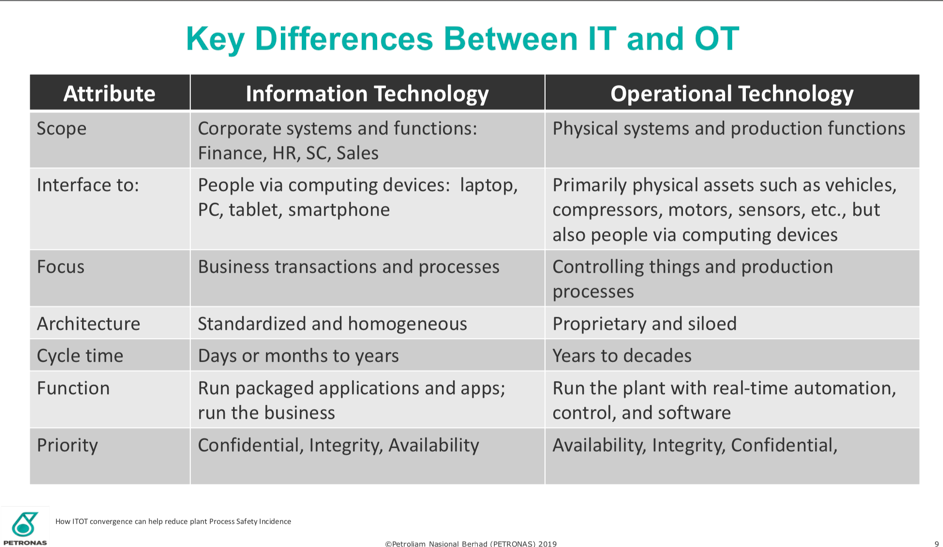 VANTIQ answers the main challenges of the Oil & Gas industry:
Human-machine collaboration is at the center of VANTIQ's strategy. By hiding the technological complexity, VANTIQ brings relevant alerts and information enriched with context to human beings for faster, easier and better decision making.

With a disruptive approach that releases you from data collection and storage bottlenecks, agile and event storming methodologies are natively implemented in VANTIQ's platform. This enables organizations to quickly perform tests, POC and pilots, in order to adapt and incrementally deploy projects that deliver value in production.

Thanks to event-driven architecture and low code enabled rapid development, we've seen that VANTIQ has a great value proposition in Oil & Gas to reconcile traditional architectures (3 tiers, SOA) from IT and real-time to OT.
We are at a turning point in the industrial internet of things (IIoT) space. It is imperative that companies, large and small, begin implementing event-driven architectures to ensure they do not become disrupted by upcoming innovations.
Global Business Club's 4th annual conference, now called "Go Digital Oil & Gas" will take place June 3 – 4, 2020 in Amsterdam. For information about VANTIQ events, please see our events page or reach out to Chris Esposito, VANTIQ's event manager at [email protected]