If you were born before the beginning of the 21st century, you definitely have noticed that today's technology is advancing very quickly and almost everything is becoming connected. In the 90s, you could connect via the internet on desktop computers. In the early 2000s, you were introduced to mobile technology, making portability and convenience something you could take for granted. Then, Bluetooth and always-connected technology was introduced and the Internet of Things (IoT) began to truly take off.
Today, you can enter a destination into Google Maps for a location you have never been to before and be guided there with ease with real-time updates of your ETA. State-of-the-art vehicles, especially electronic vehicles (EVs), can now autonomously drive you to your preferred destination (where local laws allow it). You can address computers by name (Alexa, Siri, Google) and have them cater to your questions and commands. So, what's next?
Uses for IoT will soon be integrated into not just "smart homes" or "smart cars", but smart cities. Marc Andreesen, co-founder of Andreesen Horowitz, expresses that "software is eating the world." In other words, almost every interaction in the near future will be influenced by real-time applications. The data has already been here for years. We are just now finally able to take real-time actions based on it. Software is becoming more and more efficient, allowing us to make sense of the huge volumes of data gathered by video cameras, GPS devices, emergency sensors, and other hardware. People and objects can be recognized and tracked in real time from different points of view, a process we at VANTIQ refer to as 4D processing (processing of events in 3D space and over time). Once a situation such as high traffic or unauthorized personnel is triggered, action can be taken by the software to guide or protect its citizens.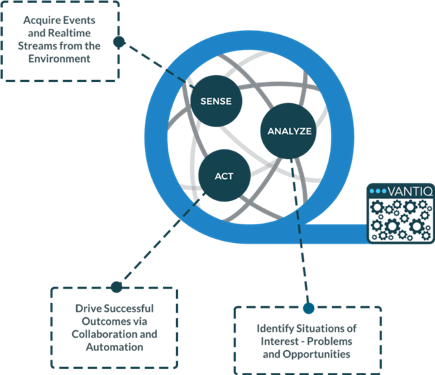 You have already seen samples of real-time, smart city applications existent in consumer technologies such as Uber's transportation and tracking, Waze's rerouting, Apple's facial recognition in their devices, or Amazon's locker and logistics system.
In Hangzhou, China, Chinese company Alibaba uses real-time camera feeds coupled with AI (called the "city brain") to manage traffic, cutting travel time for commuters in half and enabling emergency vehicles to arrive quickly and safely to emergency destinations by managing over 100 intersections. The system can also detect accidents in real time and alert emergency personnel immediately. In Columbus, Ohio, technologists are working on a project to consolidate city payment and transportation on one app, allowing its residents to plan and pay for public transportation (busses, bike sharing, trains, ferries, etc.) in one single application with real-time updates of each transportation method.
If it's so great, then why have you not experienced a smart city more recently? Partially, it has to do with culture. As mentioned, countries like China are proactive in the smart city initiative. That is because they are able to implement large government objectives more efficiently. Tony Batalla, Head of IT for San Leandro, remarked on The Real-Time Enterprise that smart city initiatives are the result of a series of small steps that lead to a breakthrough. Each city is different in its needs and infrastructure.
Transportation will be the first aspect of a city to be converted as cities are becoming more crowded by the day. Nearly every city taking on a smart city initiative begins by tackling the problem of traffic. After all, people care about their money – and time is money. Traffic is a waste of time and natural resources. We already have real-time ETA and direction thanks to digital mapping companies like Google. The next step is management of transportation on a grand fleet scale rather than by the individual. That means better and faster deliveries, emergency response, sanitization, and resident safety and happiness.
From transportation, cities can tackle a range of problems with a real-time IoT application. For example, malicious patterns can be recognized from certain persons in a large gathering such as a concert, preventing the worst imaginable from occurring before it even starts. Lights can be managed on a grand scale to only operate when humans are in need of them, saving the city's expenses. To learn more about smart city implications with lighting, read Retrolux's CEO and Founder, Leif Elgethun's blog "A Smart Lighting Primer" on The Real-Time Enterprise blog.
As devices become ever-more clever, so too will the software managing their operation. Technological devices will continue to be an important part of our societies, but where they really make a difference is when real-time applications are integrated into the IoT. For now, we look to smart cities. But in the future, we will look forward to a smart world.
Please add your comments below and Subscribe to the Blog to receive notifications of future blog posts.
Have a thought for an interesting posting on the topics of real-time business, digital transformation, event-driven applications, human-machine collaboration, edge computing, Internet of Things (IoT), or high-productivity/low-code development? If so, please send me a note to [email protected]