Blaine Mathieu, VANTIQ CMO, spoke with Vilavanh Messien, managing partner, and Stephane Marcon, Technical Director of Infosquare, a global systems integrator with offices in France, Belgium, and Canada. Messien and Marcon shared their insights on technological advancement and integration in business and how they, themselves, help companies adapt and innovate in real time
What follows are some takeaways from their conversation. (You can watch the rest here.)
Blaine: What particularly excites you these days about what's going on at the intersection of business and technology?
Stephane: We are entering a phase where IT and technology, in general, can provide and support business opportunities. So digital transformation, for us, is really about efficiency and how companies are focusing on building a better service in a better way.
Vilavanh: When we're talking about digital transformation, we're talking about how to become more efficient, more effective, generally speaking. And nowadays competition has never been as fierce as it is right now. In the past, we could afford to have projects that could last maybe a year or a few years. Now, it's not the case anymore. You have to go very, very fast, again.
Blaine: In this world that's moving so quickly, we need to build systems that can continuously take data in, process it, and then take actions also in real time. Are you starting to see those kind of use cases or applications in your practice?
Stephane: The orchestration side, as we know, is already part of our DNA at Infosquare so we've been used to integrating different systems in order to produce knowledge in general. And we are also a knowledge management company. We focus on how we deliver knowledge and how we make all resources, all information available, how we coordinate those to produce knowledge.
It's about how do we ensure that we use the existing knowledge in the company. How do we capitalize, I would say, on the knowledge of workers? So how do we get and inject, capture information where it sits? So those parts are the moments where we need to involve humans. Those are the ones that have value. I mean those are interesting situations for us because those are the ones that we should focus on.
We recently built an application on transport and logistics, as an example. This particular subject, the center of the logic for the application, was to integrate all events occurring on a particular supply chain.
"Companies shouldn't wait. They should start their digital transition journey as soon as possible, and they shouldn't be scared."
-Vilavanh Messien
Blaine: Vilavanh, what was your reaction the first time you saw this application that your guys built? What was your reaction to that?
Vilavanh: I'm not going to talk about only my own reaction, my personal reaction, but I would rather talk about the reaction that most people had. First of all, they were all very nicely surprised and impressed with the application. But what impressed them most was the time it took us to build that application. At first sight, the application might look simple. It's not, if you really dig into the details, and then you start to look at what it actually does. It's a complex application.
Blaine: Interesting. And for those that would actually like to see the application that Stephan and Vilavanh are talking about, a video of it is posted on the VANTIQ web site in the resources section under videos: the Infosquare logistics video. And you can also find the contact information for Infosquare that built the application there as well.
Click here to watch the full interview or listen to the podcast version.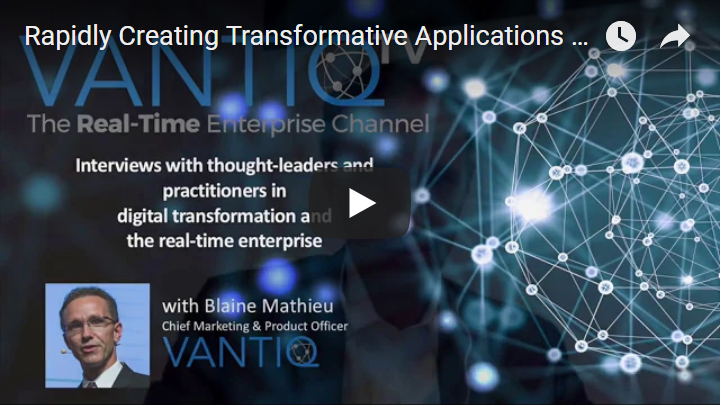 Click here for more content from The Real-Time Enterprise including demo videos and interviews.