Tony Olvet, Group Vice President of research at IDC Canada was a guest on VANTIQ TV's The Real-Time Enterprise.
IDC is one of the most well-known analysis and advisory firms in the technology business. Tony's had a long career there starting as an analyst and working his way up to managing all the analysts across all the research domains in Canada at IDC.
What follows are some takeaways from the conversation. You can watch the complete interview here.
If you're following the VANTIQ TV episodes, you will have seen a recent episode featuring Shawn Fitzgerald, head of the digital transformation practice at IDC in the US. Definitely check it out if you missed it.
Blaine: What particularly excites you about what's going on these days at the intersection of business and technology in Canada? Maybe, if you want to talk about some of the interesting projects you or your team are working on, that would be cool.
Tony: There's two or three really interesting areas that I've been able to touch on and it's going to expand our research. Obviously, our whole body of work around digital transformation, that's been an ongoing focus for IDC globally and in Canada for the last three or four years.
I know you talked to Shawn Fitzgerald already and in Canada, we've been looking at the progressive Canadian organizations around DX.
5G wireless is going to change the tech and business sector. That's going to be a very interesting space to watch for quite a while. This is not like an overnight sensation. The carriers are building out their networks now, but there's lots more to happen in the next two to three years before we really go commercial in Canada.
Finally, I guess the intersection of a whole bunch of different technologies brings to life this notion or the concept of the future of work. We're actually hosting a conference with ITAC, our partner, the Information Technology Association of Canada, January 30th in Toronto looking at the future of work. It's a morning session and we have our global future of work analyst, Roberta Bigliani joining us from Europe. So, it's gonna have an international perspective. We have panels and keynotes.
Blaine: Interesting. A lot of those topics you touched on briefly I think have been reflected in a lot of my discussions with technology leaders and others in the US. Is there anything or are there any things different about what's happening in Canada than what's happening in the US? Do you perceive any differences or is Canada just a slightly smaller mirror of what's going on in the US?
Tony: There are some differences and that's one of the major roles that we play is helping our vendors/clients understand those differences because they're often subsidiaries of U.S. firms. They're given targets, quotas, and so forth.
One of the things that structurally or the economy as a whole is more dominated by mid-market or SMB-size organizations. You don't necessarily have the same large-scale enterprises that the US enjoys. Hence, maybe the deeper pockets or that ability to scale up is more of a challenge for Canadian organizations.
The second thing to think about in the structure of the business is there are more subsidiaries of foreign-owned firms in Canada. Decision making isn't necessarily 100 percent within their control.
Those are two things to really think about when you're when you're looking at the Canadian market: the lack of super large-scale enterprises and the fact that there's more foreign-owned subsidiaries that dominate the Canadian market.
Blaine: Any particular examples or good examples of companies in Canada that you think are undergoing an effective transformation?
There are a few. We've done some case studies on different projects. I've highlighted summaries of those at some conferences. There's companies like Teknion, an office furniture manufacturer. Tridel, they do some smart buildings.
I think one that's probably more recognizable is Cirque du Soleil. All of what they do, what's embodied in their processes is innovation. They've actually built four innovation labs and they focus on different aspects of the business whether it's set production, remote set production, their costumes, talent management, or the overall technology.
Blaine: Any final takeaways or tips? Maybe let's talk about technology vendors who are trying to help companies drive their real-time transformation. Any tips or takeaways for vendors overall?
Tony: I think one of the things that has become very evident in Canadian organizations is the vital importance of security.
The fact of the matter is that there's so many opportunities for bad actors to penetrate systems that there has to be a plan in place. There has to be a focus and are you going to be doing it all yourself, or are you going to be looking at managed service providers around that? That's actually one of our bigger predictions: the growth of managed services around securities is going to outpace security product purchases.
Click here to watch the complete interview!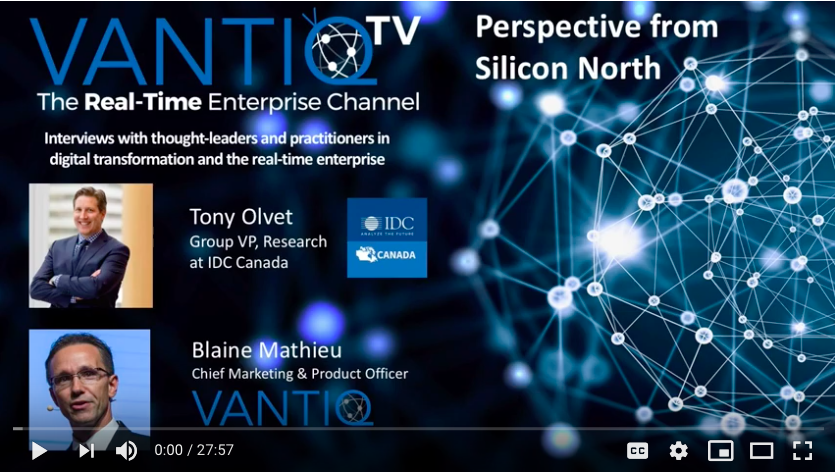 Those interested in hearing more of Tony's thoughts can of course find him on LinkedIn. You can follow @tolveton Twitter. And of course, check out IDC.com/ca.
You can reach out to us anytime at [email protected]