Blaine Mathieu, VANTIQ CMO, and Michael Krigsman, tech industry analyst and host of CXO talk, Michael Krigsman spoke about how to effectively transform virtually any company with real-world examples of digitally transformative companies like Otis Elevator and Uniqa Insurance.
What follows are some takeaways from their conversation. (You can watch the rest here.)
Blaine: So Michael, why don't you tell us a little bit more about yourself and CXO talk?
Michael: CXO talk is a video series where we speak with the most innovative senior executives in the world. Much of the conversation centers on digital transformation and the response that these folks have in their companies, how they're managing their business, to various forms of disruption in their environment; whether it's coming from technology, changing consumer expectations, changing expectations among their employees, it's all about the management and leadership of their organizations in response to this changing world.
Blaine: What particularly excites you these days about what's going on at the intersection of business and technology? Are there any particular trends? What's going on that makes you go, "Wow this is amazing!"?
Michael: Well of course, there's many technologies out there, but the thing that really grabs my attention is how companies are responding. In the past, I technology, IT, was the province. You know, the folks in the white coats who were guarding the server rooms.
Today, we're all technologists and consumers have lots of experience with excellent user experience, with excellent user interfaces. So, the demands that consumers have in their personal life has translated onto what they expect, both from enterprise suppliers, enterprise vendors, and if you're an employee, it's translated into what you want from your employer.
Blaine: Do you have an example of a favorite digital transformation story or an example or use case that sticks in your mind?
Michael: There is a company called Uniqa insurance. They are a very large insurer in Switzerland. I had on my show Dr. Alexander Bockelmann who was their CIO and now is their Chief Digital Officer and a member of their board of directors. He is running a relatively small group inside Uniqa looking at their business model. The business model of insurance has not changed in a long, long time. They're looking at what kinds of products are they selling, information they can gather about their customers, such as you were describing.
Again, it's a proactive thinking about the underlying business model. How are we making money? What do consumers expect from us? How can we manage risk? How are we pricing? All of these things come into it. So it's another example. In that case, like I said, he's a member of their board of directors. That demonstrates the level of senior executive commitment that they have.
"The demands that consumers have in their personal life has translated onto what they expect, both from enterprise suppliers, enterprise vendors, and if you're an employee, it's translated into what you want from your employer."
– Michael Krigsman
Just this past Friday, I had a CXO talk with a Chief Information Officer; a guy named Marcus Galafassi who's the CIO of Otis Elevator. They are a 12 billion dollar company. Who would have thought? The really big part is service because elevators can't go down.
What they have been doing is investing very heavily in IoT, Internet of Things, to enable their elevators so that at any moment, a customer can see the real-time status of what's going on with that heavy capital equipment. Not only that, the elevators themselves can proactively call for maintenance if there's an issue because there's service contracts.
Blaine: What's your opinion on the question of the future of AI and impact on humanity, the workforce, etc.?
Michael: One of my guests was Paul Daugherty who's the Chief Innovation and Technology Officer at Accenture, huge company. He just wrote a book called "Human Plus Machine". The thesis of the book is precisely as you just described: the AI foreseeable future is not going to be about robots replacing people so that we can all spend our days on the beach being overlords of this vast cyber army of servants, cyber servants. Maybe in the future, but for now, that's kind of science fiction.
Judgment is an interesting question because the greater the degree of judgment, the more you start to approximate human intelligence because human intelligence, in a sense, is a function of judgment. In our practical, present reality, it's going to be a combination of AI supporting human activities.
Click here to watch or listen to the full interview.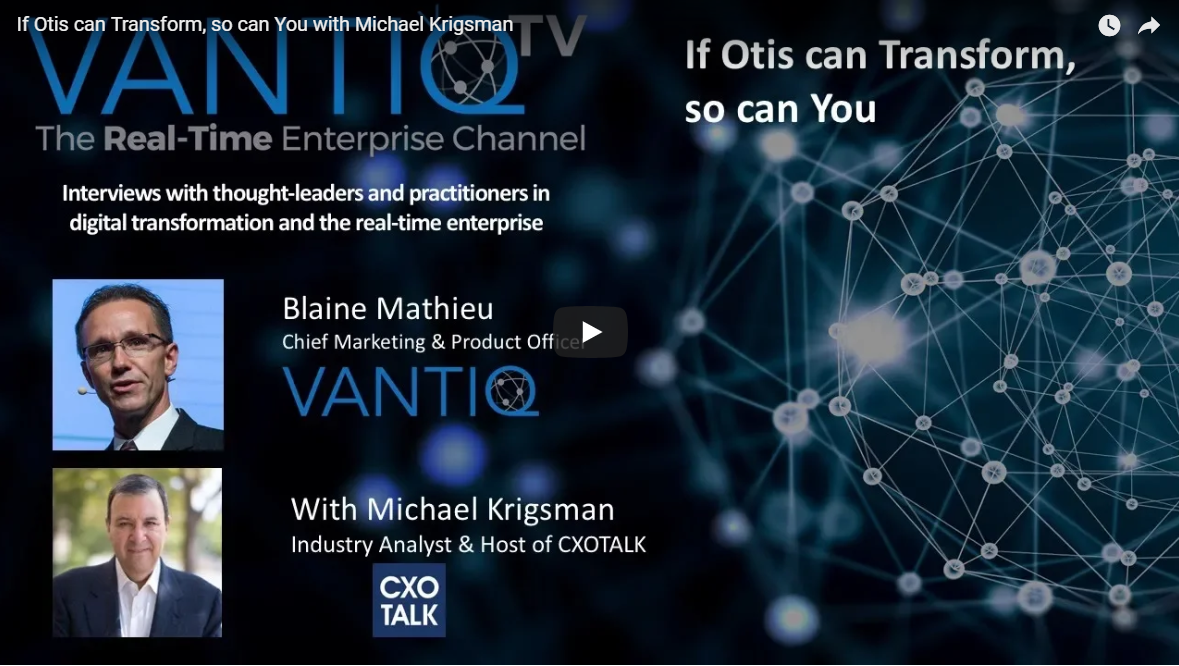 Click here for more content from The Real-Time Enterprise including demo videos and interviews.