The VANTIQ US team attended Field Service Palm Springs 2019 last week at the JW Marriott Desert Springs Resort. We were happy to connect with many engaged businesspeople focused on digitally transforming their companies. As the information age evolves, field service businesses must adopt smart systems to manage their operations. If you were there or are considering going next year, please comment below and let us know your thoughts!
This is the second time VANTIQ has made an appearance at FSPS. Last year, Robert Biczek, our west US sales director, attended the event and had many meaningful discussions about rapid application development. Robert joined us again this year along (far right) along with Eddie Tung (far left), Mark Silva (center left), and myself (center right). This time, we came with a full booth setup. We were happy to bring some new event signage with us to add to our presence.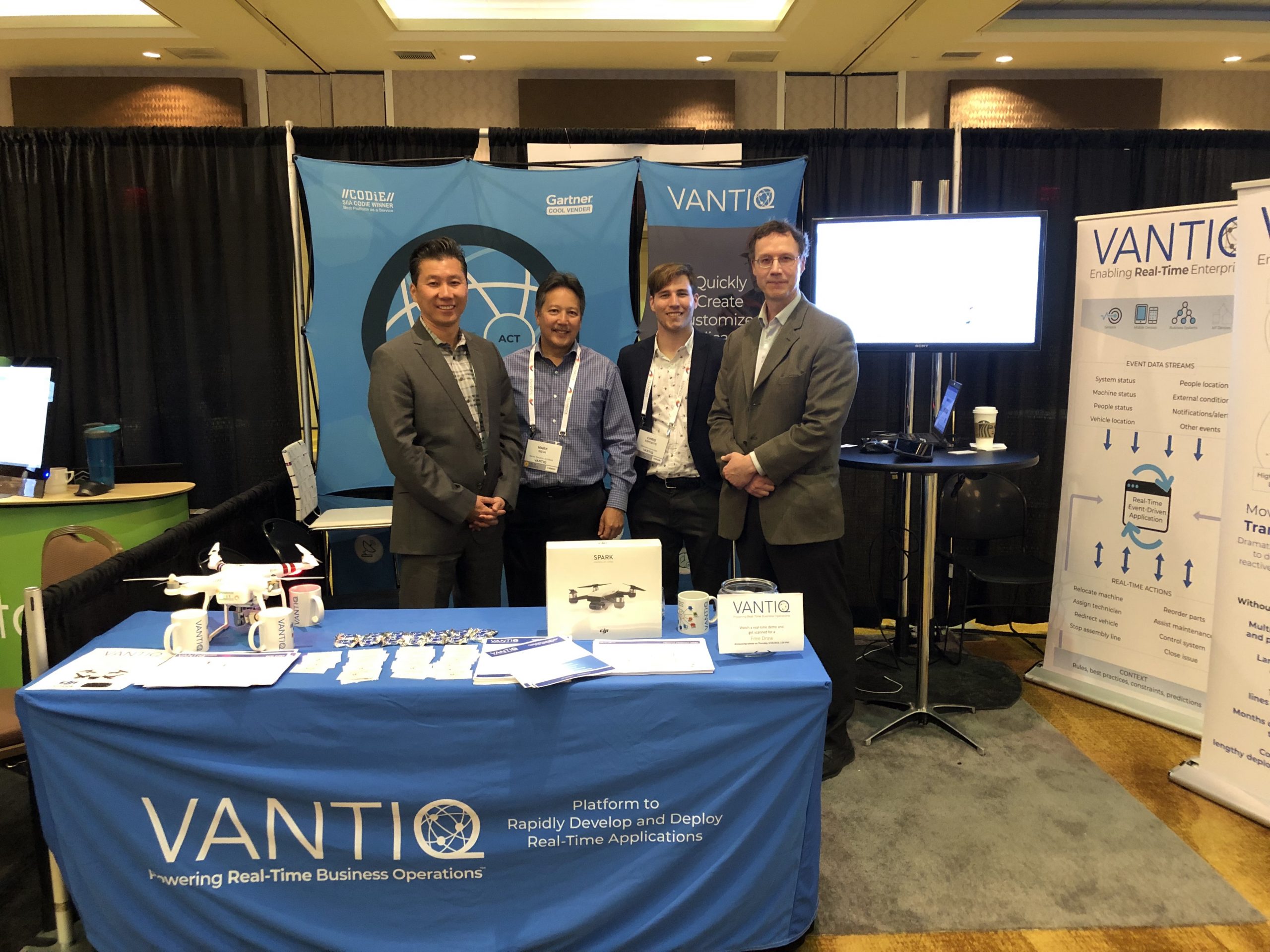 Eddie Tung (far left), Mark Silva (center left), Chris Esposito (center right), Robert Biczek (far right)
We were also delighted to have Eddie Tung, VP North America Sales, speak for an innovation spotlight where we showed several use cases for our platform and what the near future will look like with the new age of applications interacting with cutting edge technology.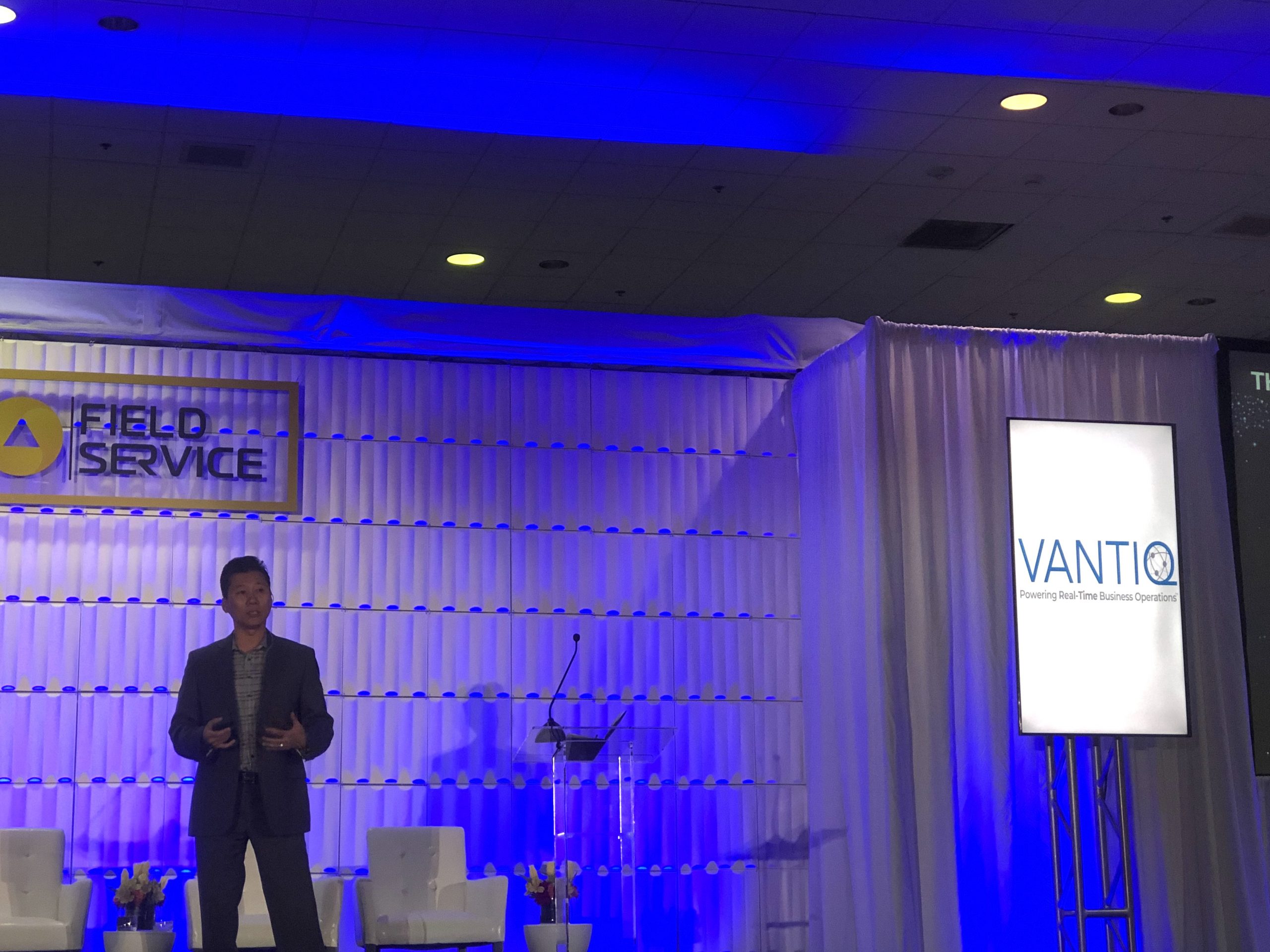 Eddie Tung speaking on real-time field service applications
After the speech, field service attendees were especially highly interested in solutions, asking many questions and providing context to the problems they face. We were happy to participate in the energy! Our team in the midst of a demo: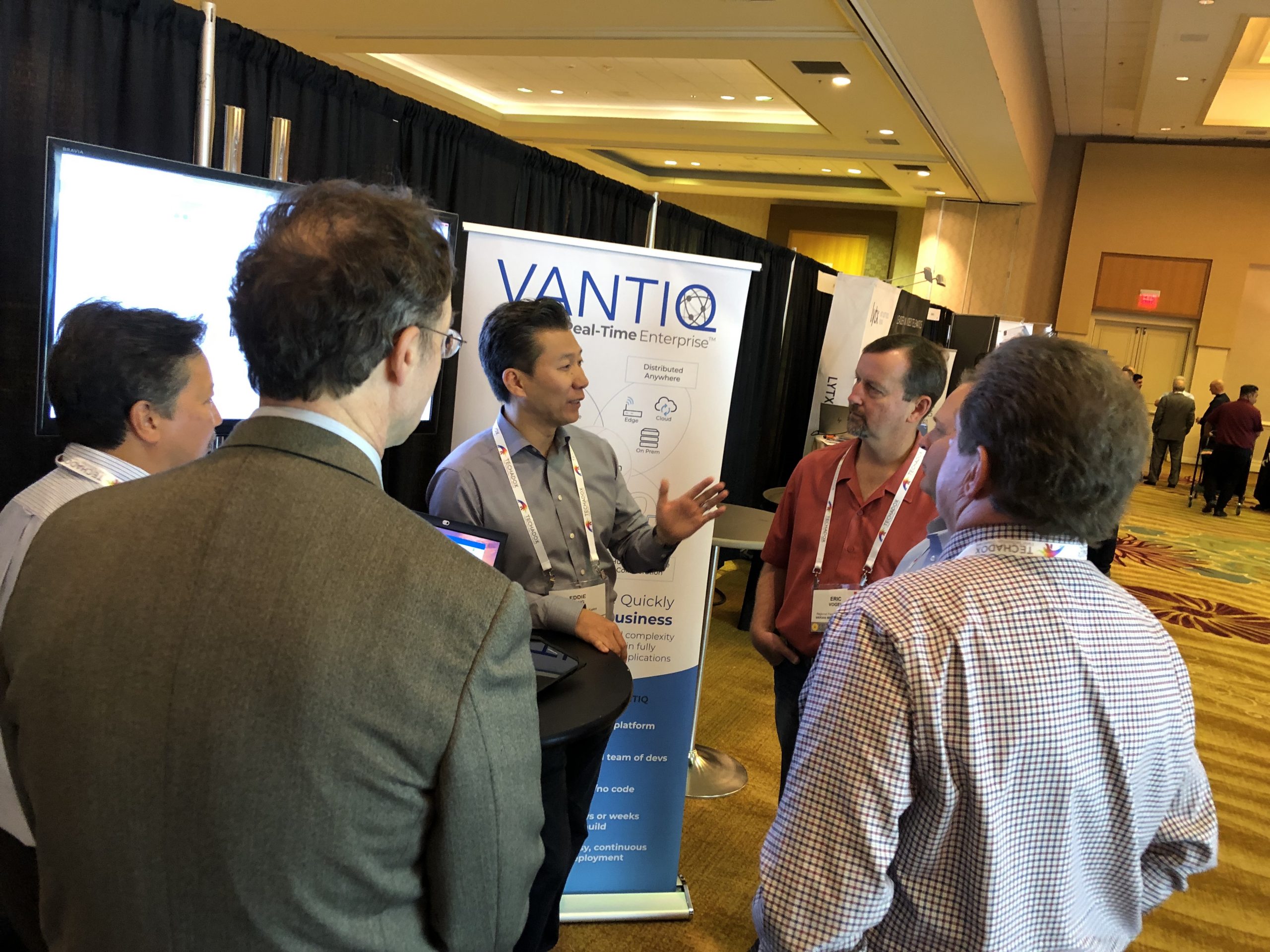 The event also hosted many networking and bonding events including a biergarten party on the resort's west lawn.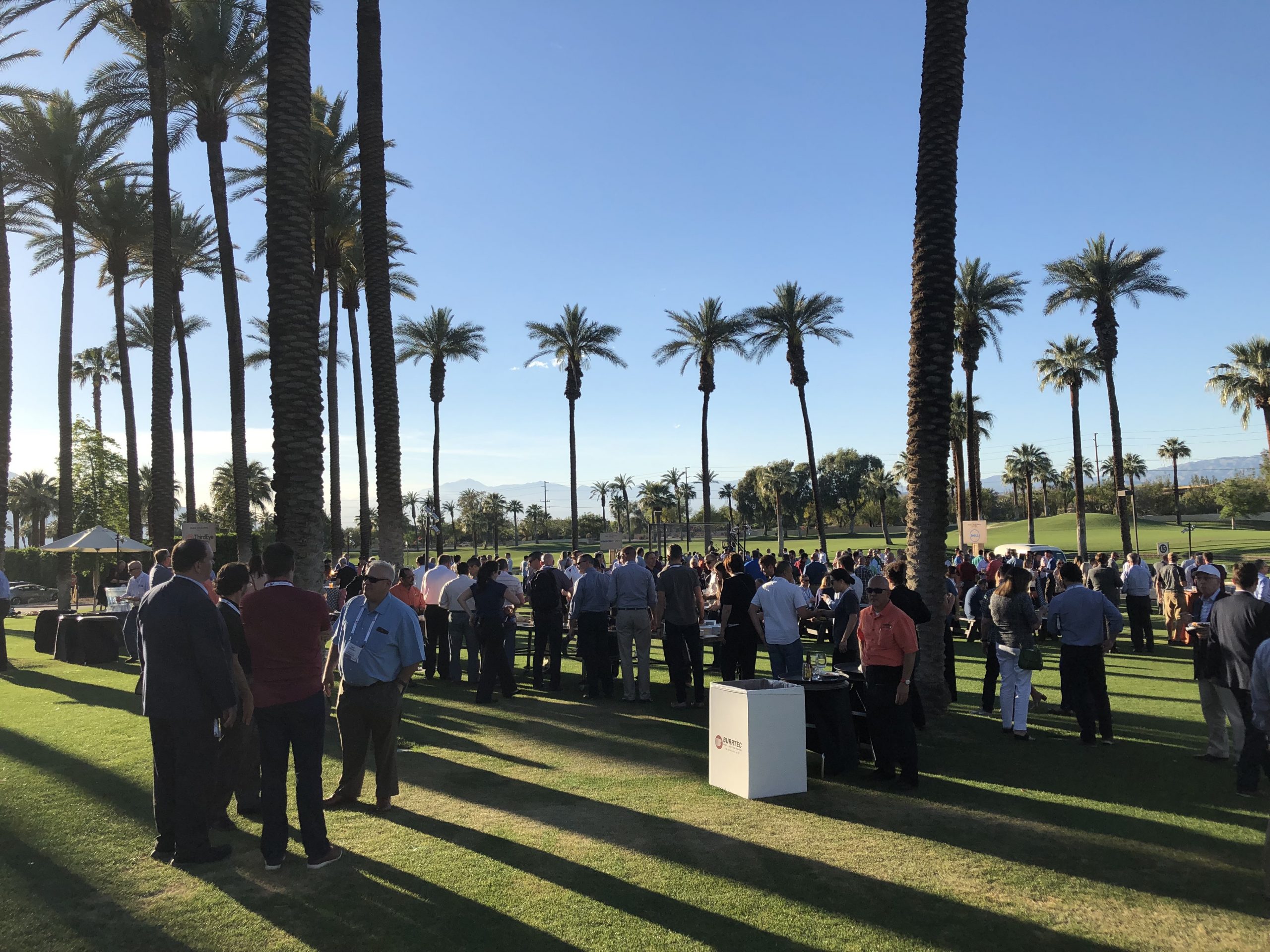 Each team member came away with several observations about field service as it relates to our digitally transformative world. See their thoughts below.
Field Service USA in Palm Desert had a lot of energy this year. Many people were sharing the increased workloads their companies are facing and eager to hear what new best practices and technologies can help them with their jobs.
Many also expressed interest in creating custom solutions to work within their environment, rather than force fitting in a product.
Another theme this year is the challenge of recruiting and retaining field service folks. The tight labor market is one challenge and job hopping is the other. Once a company invests several weeks or months on the training of new recruits, keeping them engaged and happy is the next phase.
Technologies are needed to do more with the same or fewer people. In general, these are all good challenges as many folks agreed their business is growing.
– Robert Biczek, VANTIQ Director, Western US Sales
As a first-time attendee/sponsor/speaker at Field Service Palm Springs 2019 , I enjoyed the well-organized venue tremendously. For the attendees, the daily agenda was filled with an abundant number of informative sessions. As a sponsor, we were able to have incredible discussions with a great group of folks- field service executives from all of the key industries. For my talk track, I was able to share our experience with reimagined field services as a strategic and innovative component to the business. Of course, the most productive and collaborative discussions happened during the evening events, which was a daily occurrence. At the end of the week, I learned a lot, ate a lot, and drank a lot!
– Eddie Tung, VANTIQ VP North America Sales
Field Service Palm Springs featured a collection of straightforward field service managers and technical solution providers that made for quite an inquisitive event. As a software platform solution provider, we met many business leaders either fixated on solving a data problem after they implemented IoT sensors or fixated on managing the large amounts of data coming into their business after they have installed IoT sensors or another means of digitally transmitting data.
Field Service managers, especially in DX, face a challenge of evolving to the ever-increasing expectations of our digitally-savvy society. Large companies such as Amazon, FedEx, and AT&T do not allow small field service companies to operate via batch-style databases any longer. There needs to be more predictive procedures than reactive procedures. Enterprises utilizing field service must be able to respond to their management systems and customers in real time or else they will become obsolete.
– Chris Esposito, VANTIQ Marketing Associate
This was my first FSPS event and the sessions were very interesting to hear the challenges and suggestions by other attendees. The networking sessions allowed us to further discuss their experiences with various solutions and hear any recommendations.
It was interesting to hear that while there are many package solutions in the market, everyone needed to integrate with other packages (either new to them or already in use by other organizations) to piece together a complete solution. This required a lot more configuring and customizations to achieve the desired outcome. We encouraged them to re-think the value of incorporating a package solution versus building a custom solution that fits their exact needs that they could customize quickly as well after the build.
With more modern development and runtime platforms, you can quickly pull together a custom solution that can rapidly change as the business requirements change. This will be vital to all companies in the near future.
– Mark Silva, VANTIQ Senior Solutions Architect
We returned from the event with refreshed perspectives on the field service industry and how we can foster efficient human-machine collaboration for technology in the many years to come.
Subscribe to the blog for more updates on events we attend addressing future technologies.
Have a thought for an interesting posting on the topics of real-time business, digital transformation, event-driven applications, human-machine collaboration, edge computing, Internet of Things (IoT), or high-productivity/low-code development? If so, send us a note: [email protected]