Tom Sweet, Vice President in IT solutions at GM Financial, was a guest on VANTIQ TV's The Real-Time Enterprise.
Tom is a global tech executive that has a real passion for solving business problems through the proper use of technology. Prior to GM Financial, he was director of global quality assurance at Maptek and also had a successful stint at Microsoft.
What follows are some takeaways from the conversation. You can watch the complete interview here.
Blaine: Tell us about your role at GM Financial. What do you do there?
Tom: GM Financial is the captive lending arm of General Motors. I lead a QA team that consists of software developers and QE analysts. We ensure the quality of our lending solutions and our internal IT solutions.
Blaine: Talk about the team transformation that you've been working to bring at GM Financial. I think that's a really great topic and very relevant.
Tom: About 80 members of my team are manual testers of some capacity. They have a title of Quality Assurance Analyst and there's different grades of that role. As you probably know, manual testing is going away in industry. The concept of a person who does manual testing in a waterfall model has been replaced by automated testing years ago. It's moving to dev ops and continuous delivery.
Companies need to go faster. And as part of that, we needed staff that allows us to go faster and has this skill set. Now, we've had really great employees who committed a lot to working at the company and they're quite valued. What I'm trying to do is reinvest in them, help them reinvent and reimagine a different role. That requires them coming up to speed on a lot of different skills.
Blaine: How do you try to build a culture of continuous learning?
Tom: One way is I'm out there leading myself. I'm out there getting Amazon certified and getting security certs. I'm letting my team know that I'm doing that. I'm part of that journey with them.
We share the accomplishments among the whole team. We have a document that shows different certifications. When people get certified, whether it be a Splunk certification or an Amazon cert or Microsoft cert, we'll send it out to the whole team and there's a lot of encouragement.
Once people reach that software engineer one level, then we start training them a lot in cloud. We try to make sure we're going to have Docker, Kubernetes, Amazon, and Azure. Those are of our continued learning path. The other thing is the officers that report to me have to get certified in Amazon. [We're] making sure that everyone is part of this journey.
Blaine: Often we talk about who should be driving it in the organization. Should it be IT, the technical folks, or should it be the operations side, the so-called "business side"? Who do you think should own digital transformation in a company: business or IT?
Tom: That's interesting because I really don't like the term "the business". I think IT needs to be an order shaper, not an order taker. I think it needs to really be a partnership because IT needs to be out there leading and providing solutions.
A lot of times, what happens if IT doesn't really take that lead, the business partners will then look towards vendors to outshadow IT as opposed to really understanding why the IT department isn't providing. I think IT needs to always step out there and be a leader. So, I think it should come from IT, though I think it needs to be a partnership.
Blaine: What are some key takeaways or tips for a business leader that's trying to drive some kind of transformation in her business?
Tom: I think he or she has to make a personal transformation; one has that empathy to what the employees are going to have to go through. It's easy to say we're going to reskill people or we are going to replace them if they don't learn or we're going to just get cheaper labor somewhere else. What is that leader doing him or herself? Is that investment there?
I think that personal investment is important to me. If you're not up on technology, not investing in yourself, not growing, it is harder to have that report with the team.
Click here to view or listen to the full episode!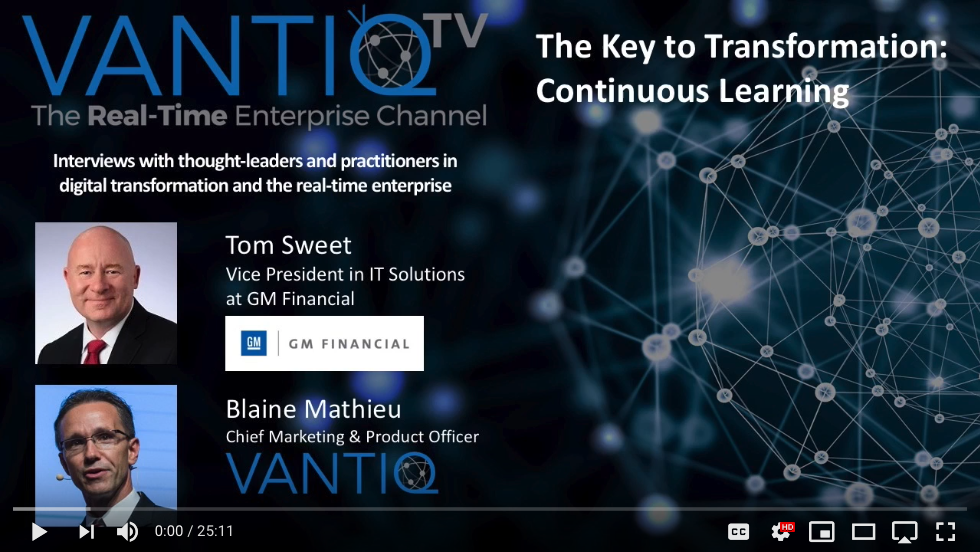 Those interested in hearing more of Tom's thoughts should definitely check out his Sweet Talk video series on LinkedIn and also follow him at Thomas J Sweet on Twitter. You can reach out to us anytime at [email protected]