Cliff Robbins, V.P. of technology and Resident Data Scientist at GearForge Software was a guest on VANTIQ TV's The Real-Time Enterprise.
Cliff is a longtime programmer, engineer, and software architect who learned his leadership skills through eight years in the U.S. Marine Corps.
What follows are some takeaways from the conversation. You can watch the complete interview here.
Blaine: Well to start, Cliff, tell us a little more about GearForge, GearForge Software, what are they all about?
Cliff: Sure. So GearForge Software is really built around the concept of how do we take and not add just the high level from the IoT standpoint, but how actually then help companies implement IoT. And it's beyond just IoT because we also encompass things. There's typically going to be some custom software that needs to be brought into it, consulting (specifically around technical consulting), and then also, once you have it connected, what do you do after that?
There's a lot of other things too. Like the other consultants we talked about: you got your legal, your pricing, the whole big ball of stuff that's all encompassing. That's really what GearForge's focus is on: really coming in, assisting firms with trying to understand that and then being able to actually have a practical implementation. So it's not just fluff. It's like, we've got this, we've defined it, now let's actually build something.
Blaine: Are you seeing any commonality in use cases across your clients or the companies you're working with? And If you have any examples, that would be great.
Cliff: Realistically, some of the main one's we're seeing it's not so much cutting the cost per se but a lot more of how I create new revenue streams. I would agree top line revenue. Not so much worried about cutting down on expenses. So, we're seeing more so on top line revenue.
A good example is a manufacturing company. They want to create an entire line of monitoring for a particular type of product that they produce. But, they don't know how to get there. Very sharp, they've got engineers and everything. Very intelligent individuals, but they don't know how to do this other piece. So, one of the big things we are telling them, when it comes to hardware: prototyping, sourcing, getting demos, and everything else is going to take time.
This is not something that you're going to have done next week. We're estimating at least a year to two years of just getting your hardware prototype nailed down.
Blaine: And what is the use case in this? Is it like a manufacturing line or what is it?
Cliff: This is actually a monitoring system for a particular line of product that they produce. What they are going to do is they are going to monitor this across the board (for others even) and be able to predict failures based off of what they're seeing. Essentially, being able to use some machine learning, things like that, upstream, to be able to do that.
Blaine: What are some key takeaways or tips you would give to a business leader that's trying to drive this IoT-based, real time-transformation of her business?
Cliff: I think that's a great question.
Number 1, look internally for a project. Find someone who can internally do that totally and then get your executive or whoever is passionate, no different than any other project, to champion that. Focus on a smaller-scale prototype project. Validate that, get the individuals behind it, and then you can start going from there. That would be my biggest takeaway when it comes to this.
Click here to view the full episode!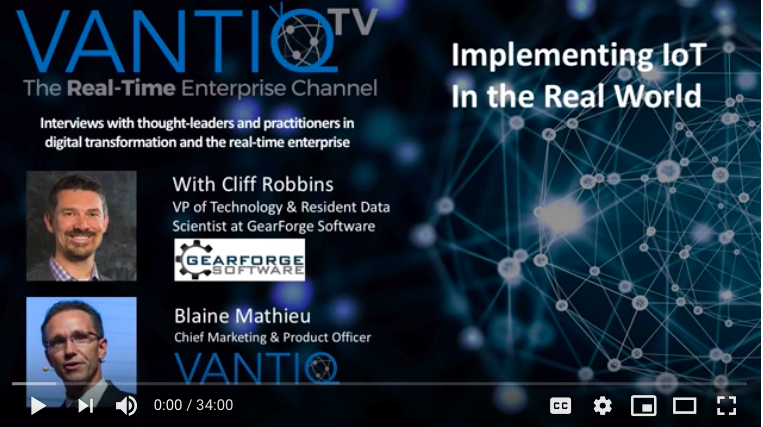 Those Interested in hearing more about Cliff's thoughts can check out his IoT weekly podcast on gearforgesoftware.com and you can reach out anytime at [email protected]