Last week, part of the VANTIQ team and I attended the Supply Chain Insights Live EU 2019 event in Düsseldorf, Germany. It was quite an event and a great week overall. Here is what I experienced along with some key takeaways.
I arrived Monday, March 4th, and spent the evening with Sigrid Haberkorn, VANTIQ's Senior Director of Sales DACH, getting up to speed on our German business – there is a lot going on.
On Tuesday, we drove to Düsseldorf and set up for the event. It was a small – very personalized – event, with about 80 attendees plus a dozen vendors. The attendees were mostly VP-level supply chain execs from around Europe (two-thirds from Germany), mostly large to very large companies. In the photo above, you will see Olivier Bernard, VANTIQ's French Sales Engineer, and Sigrid discussing the technicalities of VANTIQ, and our partner, Johannes Schmitz-Lenders, CEO and co-founder of parcs IT-Consulting, discussing VANTIQ as a high-level solution.
We were thrilled to experience our roundtable session, which was supposed to be me leading a discussion about real-time supply chain solutions, but it quickly turned into a discussion about VANTIQ. Everyone was so curious about how VANTIQ could help!
A few takeaways from the event:
Real time real time real time real time. I lost count of how many times the attendees used that term in their keynotes, speeches, and panels. The fundamental construct of digital transformation initiatives is truly about being able to take actions in real time while the events are happening in and around business operations.
Internal IT remains a critical stakeholder in projects, but it is these types of line-of-business executives who are starting/driving them.
What the attendees were really looking for were solutions for real-time supply chain challenges. This is why it was so important that we shared the booth with our partner, Parcs IT-Consulting. Our partners create solutions that generate that overcome the "but how would I build it" concern..
Late that afternoon, Sigrid and I met the head of Gartner analysts in Germany who traveled to the event hotel to meet us. Sigrid had already spoken to her before we met, so I helped fill in more information about who we are and what we do. She was very supportive.
The next day, I traveled with Sigrid to parcs IT-Consulting for further updates from its CEO, Johannes and also to conduct a VANTIQ TV interview with him. It was a great interview and it will be published this week. In the photo below, see a snapshot of the VANTIQ TV interview taking place.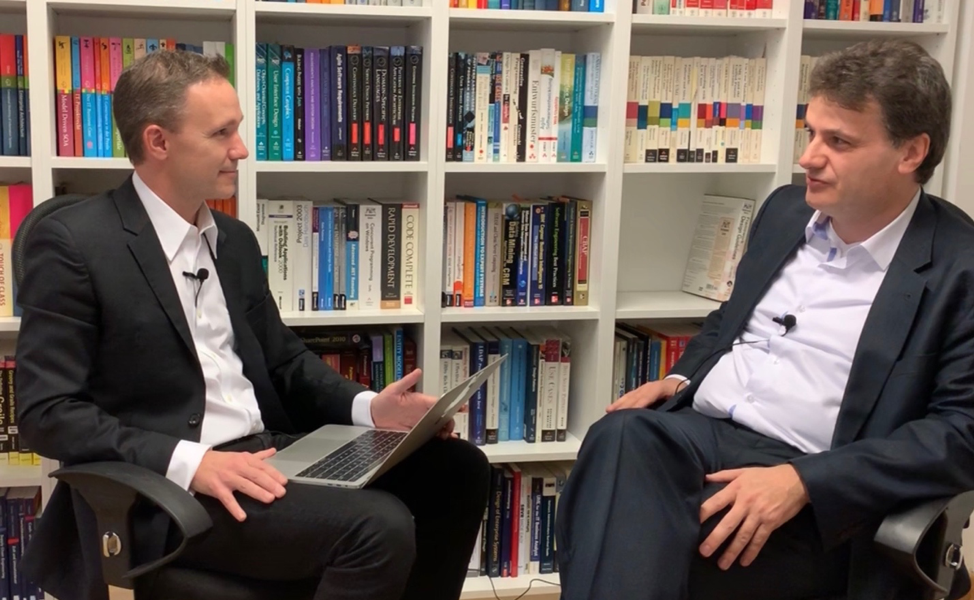 Overall, I continue to be even more convinced that the market is at an inflection point in terms of technology and culture both being ready to embrace true, real-time digital transformation. Our team in Germany is doing a great job and laying the foundation for a very strong VANTIQ presence in the region.
Subscribe to The Real-Time Enterprise blog to receive notifications of future blog posts.
Have a thought for an interesting posting on the topics of real-time business, digital transformation, event-driven applications, human-machine collaboration, edge computing, Internet of Things (IoT), or high-productivity/low-code development? If so, send us a note: [email protected]