Maria Villablanca, co-founder and CEO at Future Insights Network was a guest with The Real-Time Enterprise host, Blaine Mathieu this week. Prior to founding the network, Maria was CEO North America and group managing director at World Trade Group. It was a special occasion that Blaine knew Maria from his personal attendance at a number of events that the Future Insights Network and its predecessor, Manucore, put on over the last year including events focused on digital transformation of the manufacturing and supply chain sectors.
After Blaine was a guest on Future Insights Network's podcast series, FIN:TV, we were happy to have her as a guest on VANTIQ TV to continue the conversation. Click here to view the episode to get more context about the conversation in this episode.
What follows are some takeaways from the conversation. You can watch or listen to the complete interview here.
Blaine: Tell us a little more about what is the Future Insights Network. What does it do?
Maria: We are a network of thousands and thousands of supply chain, manufacturing, and digital transformation leaders that are trying to cut through the noise, the hype that is perpetuated by all kinds of people and really try to get validation for the real ideas that work within their businesses.
So, we connect people with each other. We hold a series of events. We put content out there, but not in the traditional "Here, read a couple thousand pages." more of a, "Look, if you want a solution to a problem, I know how to connect you to the right people." We're just a network of people trying to find the right solutions.
Blaine: Well, you invited me to attend a few of these events in the last year. The vast majority of the presentations are done by other people who are participants in the space, VPs of supply chain and heads of manufacturing. The insights they bring to the table for the other attendees of these events are just incredible.
Why did you choose supply chain and manufacturing as focus areas for the Future Insights Network?
Maria: When you think about the impact that manufacturing has on any GDP, on any nation, if manufacturing were to fall down, it would be almost the end of several economies. It's a very huge part of what everybody does.
Blaine: You had a really interesting panel on diversity in supply chain operations. Everybody was talking about it afterward. It was quite amazing. Tell us a little bit more about why that was so interesting and what the theme of the discussion of that panel was about.
Maria: We are seeing way more women in leadership positions in supply chain and manufacturing roles which are traditionally seen as male-dominated roles. You've seen more diversity: different genders, different denominations, different backgrounds of people.
I believe that supply chain and manufacturing has a bit of an image issue in terms of how you actually overcome the fact that they're normally seen as warehousey-type/lifting-type jobs as opposed to what they really are which is jobs that require a great deal of mental agility, juggling, multitasking, and therefore, very well suited to women and very well suited to millennials as well that are coming into this marketplace.
Insofar as the image goes, how do you get millennials to join a traditional manufacturing job or a supply chain job over joining Google or joining a really sexy business in Silicon Valley? When you realize that there's so many advancements happening in supply chain and manufacturing today, I think that we in this industry don't do enough to promote the real exciting elements of the industry. The fact that there's so much innovation taking place with machine learning, AI, the possibilities of influencing the economy is just phenomenal.
Blaine: Is there some area where most of the market is thinking X and you actually think Y?
I'm really excited about blockchain and excited about AI/machine learning, robotics, really exciting stuff. Where I call BS is I think that none of that will fix any of the problems that companies have if they are not layered on top of the right processes and the right people. I think that companies need to perhaps speak a little bit more about the kind of processes they have. It's like building a house on rotten foundation; if you build a really amazing house with fantastic design, but yet it's on sloppy ground, it's not going to work. That's where I call BS. I think it's about processes and people and then tech.
Blaine: Yeah. And it sounds like when you say processes and people, you're also talking about culture.
Maria: One hundred percent. Digitization is also a mindset thing. It's also seeing the opportunities across every business process. What can be improved here and how can you work collaboratively with technology. Otherwise, you don't get adoption. If you get someone that brings in technology and says, "We're going to replace the workforce." no one's going to adopt it. But, if you bring in technology to help enhance the workforce and work collaboratively with people then you're going to get a recipe for success.
Those interested in learning more about the Future Insights Network and the markets they cover should check out futureinsigehts.org.
Click here to watch the complete interview!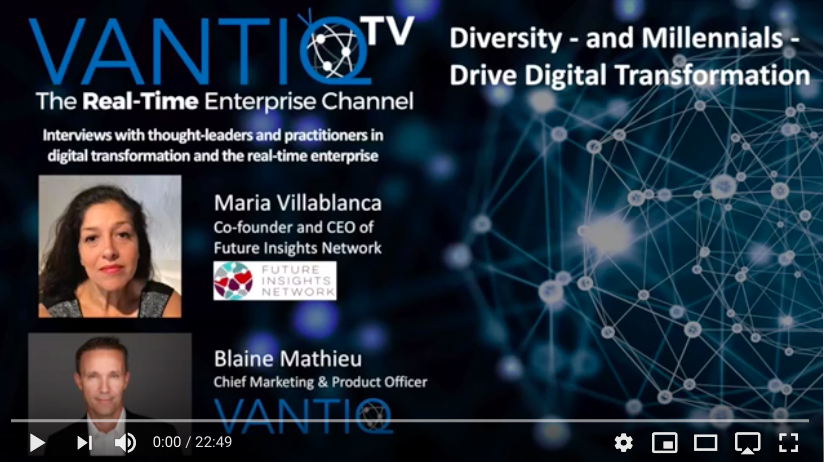 Subscribe to The Real-Time Enterprise blog on the sidebar to receive notifications of future blog posts.
Have a thought for an interesting posting on the topics of real-time business, digital transformation, event-driven applications, human-machine collaboration, edge computing, Internet of Things (IoT), or high-productivity/low-code development? If so, send me a note: [email protected]