When and how are cloud transformations central to digital transformation?
Jo Peterson, VP Cloud Services at Clarify360 spoke with Blaine Mathieu, VANTIQ CMO and host of The Real-Time Enterprise.
Jo is a 20-year veteran in the technology field with stints at MCI, Intermedia Communications, and Quest Communications in both pre-sales, technical, and selling roles. She holds an MBA and a Bachelor of Science in Computer Information Systems. Joe was also a 2018 CRN Woman of the Channel, listed as a top 100 cloud influencer on social media, and is a prolific public speaker.
What follows are some takeaways from their conversation. You can watch the complete interview here!
Blaine: Well, we're definitely excited to have you. I know you're aware, our very first guest on VANTIQ TV was a friend of yours, Tamara McCleary, and the CEO of Thulium. And now, we've got one of her friends on! So, we're really excited to have you. Tell us a bit more about yourself and about Clarify360.
Jo: Thank you for the opportunity! Clarify360 is a next-gen IT consultancy. We focus on a couple core competencies: cloud, security, connectivity, and collaboration. 60 to 70 percent of our revenue is generated from the holdings of private equity firms.
What's different about us is that we're all engineers. We go in and we help solve problems that could have been inherited in the firms that these companies buy. We're a resource. We become an adjunct to that staff. We help them realize savings, which is always important in the private equity environment. We help them reengineer so that they can do more with the same.
And then, we also help with greenfield deployments. So, perhaps there's a new technology that they're not utilizing that they really feel might boost productivity or whatnot. We'll come in and vet that, both from an engineering standpoint and a financial standpoint.
"Just because technology is cool doesn't mean that you're able to adopt it or it makes sense for you. Keep it simple."
– Jo Peterson
Blaine: Interesting. You do write and tweet a lot about a topic called "cloud transformation". What does that mean?
Jo: Cloud transformation is not one size fits all by any means. Let me say first, I'm always in favor of doing what's right for the customer. I'm not about pushing a particular agenda or technology. Maybe it means that, for your particular vertical, you might need to keep a larger percentage of your infrastructure in physical assets.
It could be regulatory constraints that perhaps have you in that situation. It could be that you've spent a whole lot of money on hardware and you are not able to financially sink the cost yet. It could be a lot of things.
So, I sit on your side of the table and I want to do what's right for you as the customer. Just because technology is cool doesn't mean that you're able to adopt it or it makes sense for you. Keep it simple.
Blaine: What are your thoughts on the future of artificial intelligence and the ability for people and machines and systems to work collaboratively together? I imagine, through some of your clients, you're hearing more and more about that everybody wants to be an AI company these days. What is your general thought on that?
Jo: You'll probably laugh at my response on how I think about it. I think at the end of the day, AI is going to foster better decision making. If it becomes a tool for humans to have the ability to look at a number of scenarios and then choose the scenario that best fits the business, that's not a bad thing. It's going to do this rationale for us. It also might take away some of the more redundant work that could be done.
I'm smiling because one of my favorite shows on TV, which is leaving, sadly, is Fixer Upper. [laughter] There's a lady on the show by the name of Joanna Gaines and she's a designer. She has this design software and she has a couple come in and she sits with them at her kitchen table. She says, "Oh hey. Here's the design I've created with all the inputs that you've given me. What works for you?" And then, "Oh by the way, we've got some options to tweak some things."
I sort of think of humans and AI in that very simplistic way of working together. She has the ability to change things on the fly in real time to meet the client's needs. But, it was her genesis and her thought that went into this design. It was her idea.
In a product situation, you might have a product manager that has a number of good ideas for a particular appliance or piece of software, feeds them into some AI-assisted tool, it spits out a couple variations, and then you, as a business, can sit down and say, "Hey that one works for us and that one is a little too far-fetched." Whatever it is. We're early and it's fun. I think that there's great collaboration that can happen.
Click here or below to watch or listen to the full interview!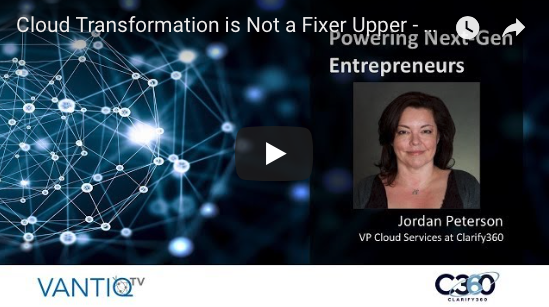 Those interested in hearing more of Jo's thoughts can follow her on Twitter @digitalcloudgal and also check out her personal web site at jopeterson.net.
Have a thought for an interesting posting on the topics of real-time business, digital transformation, event-driven applications, human-machine collaboration, edge computing, Internet of Things (IoT), or high-productivity/low-code development? Reach out to [email protected]