Blaine Mathieu, VANTIQ CMO, spoke with Tim Crawford, CIO strategic advisor at AVOA, about the practicality of technology in business, future of IoT and human-machine collaboration, and the disjunction of OT and IT in the world's leading enterprises.
What follows are some takeaways from their conversation. (You can watch the rest here.)
Blaine: Tell us a little bit more about AVOA and your consulting practice. 
Tim: Most of the work that we do is focused on helping companies leverage IT and more importantly, technology in meaningful ways. This isn't a tech for tech sake conversation. This is about using technology for business advantage. And there's a very significant difference between the two.
So, to use business as your lead on as opposed to technology, it gives you a unique context that has a lot more to offer. That's really where we live is in that intersection between business and technology and helping companies kind of see the path to their future.
Blaine: Interesting. So I think that probably obviously relates to one of your most recent blog posts on your blog and your web site at AVOA, avoa.com. You blogged about changing the enterprise application paradigm, shifting the thinking around enterprise applications. That sounds really interesting. What was the thought process you are trying to promulgate with that blog post?
Tim: The change in thinking around enterprise applications is really geared to say, "Look, we've been on this merry go round many times. It's time to get up and think differently about this. And is there a way where maybe we can move from this heavily configuration-centric model to one where we are just simply making small modifications to it, but the core applications still work the same?" Meaning, the application can change under our feet. No problem. But it's not going to have as significant of an impact.
 "Every single industry, oil and gas, has had an example of where digital transformation can be useful, but only when you think about it from a business context."
– Tim Crawford
Blaine: How does the leveraging of technology need to be different and how should we evolve our thinking in that regard?
Tim: What the more advanced applications are doing is they're looking at how to start to understand what those secondary factors are that ultimately impact the decision of that customer. And so that's where things get really, really interesting because you don't necessarily have a direct line of sight of what those secondary factors are.
I often hear, and I'm sure you hear this as well, "we want to leverage cloud because it will make us more agile." So what does that mean to the CEO? How does 'agile' help them? It's important to understand why you're doing these things, and how that's going to help you from a business standpoint.
There are plenty of opportunities across every single industry that I've worked with from health care to financial services, major airlines, hospitality, commercial real estate, high tech. Every single industry, oil and gas, has had an example of where digital transformation can be useful, but only when you think about it from a business context.
Blaine: Thinking about the responsibility of technology and technologists, that's probably a good segue into the discussion about artificial intelligence and where that's going. What are your thoughts on the future for human workers in a world full of increasingly intelligent AI systems, machine learning systems?
Tim: I think the important thing there is we're actually starting to see companies that are gaining insights from data that they hadn't even thought of, which is great. Machines are now starting to look for patterns and identify patterns that we haven't actually asked them to do. And so that's where things start to get interesting from an analytics standpoint.
But I do think it's slightly different than that cognitive capability. So let's be careful that we don't cross that line between the analytics and the science fiction. I think we're bringing too much science fiction into the conversation today.
Blaine: In the foreseeable future, I think it's absolutely critical that we think about humans and machines literally collaborating together, a human-machine collaboration. The state of I.T. used to be about HMI, the human machine interface, but now, as the machines or the systems become more intelligent, it literally is becoming a collaboration where you can take what the machines are becoming increasingly good at – using machine learning and other technologies – but then leverage the wisdom, experience, knowledge of people to help make them more efficient and effective in the organization. Any thoughts on that concept?
Tim: Today, I think the real opportunity is being able to augment the human capability with machines and being able to leverage machines in a meaningful way. In some ways, yes, artificial intelligence, and even machine learning to some degree, will take over some jobs. But is it going to advance from where we are today to a better world, to a more fruitful life for us? I think AI becomes really beneficial especially today when we find those connection points where it can augment what we're already doing.
Click here to watch the full interview or here to listen to the podcast version.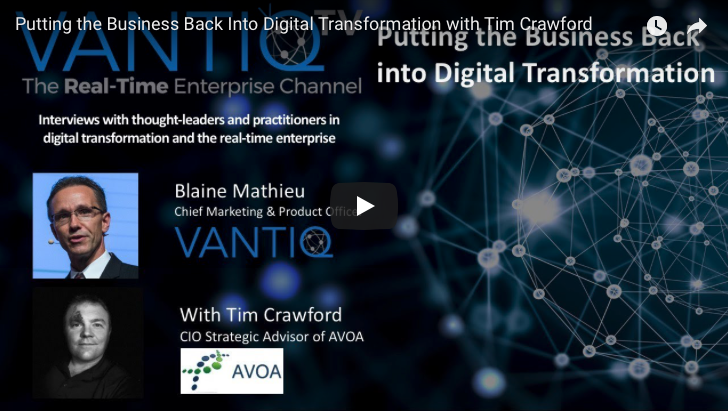 Click here for more content from The Real-Time Enterprise including demo videos and interviews.