Blaine Mathieu, VANTIQ CMO, had an intriguing and lively discussion with Tamara McCleary, a technology futurist, digital strategy consultant, and CEO of Thulium. Tamara shared her provocative and (at times) surprising perspective on the impact of new technologies such as AI, IoT, and blockchain on those enterprises looking to transform their businesses.
What follows are some takeaways from their conversation. (You can watch the rest here)
Blaine: To you, what does digital transformation really mean, and why do you think companies are talking about it so much these days?  
Tamara: Digital transformation, what it means to me, is that each and every organization has to look at how they're going to remain relevant and competitive. Bottom line is: if you're not growing, you won't be here long. So, this is a time when it's a highly competitive marketplace. Everyone's trying to figure out how to be the signal in the noise. And knowing that the future is progressing so quickly, our speed to innovation is so fast right now. It's like taking a drink out of a fire hose. So, we know that the organization has to be ready for the changes that are happening.

Blaine: Do any thoughts come to mind on this notion of what it means to be a real-time business? 
Tamara: The reason real time is critical is that people want what they want when they want it, and they want it now. [It's the] same with responses. This is why chat bots are so critical because people want a response right now. I think it's really important for any business, whether you're Uber, a manufacturer, or you're a telco, it doesn't matter what business you're in. It has to be real time and then almost, we're getting to that point, Blaine, that it's almost like it has to be faster than real time. You have to anticipate, and it needs to be preemptive.
Blaine: Tell us a little bit more about the impact of AI and machine learning on business in general and digital transformation from your perspective. What's going on?  
Tamara: I think that the key word that just pops into my mind immediately is efficiency. So, increase efficiency. With artificial intelligence – we've had intelligent machines for a very long time. Where it's really started to change the game is when we had machine learning. So, machine learning being that we now have algorithms that can iterate on themselves. Because these algorithms are iterating on themselves, the speeds are incredible. It's mind-blowing, and it's far quicker than any human being could possibly do anything.
"It doesn't matter what business you're in. It has to be real time and then almost faster than real time. You have to anticipate, and it needs to be preemptive."
– Tamara McCleary
Blaine: That probably brings us to IoT which is really moving pretty rapidly into the real market these days and is a very important topic. From what I'm seeing in the market, IoT is finally getting out of the lab and into the real world. Do you agree with that? Or what are you seeing in this regard when you're talking to some of the folks?
Tamara: It's impacting everything from wearables to sensors on bearings and within manufacturing, sensors on every piece of equipment you could possibly imagine so it's getting feedback. We have IoT in pharmaceuticals. So, you can take a pill and with this IoT enabled device, we can know exactly the dosage, the time you took it, and when it hit your stomach. IoT is infused in everything, and this is why we have so much data! And when you think about, say, in manufacturing, you have all kinds of data coming out from these sensors, you don't need all that data. So, this is data exhaust. What you need is, pairing all of that IoT data again with the AI and the machine learning to really pluck out what you need.
Blaine: That's what we fundamentally believe at VANTIQ. You actually mentioned AR and augmented reality and virtual reality a second ago, any thoughts on real business? Where are we in terms of real business impact of these technologies? Or is it mostly about video games and watching movies on an airplane?
Tamara: It used to be about the entertainment sector, but it's moved out of that. And it definitely has a lot of power right now in the enterprise space. The first place that's really expanded and grown quickly is in the manufacturing space and also within this space of energy utilities and workers out in the field. I was using an AR headset by Daiquiri. It actually was walking me through a surgical procedure so that in the field, if I needed to do this surgery, it was literally showing me what to do, piece by piece. I think technology [can be] used to heal humans and make human beings better and serve humanity. So, it's the machine-human integration. It's just absolutely, positively exciting. Soon, it's going to be about just putting on your headset. It's not going to be about what you learned before in your past. It's going to be about what you can do right now, and it's going to change to learning.
Click here to watch the full interview or to listen to the podcast version.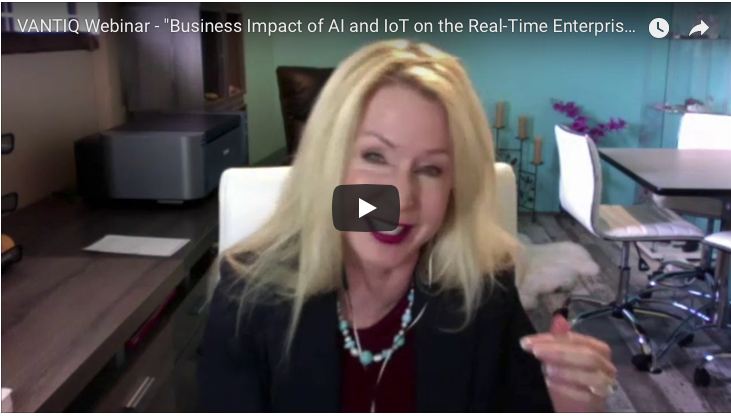 Click here for more content from The Real-Time Enterprise including demo videos and interviews.